Gavin Newsom, Facing Recall, Eases Lockdown as California Hospitals Overflow
Up until this week, California has been under one of the harshest lockdowns across the country. But Governor Gavin Newsom moved to reverse those orders amid an effort to recall him from office.
Despite no significant improvement for the state's overwhelmed intensive care units (ICU), public health officials announced Monday that regional coronavirus stay-at-home orders across the state will be lifted, allowing restaurants to immediately resume outdoor dining.
When the most recent round of stay-at-home orders were announced, Newsom divided the state into five regions—Northern California, the Bay Area, Greater Sacramento, San Joaquin Valley and Southern California—and said that after a three-week lockdown period the regions would be reassessed. The stay-at-home order would be lifted once a region's ICU capacity meets or exceeds 15 percent.
Although the press release said the capacity projections for all of California's regions are expected to reach that threshold in four weeks, the state's coronavirus dashboards shows that two regions currently remain nowhere near the required 15 percent. ICU capacity in the San Joaquin Valley is at 1.3 percent, and the number of hospital beds available in Southern California, the state's hardest-hit region, remains at zero.
The lack of improvement in the state's coronavirus figures raises question as to why Newsom would begin lifting orders now, as the parameter he set hasn't been met everywhere.
In its preventive efforts to contain the virus, California is also experiencing a vaccine supply shortage and delayed rollouts. Earlier this month, Newsom promised to have 1.5 million doses of the COVID vaccine administered, but it is unclear if the governor has met his target, thanks to data collection problems.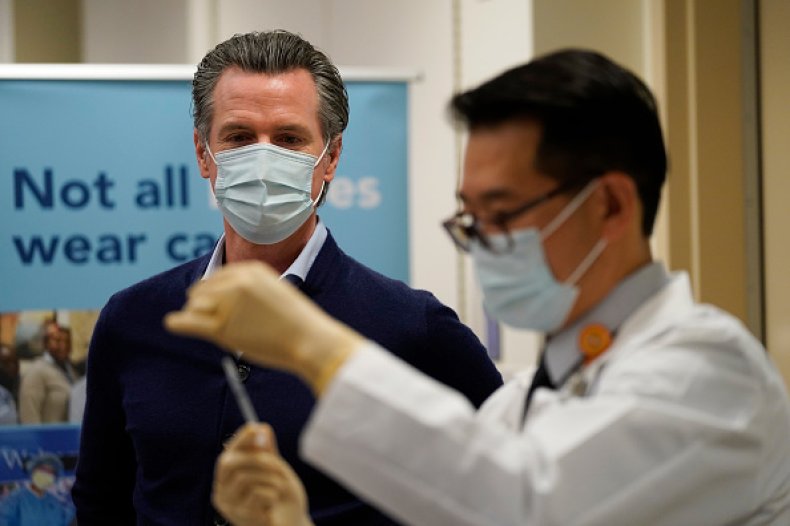 California is leading the country in terms of total number of coronavirus infections. Last week, the state reached a new milestone when it became the first state to report 3 million cases since the start of the pandemic. Only four other states have exceeded 1 million, and Texas is the only other state surpassing 2 million.
Newsom has made sweeping efforts to try to contain the spread of the outbreak in California, but frustration over his response has fueled a recall campaign that would make him the second governor in the state's history to be recalled from office. If the effort is successful, he would join Democrat Gray Davis, who was replaced by Republican Arnold Schwarzenegger in 2004.
Randy Economy, a senior adviser for Recall Gavin 2020, told Newsweek that the governor's decision to lift the lockdown order is "absolutely 100 percent connected to the recall."
"He's fighting for his political life right now," he said Monday. "If it wasn't for the campaign, he wouldn't have acted this way. He would have kept everything locked down."
While the recall campaign extends beyond the governor's response to the coronavirus, Economy said Newsom's "draconian lockdowns has really destroyed millions of people's lives needlessly, in addition to the virus."
Recall Gavin 2020, which California Democratic Party chair Randy Hicks called a "coup," has reached 70 percent of its required signatures, according to its website. Economy denied that the campaign is a partisan effort.
"Our job is not to pick the next governor," he said. "Our job is to do the heavy lifting and collect the 1.49 million signatures to be able to make sure that the people of California can go to the ballot box."
He added, "It's not a complicated process. It's not a coup. It is what is allowed under California's constitution."
All counties exiting the stay-at-home order will return to the colored tier system that assigns local risk levels based on coronavirus case rates and test positivity rates.
Under the system, most counties would fall under the "widespread" risk tier, where there are more than seven new daily cases per 100,000 people or a more than 8 percent positivity rate. This tier, which is the most restrictive and highest risk level, permits hair salons to offer limited indoor services but restricts most other nonessential indoor businesses.
Once the figures drop for these coronavirus measures, counties move to the "substantial" risk level, which would open up some more nonessential indoor business operations, but not all.
Newsom is scheduled to hold a press conference later this afternoon announcing the changes. His office referred Newsweek to the California Department of Public Health for comment.
Newsweek reached out to the California Department of Public Health for comment but did not hear back before publication.
This story was updated at 12:54 p.m. with information about Governor Gavin Newsom's Monday press conference.