Gavin Newsom, Facing Recall Over Virus Response, May Miss First Vaccine Goal
California Governor Gavin Newsom, whose response to the COVID-19 pandemic has caused some observers to say he should be recalled, said in January that he wanted to vaccinate 1 million Californians against the virus in 10 days. Time is running out.
California public health workers have until Friday to administer the 500,000 additional vaccinations needed to reach Newsom's stated goal. As of Wednesday, only 2.1 of California's population had received the vaccine. According to data from the California Department of Public Health, 971,829 doses of the vaccine had been administered, including the approximately 500,000 vaccines that had been administered before Newsom's 10-day pledge. Newsom expanded the vaccine eligibility requirements to include people aged 65 or older on Wednesday.
"There is no higher priority than efficiently and equitably distributing these vaccines as quickly as possible to those who face the gravest consequences," Newsom said in a Wednesday statement. "Individuals 65 and older are now the next group eligible to start receiving vaccines. To those not yet eligible for vaccines, your turn is coming. We are doing everything we can to bring more vaccine into the state."
Newsom has partially blamed the state's slow vaccination rate on distribution and logistical issues, saying that vaccines "don't arrive magically in some state facility."
Newsweek reached out to the California Department of Public Health for comment.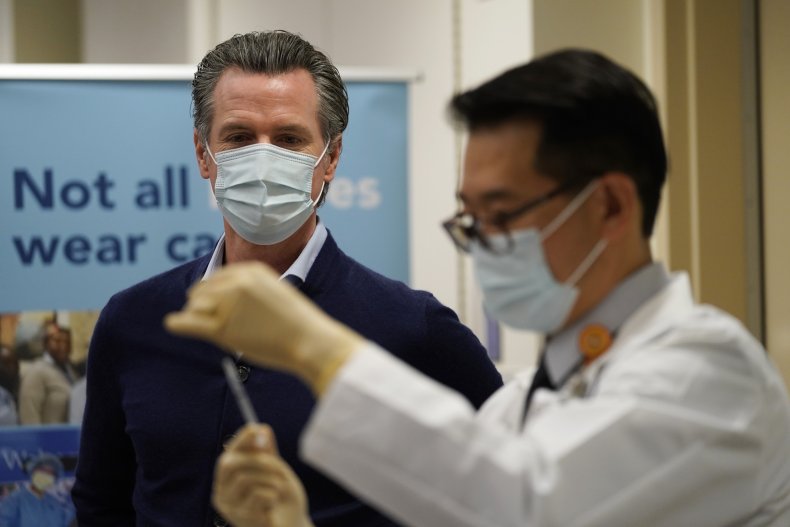 Some of Newsom's critics have pointed to his actions during the state's COVID-19 battle as reasons to recall him from office. A petition produced by the website RecallGavin2020 has already received more than 1 million signatures. If the petition gets 1.5 signatures by the middle of March, it will be placed on the ballot for a mid-year election.
Lead proponent of the recall website Orrin Heatlie said in a January statement that "it is not a matter of IF we are going to reach our goal necessary that will trigger a recall election of Newsom, it is just when we cross the finish line."
Among the reasons listed on the website for Newsom's removal was his apparent flouting of his own rules concerning COVID-19. In November, Newsom was spotted at a birthday party at a Napa Valley restaurant without wearing a mask. After many accused him of violating the state's strict coronavirus mitigation protocols, Newsom offered an apology, telling reporters that he "made a bad mistake."
"The spirit of what I'm preaching all the time was contradicted," Newsom added. "I need to preach and practice, not just preach."
Newsom placed himself into self-quarantine in December 2020 after one his staff members came into contact with an individual who tested positive for the virus. It was the second time Newsom had isolated. In November, Newsom's family went into self-quarantine after three of his children was exposed to the virus by a police officer that had tested positive. Newsom tested negative for the virus after both incidents.
According to data from Johns Hopkins University, California has reported 2,843,062 positive cases of COVID-19 with 31,684 fatalities attributed to the disease.