Gavin Newsom Has Razor Thin Support in Recall Election, New Poll Shows
California Governor Gavin Newsom's margin of support in the state's upcoming recall election appears to be razor-thin, according to new polling numbers.
The poll, conducted by the University of California, Berkeley's Institute of Governmental Studies with support from the Los Angeles Times, surveyed Californians most likely to vote in the upcoming recall election, set to take place on September 14.
The poll showed 50 percent of respondents opposed recalling the governor, while 47 percent supported removing Newsom from office. The difference between the two responses is within the poll's margin of error. Only 3 percent of respondents said they were still undecided.
The poll also found different levels of motivations between the two political parties in relation to the recall. Almost 90 percent of Republicans polled showed a high level of interest in the upcoming election. By comparison, 58 percent of Democrats and 53 percent of independents said they had a high level of interest in the special election.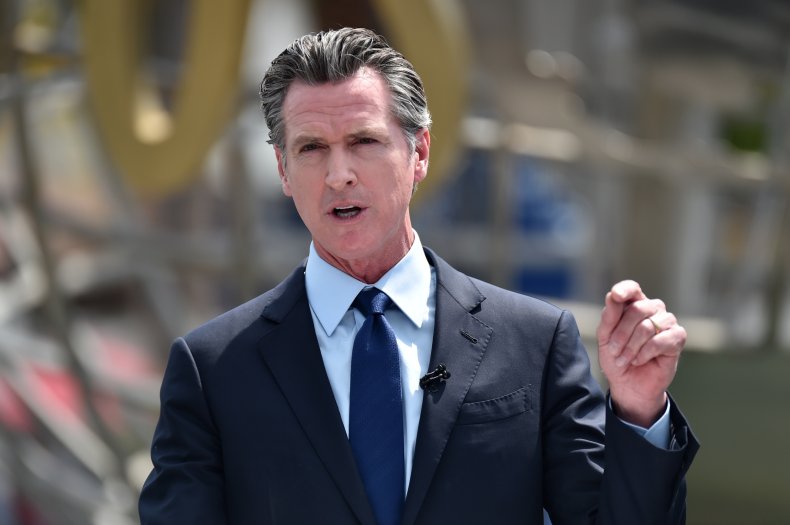 The Los Angeles Times said while Republicans make up roughly 25 percent of registered voters in California, they comprise 33 percent of poll respondents likely to vote in the recall. Democrats and independents, which make up a majority of California registered voters, indicated that they would represent 42 percent and 18 percent of likely voters in the recall election respectively.
"Democrats, at least in the middle of July, almost unanimously believed that Newsom will defeat the recall," said Mark DiCamillo, the poll's director. "I think that may be contributing to some complacency among those voters. Republicans, on the other hand, are confident that they can turn out the governor. I think the Newsom campaign really has to light a fire among the Democrats and say, 'Look, the outcome is in jeopardy unless you get out there and vote.'"
In a statement sent to Newsweek, Newsom's campaign said that this new polling "should be a wake-up call" to California Democrats that the recall results are anything but certain.
"This poll should be a wake-up call for Democratic voters and all those who don't want to see a Trump Republican become governor of California," Newsom campaign representative Nathan Click said. "In a normal election, this Republican recall wouldn't have a snowball's chance in Death Valley. Californians don't want a Republican takeover of our state, but if Democrats don't vote, that's what could happen."
David Gilliard, a political strategist working on efforts to replace Newsom, told the Times that Newsom might not have enough time to fix this situation. Mail-in ballots will be sent to all of California's registered voters starting on August 16.
"Gavin Newsom is in serious trouble at this time because his base of voters is not motivated to come out and support him," Gilliard said.
Newsom faces a total of 41 candidates, 21 of which are Republicans. Larry Elder, a conservative talk radio host, leads the pack with 18 percent support. Former Olympian and media personality Caitlyn Jenner is also in the running, but with only 3 percent support.
Update: 7/27/2021 2:05 PM ET: This story has been updated with a statement from the Newsom campaign.