Gavin Newsom Lambasts Larry Elder's Suggestions of Election Fraud With Recall Vote Underway
As California voters choose whether to keep or recall Governor Gavin Newsom, the Democrat has now criticized Republican challenger Larry Elder's suggestions that the election's integrity is at risk.
On Monday, NBC's Jacob Soboroff pressed the conservative radio host if he'd accept the results of Tuesday's election regardless if Elder won or lost. In response, the candidate refused to answer yes or no but repeated a variation of the same answer a few times.
"I think we all ought to be looking at election integrity," Elder said. "No matter whether you're a Democrat, Independent, or Republican, let's all make sure that the election is a fair election."
Elder also told reporters on September 8 that he believes "there might very well be shenanigans" in the recall election, but that he still expects to win because "so many Californians are angry about what's going on," according to CNN.
During Election Day, Soboroff met Newsom in San Francisco and asked him to respond to Elder's comments.
"What that message sends to the United States people all across this country, the vote somehow doesn't matter, that the whole thing is rigged," he said. "They are quite literally trying to dismantle democracy and trust in this country, our very nation."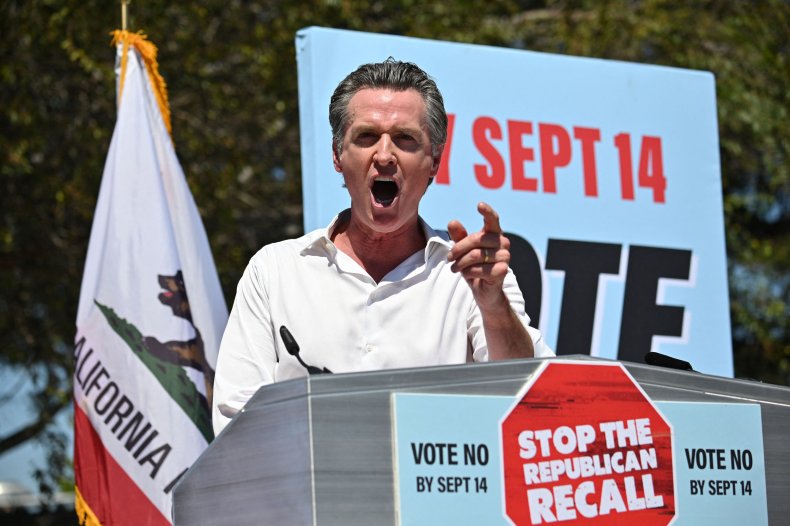 He added, "Look, I could care less [sic] what he does. I'll accept the will of the voters, no matter what it is, period, full stop. The idea they're even playing around with this and vandalizing trust and confidence? That's consequential and has real impact across this country...I'll tell you what, the irony of it, and it really is the irony, it's going to hurt the Republican Party because they're telling their voters, their vote doesn't even matter. So it's a hell of a thing."
Prior to Tuesday, Elder's campaign website appeared to link to another site that suggested Governor Newsom survived the recall. The page was available prior to the vote on September 14.
The Twitter account for No Lie with Brian Tyler Cohen highlighted a section of the second site on Election Eve that said: "California recall candidate Larry Elder has launched an 'anti-voter fraud' website that accidentally already says that Gavin Newsom won the recall election. The election is tomorrow."
Brian Klaas, an Associate Professor in Global Politics at University College London and a columnist for Washington Post, said the move was now part of the "Republican playbook" due to former President Donald Trump. He tweeted, "if you lose, claim it was due to fraud. Get the false claims ready to go before the election even happens. The damage being done to American democracy is incalculable."
Polling data from FiveThirtyEight showed that Elder's bid to win California will likely fail as the vote to keep the governor polls around 57 percent. If Newsom is removed from office, there are 46 other candidates in the running with Elder in the lead with around 30 percent of the vote.
Asked about future plans if Newsom remains in office, the Elder campaign told Newsweek that their attention is on the current recall effort and they expect to win.
If Newsom defeats the recall, he'll remain in office until the end of his term on January 2, 2023, and will be eligible for re-election during the 2022 midterms.