Gavin Newsom, Marjorie Taylor Greene Spar on Twitter Over California's New Vaccine Mandate
California Governor Gavin Newsom and U.S. Representative Marjorie Taylor Greene of Georgia confronted each other about their conflicting attitudes toward COVID-19 vaccines on Monday.
Newsom, a Democrat, called the Republican congresswoman out during a Monday news conference in which he announced state employees would be required to either get vaccinated against COVID-19 or provide proof of a negative test each week.
Newsom said his state is experiencing a "pandemic of the unvaccinated" as new case numbers continue rising throughout the U.S. In California, state data shows about 62 percent of the state's population has been fully vaccinated against the virus and more than 9 percent of residents have received at least one vaccine dose.
Despite the state's vaccination progress, Newsom said state officials are "exhausted" by the "ideological prism" he said is making Californians hesitant to get vaccinated.
"We're exhausted by the Ron Johnsons and the Tucker Carlsons; we're exhausted by the Marjorie Taylor Greenes, we're exhausted by the right-wing echo chamber that has been perpetuating misinformation around the vaccine and its efficacy and safety," Newsom told reporters.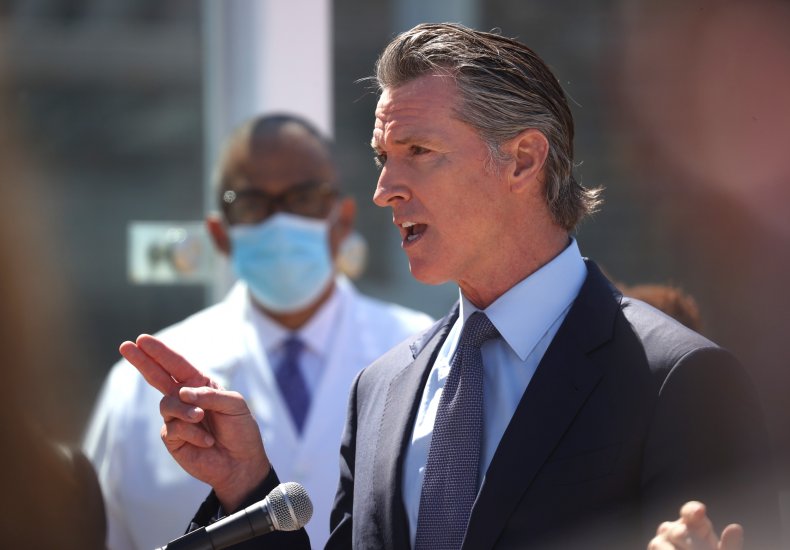 Newsom continued with a reference to comments Greene made last month comparing COVID-19 safety precautions to the treatment of Jewish people during the Holocaust.
"We're exhausted by the politicization of this pandemic, and that includes mask-wearing that has been equated to the Holocaust," Newsom said. "It's disgraceful, it's unconscionable—and it needs to be called out."
After Newsom's press conference, Greene addressed the governor's criticisms on Twitter.
"@GavinNewsom you know what is exhausting to the people of California? Your communist dictatorship. Shutting down businesses, closing churches, schools, and beaches is disgraceful," Greene tweeted.
"Mandating vaccines against people's will is unconscionable," she added. "Which is why you're being recalled."
Newsom became the first governor to implement a statewide shutdown in March 2020 and has continued leading his state throughout the pandemic. California officially reopened last month, but by then a recall effort targeting Newsom had already collected enough signatures to qualify for a ballot. Recall organizers previously told Newsweek frustrations surrounding Newsom's handling of the pandemic helped their petition gain steam last fall.
The recall election is scheduled to take place on September 14, with 46 candidates set to battle for Newsom's seat if more than 50 percent of California voters cast their ballots in favor of his removal.
Newsom responded to Greene's tweet later Monday by picking up on her classification of pandemic-related shutdowns as "disgraceful."
"Disgraceful? Here's a word—murderous," Newsom tweeted. "Your anti-vaccine lies are literally killing Americans. Your own supporters are following you off a cliff and into the ICU."
Newsom concluded his tweeted response to Greene with a vaccine-related encouragement.
"Come clean about vaccines—they save lives," he wrote.
When contacted for comment, Greene's office pointed Newsweek to a tweeted response Greene issued shortly after 5:30 p.m. ET. In her latest tweet, Greene referred to Newsom as a "monster."
"You're one to talk, Gavin. Your murderous ACTIONS as Governor of California literally killed people. Paying $1,000/day to nursing homes to house #COVID19 patients with the most vulnerable people. Killing people's parents and grandparents," Greene wrote. "You're a monster!"