Gavin Newsom Proposes $12 Billion to Combat Homelessness, Worse in California Than Any Other State
Governor Gavin Newsom has proposed $12 billion in new funding to help combat homelessness—which is worse in California than any other state in the country.
The investment would be broken into three parts: $8.75 billion for homeless housing units and affordable apartments; $3.7 billion for homeless prevention and rental support; and $1.5 billion to clean up roadways and public spaces.
Newsom's plan to address the Golden State's homelessness crisis was first announced in a statement early Tuesday morning. The Democrat provided more details at a press conference in San Diego.
"There's no greater manifestation of our failure as a society broadly, or as a state more specifically, than the issue of homelessness," Newsom said Tuesday. "And that's what brought to bear a strategy to do something radically different."
Newsom added, "What we're announcing here today is truly transformative. What we're announcing here today is truly historic. It's unprecedented, not just in California history—what we're announcing today is simply unprecedented in American history."
The plan, the Democrat said, aims to "functionally end family homelessness" within five years.
California had more than 161,000 people experiencing homelessness as of January 2020—a 7 percent increase from 2019— according to a federal report released earlier this year. In Los Angeles county, one of the nation's largest counties, the number jumped 13 percent to 66,436 by January of last year.
Roughly half the country's estimated 211,000 residents living on the streets or in vehicles reside in the Golden State alone.
A new state database showed that nearly 250,000 people sought housing services from local housing officials in 2020. Of that number, nearly 92,000 people found housing while 117,000 people are still waiting for help.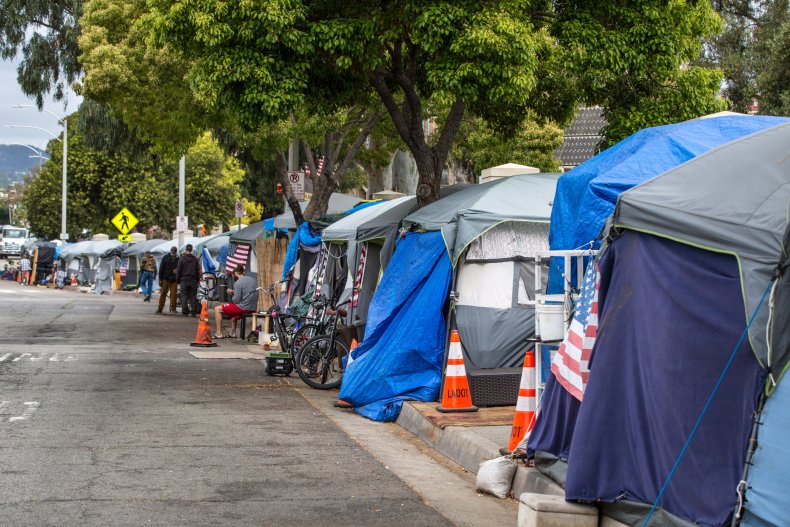 The spending proposal to combat homelessness comes as part of Newsom's $100 billion pandemic recovery plan. The so-called California Comeback Plan will combine the estimated $75 billion budget surplus and the $26 billion the state's expected to receive from the federal stimulus bill.
As part of the package, Newsom called for another round of direct cash payments to residents. If the plan gets approved by the Democratic-controlled state legislature, two-thirds of Californians would benefit from the $600 stimulus checks.
"Direct stimulus checks, going into people's pockets," Newsom said. "That direct relief, that's meaningful."
The plan also comes as Newsom faces a likely recall election later this year. Two weeks ago, California Secretary of State Shirley Weber announced that recall proponents had gathered enough signatures to force a special election by year's end.
But polling has shown that opposition to the recall is growing. In January, 45 percent of Californians said they were against removing Newsom. The latest survey from the UC Berkeley Institute of Governmental Studies found the amount of respondents against ousting Newsom rose to 49 percent.
Slightly more than half (52 percent) of the poll's respondents approved of Newsom's job performance, which was also a modest increase from the January survey.