Gavin Newsom Proposes $300M to Fight Smash-and-Grab Thefts Amid 'Soft on Crime' Accusations
In the face of surging retail robberies by groups of thieves in major cities, state leadership in California is taking steps to bolster law enforcement.
On Friday, Democratic Governor Gavin Newsom—accused by Republicans of being "soft on crime"—announced his plan to seek $300 million in state funding to help police combat the "smash-and-grab" robberies that have plagued California communities in the past year. The funding will be raised over the next three years, Newsom said.
"We're doubling down on our public safety investments and partnerships with law enforcement officials up and down the state to ensure Californians and small businesses feel safe in their communities—a fundamental need we all share," Newsom said in a release sent to Newsweek. "Through robust new investments and ongoing coordination with local agencies, this plan will bolster our prevention, deterrence and enforcement efforts to aggressively curb crime, hold bad actors to account and protect Californians from the devastating gun violence epidemic."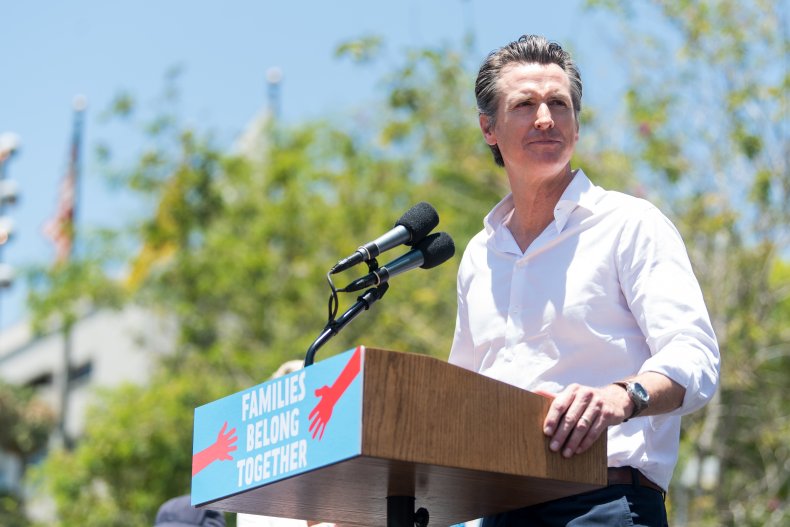 From the proposed $300 million, $255 million would go toward helping law enforcement agencies hire more officers, Newsom said. These officers will be stationed at retail locations to help deter smash-and-grab robberies.
A further $30 million would go to county district attorneys to help prosecute retail and automotive thefts. Another $18 million would be used to establish what Newsom called an "organized theft special unit," a group of prosecutors and investigators that will operate under the California attorney general and target the leaders of organized theft rings.
"The issue of crime and violence is top of mind all throughout not only the state of California but across the United States, highlighted recently by some high-profile retail theft operations," Newsom said. "These organized retail mobs... [have] a profound impact on our feelings of safety here in this state, this region and as I note, this country."
Major California cities, and others across the country, have seen a surge in smash-and-grab thefts carried out by organized groups of shoplifters. Theft by individuals has also been on the rise.
Earlier this month, Newsom criticized local leadership for not using existing laws to sufficiently crack down on these crimes. Prosecutors fired back, claiming that laws passed in 2014 that reduced certain types of theft from felonies to misdemeanors have made it harder for them to address the problem.
Newsom's push for law enforcement funding comes as GOP opponents have criticized his state government for being soft on crime. In a statement, California Senate Republican leader Scott Wilk said that Democrats "are finally waking up" to how their alleged "soft-on-crime policies" have "turned this once-majestic state into a sanctuary for criminals." In a recall election earlier this year, Republicans routinely painted Newsom as being soft on crime.
This week, Newsom appeared to deflect from the issue of rising crime in California, saying that Texas has higher violent and property crime rates than his state does.
Updated, 5:50 p.m. ET, 12/19/2021: Added quotes from Newsom statement sent to Newsweek.