Gavin Newsom Recall Petition Gains Steam as California Dem Chair Calls It a Right-Wing Coup
A petition seeking to recall California Governor Gavin Newsom has gained traction with at least 1 million signatures, but is also facing criticism from the state's Democratic Party that suggested the campaign is a right-wing coup.
During a press conference earlier this week, Rusty Hicks, chair of the California Democratic Party, spoke about the recall petition and compared it to the mob of protesters who recently breached the U.S. Capitol in protest of Congress certifying the Electoral College votes.
"Some of the same individuals and groups who were encouraged by California Republican leaders and (who) attacked the people's house are also engaged in a recall effort against Governor Gavin Newsom right here in California," Hicks said. "This recall effort, which really ought to be called 'the California coup,' is being led by right-wing conspiracy theorists, white nationalists, anti-vaxxers, and groups who encourage violence on our democratic institutions."
Hicks also stated that the state's Democrats "denounce the efforts of the California Republican Party and the National Republican Party, recall supporters, and their allies," which included "the Proud Boys and other extremist groups, and their financial backers."
In a statement sent to Newsweek, Hicks wrote: "The recall is a legal process enshrined in the California Constitution," but noted that "every potential signer, endorser and funder should know that some leading the recall effort hold far-right extremist agendas—including some who advocate violence against our democratic institutions—and California Republicans are all too willing to further their cause."
The comments from Hicks come shortly after the recall petition garnered its one millionth signature with around nine weeks left to obtain roughly 500,000 more signatures needed to place the measure on the ballot.
According to the petition's website, RecallGavin2020.com, some of the reasons for the recall include Newsom's response to the ongoing novel coronavirus pandemic, such as mandatory mask requirements and shutdowns of businesses.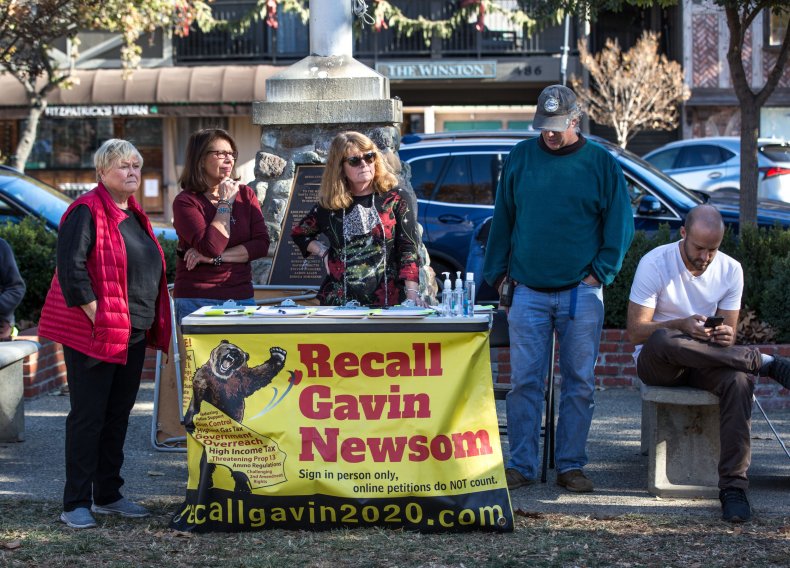 "The people are being heard loud and clear, and it is not a matter of IF we are going to reach our goal necessary that will trigger a recall election of Newsom, it is just when we cross the finish line," Orrin Heatlie, the lead proponent of the official RecallGavin2020.com, said in a statement. "The movement to Recall Gavin Newsom as Governor of California is fueled by tens of thousands of supporters, everyday Californians who are going door to door and getting signatures signed by their friends, family and neighbors."
According to CalMatters, Randy Economy, a senior advisor and spokesperson for the recall, criticized the "farcical and bizarre press conference" held by the state's Democrats and disputed "horrendous" claims that the campaign was linked to right-wing extremist groups.
While speaking with Newsweek, Economy said, "This campaign that we're doing here is not about Democrats or Republicans, it's about the people who really are the heart and soul of California. We're not extremists, we're not lefties or righties or Proud Boys or Antifa or Black Lives Matter, we're just California."
"California allows for the recall provisions to take place, so this is not a coup. We have every legal right to be able to recall any elected official in this state by following the state Constitution and we are doing that," Economy told Newsweek. "So for them to label this as a coup, shame on them. They're underestimating the people because this is about doing what we are allowed to do legally."
In response to the recall effort, Dan Newman, a spokesperson for the governor, told Newsweek via email that "Newsom was the nation's first Governor to take bold action to combat the pandemic. Californians appreciate his decisive action, and support his current focus on distributing vaccines so we can safely reopen schools and businesses, and provide relief for families and small businesses."
The statement went on to criticize President Donald Trump and former GOP House Speaker Newt Gingrich, who endorsed the recall campaign. It argued that "just like Trump refuses to accept and respect the will of the voters," Gingrich, along with other supporters of the president, "want California taxpayers to waste $100 million on a special election redo, mere months before a regularly scheduled election."
Updated January 15, 2021, 3:47 p.m. ET, to include comments from Randy Economy and to correct the spelling of Rusty Hicks.