Gavin Newsom Says Recall Frontrunner Larry Elder Doesn't 'Believe in' Minimum Wage
Democratic California Governor Gavin Newsom is doing his best to make sure voters are aware that Larry Elder, his chief Republican opponent in the recall election, "does not believe in a minimum wage."
During a Friday press briefing in San Bernardino, Newsom slammed Elder, a veteran conservative talk radio host who has been at or near the top of recent polls as a Newsom replacement, for telling The Sacramento Bee on Tuesday that his "ideal" minimum wage would be "zero." Newsom did not name Elder but noted that he had been endorsed by former President Donald Trump's ex-adviser Rudy Giuliani before listing a series of attributes that are unlikely to be popular in heavily-Democratic California.
"Rudy Giuliani [is] supporting a candidate who believes the minimum wage should be zero," Newsom said. "[Elder] believes that women do not have the right to choose and wants to overturn Roe vs. Wade... believes we need more offshore oil drilling and fracking in the state of California... believes in not only Trump, but Trumpism. And thinks that Trump has been unfairly burdened with responsibility for the occurrences on January 6."
Giuliani endorsed Elder "with real enthusiasm and confidence" in a tweet on August 1, saying that he hoped Elder would "save California from floating all the way to the People's Republic of Communist China."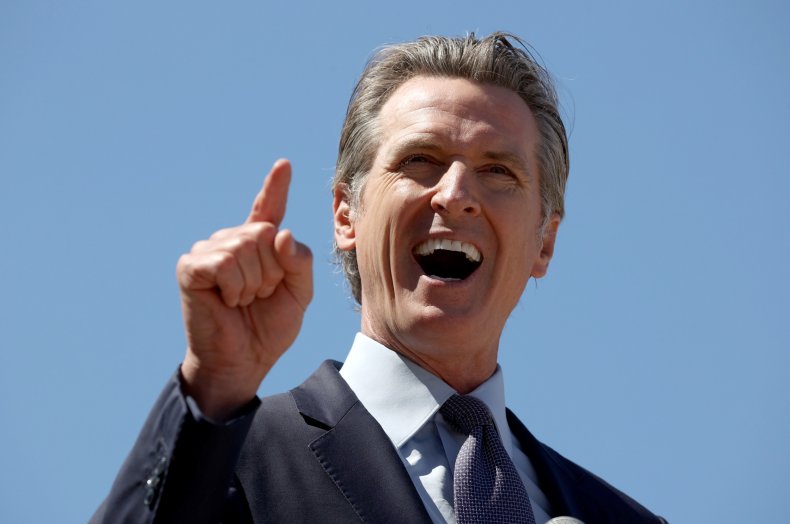 Elder again addressed the issue of minimum wage during a Wednesday interview with KABC. He defended his Sacramento Bee remarks but insisted that he would not be making dismantling the minimum wage in California a priority if he wins the September 14 election. However, he did say he plans to eliminate some public health restrictions intended to stem the spread of COVID-19.
"That question came up about the minimum wage, and I said the ideal minimum wage is $0.00," Elder told the outlet. "I have no intention of getting rid of the minimum wage. I'm going to work on crime. I'm going to work on homelessness. I'm going to work on the rising cost of living, and to the extent that mandates regarding face masks and vaccines are enforced, I'm going to eliminate those."
Newsom also referenced Elder while suggesting his views were at odds with most California voters during a Thursday evening Zoom call, making many of the same point that he repeated on Friday.
"The leading candidate thinks climate change is a hoax," Newsom said. "[He] does not believe in a minimum wage... I'm not making that up, zero. I mean, he's not even debating the merits or demerits of $15 an hour."
The minimum wage in California is currently $14 per hour for employers with 26 or more employees and $13 per hour for employers with 25 or fewer employees. The wage is set to rise to $15 for large companies and $14 for small companies next year, while all employers will be required to pay at least $15 per hour by 2023.
Newsweek reached out to Elder's campaign for comment.