Gavin Newsom, School Boards Among 262 Officials Targeted in Record National Recall
Americans have tried to remove public officials from office more frequently during the first half of 2021 than they have during the same time period since 2016, according to a new report released on Monday by Ballotpedia.
Abbey Smith, a Ballotpedia staff writer and the report's main author, said the numbers are unusual for a non-election year, and cites the pandemic as a primary factor.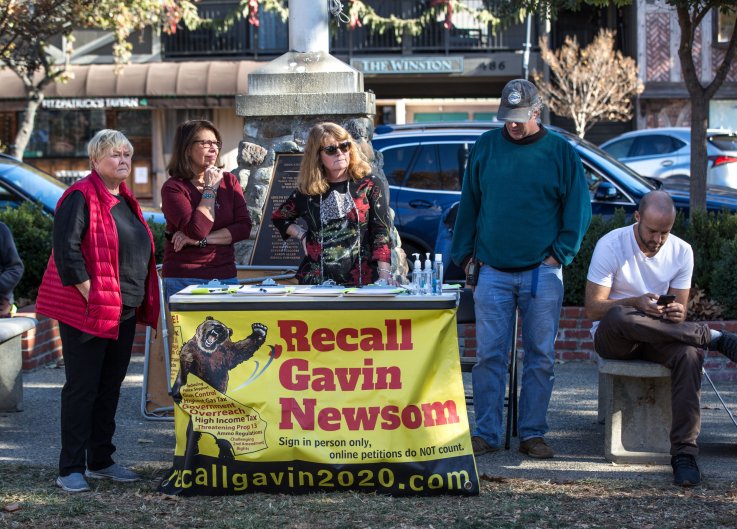 "The coronavirus made everybody kind of aware of what rules control their lives and which officials are in charge of that," said Abbey Smith, author of the report. "It kind of brought local government to the forefront." California Governor Gavin Newsom and 261 other public officials have been targeted by recall efforts so far in 2021, according to a new Ballotpedia report released on June 14. In the photo above, people circulating a "Recall Gavin Newsom" petition listen to speakers during a "Solvang MAGA Protest" on December 20, 2020 in Solvang, California.
George Rose/Getty Images
"The coronavirus made everybody kind of aware of what rules control their lives and which officials are in charge of that," Smith said. "It kind of brought local government to the forefront."
The recall campaign that has gained the most attention thus far is the one targeting California Governor Gavin Newsom, who is likely to face a recall election in the late summer or early fall.
Newsom is one of 78 officials in California who has faced a removal attempt this year, according to Ballotpedia.
The nonpartisan nonprofit said it has reviewed a total of 164 recall efforts targeting 262 officials nationwide so far in 2021, the biggest recall push in the same time period it has observed since 189 recall efforts launched with 265 targets in 2016.
The number of recall attempts underway in 2021 could result in a 23% increase over the total recall efforts last year if the current pace continues, the report said.
California has led all U.S. states in the last five years with the greatest number of recall efforts by early June, with one exception, 2018. This year, it has nearly half of all the national recall efforts, and more than double any other state, with Arizona in second place with 32 officials facing the possibility of removal.
By the time Ballotpedia concluded its mid-year report on June 9, nine officials had already been successfully recalled and another six resigned before a recall election could take place. Twelve officials defeated the removal attempts that targeted them, and 77 of the recall campaigns did not qualify for an election.
Newsom is one of 149 officials around the country still facing a possible recall.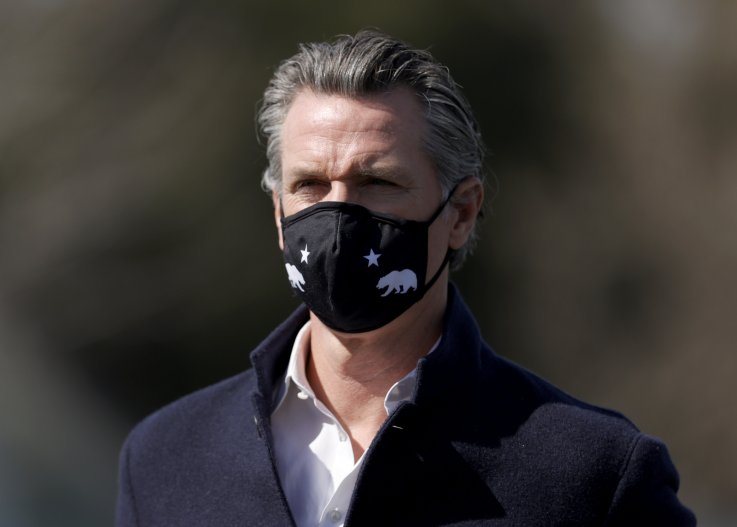 California Governor Gavin Newsom looks on during a news conference after touring Barron Park Elementary School on March 2, 2021 in Palo Alto, California.
Justin Sullivan/Getty Images
The Recall Gavin Newsom website says policy issues of concern for recall supporters range from the Democrat's positions on immigration to gun safety legislation.
Recall organizers have credited Newsom's handling of the pandemic with fueling their efforts. Though Newsom has faced other recall attempts since his first gubernatorial win in 2018, the campaign he is currently battling is the first to gather the minimum number of signatures needed to qualify for a ballot.
Gray Davis, who was successfully recalled in 2003, is the only California governor to suffer that fate. He told Newsweek earlier this year he believes Newsom will survive a recall election. A recent poll conducted by the Public Policy Institute of California found a strong majority of Californians said they would vote to keep Newsom in office.
In addition to the volume of recall efforts Ballotpedia has reviewed this year, Smith said what "really stood out" to her about the data was the number of school board officials targeted by removal campaigns.
"City council members usually account for the most recalls, but school boards are taking that spot, and city council members have had that spot for the past five years," Smith said.
Recall efforts have targeted 126 school board members across the U.S. so far this year—about 48% of the total recall campaigns underway, according to Ballotpedia's report. Last year, they accounted for only 19%. City council members represent 25% of the total this year, down from 35% last year.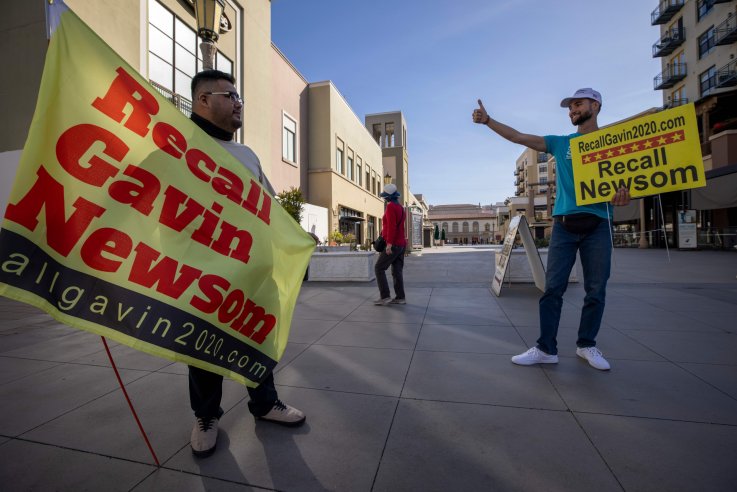 Volunteers try to direct passersby to a booth near Pasadena City Hall where conservative activists gather signatures in a recall effort targeting California Governor Gavin Newsom on February 28, 2021 in Pasadena, California.
DAVID MCNEW/AFP via Getty Images
As is the case with Newsom, the pandemic is tied to many of the recall campaigns targeting school board members, Smith said. A separate Ballotpedia assessment of recall efforts linked to the pandemic suggests more than 50% of school board members targeted by removal attempts in 2020 and 2021 "might not have happened without the virus," she added.
"When you suddenly have your kids home with you and you can see what they're learning every day because you're all home together," Smith said, "you might start being a lot more interested to find out who's in charge of that."