Gavin Newsom Warns of Winter COVID Surge as Cases Jump by Over 25 Percent in Two Days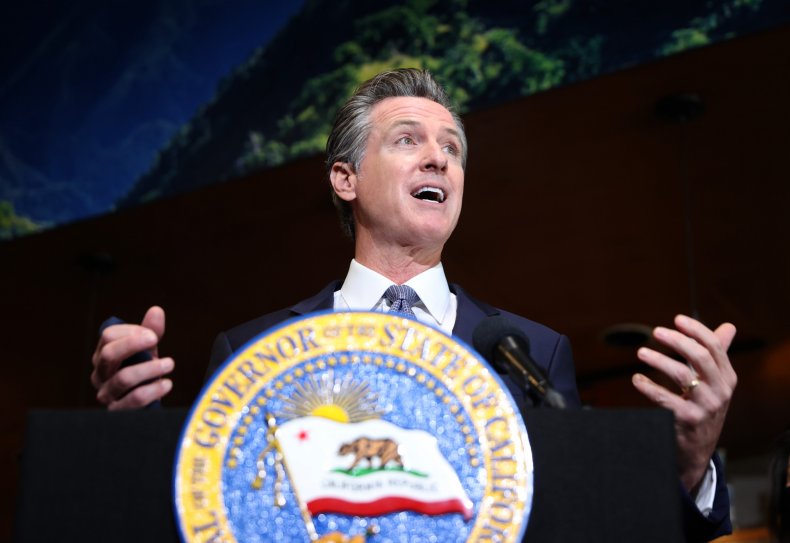 California Governor Gavin Newsom warned of a coming winter COVID-19 spike while the state's testing positivity rate increased by over 25 percent in just two days.
Newsom spoke Wednesday about the potential surge while urging eligible Californians to receive vaccine booster shots. The Democrat, who comfortably survived a recall effort last month, made the remarks just after receiving a dose of Moderna's COVID-19 vaccine. Newsom received a single-dose Johnson & Johnson vaccine earlier this year.
California's testing positivity rate jumped considerably in the two days after Newsom issued his warning. Although California still has one of the lowest positivity rates in the U.S., the rate increased sharply from 2.2 percent on Wednesday to 2.8 percent on Friday, according to Deadline.
"This time last year, we were at 3.3 percent positivity," Newsom said on Wednesday. "I want folks to understand why this is more important than it might appear. We're not just here to promote boosters in an abstract, we're here to promote caution ... Because of what we anticipate happening this winter."
"Just consider some stubborn facts," he added. "This time last year, on the 24th of October we had about 6,000 cases. One month later, we had 18,000 cases. A month after that, 54,000. Basically a tripling of cases every month. That was last year. And we all remember what occurred last winter."
Newsom went on to say that in addition to new cases tripling monthly around the same time in 2020, the testing positivity rate also doubled each month. The governor warned of a possible "twindemic" of COVID-19 and the flu—noting that preventative measures like mask wearing and social distancing likely helped mitigate the flu season last year but may be followed less stringently in 2021 due to vaccinations.
The governor also mentioned the current situation in the United Kingdom, where COVID-19 cases have rapidly increased since September and are currently at their highest level of prevalence since January. Newsom said that the virus in the U.K. was "always a month or so ahead of where we are in this state."
Newsom was not the only governor to warn of a winter surge. New Hampshire Governor Chris Sununu, a Republican, predicted that the state would be "worse" off this winter than last year while urging residents of the Granite State to become vaccinated on the same day, according to The Concord Monitor.
"Frankly, I believe we're going to be in a worse situation than we were in last year with cases and hospitalizations," Sununu reportedly said. "We have to appreciate that this winter could be tough."