21-Year-Old Recounts Alleged Gay-Bashing by Gang of Teenagers: 'They Were Stomping on My Head'
An Australian gay man says he and his brother were "hunted down" and viciously beaten by a group of teenagers.
The 21-year-old, identified as "Joshua" told the Gold Coast Bulletin that he and his 16-year-old brother were on a bus visiting family on Queensland's Gold Coast when a group of teens started shouting homophobic slurs—including "fucking f*ggots" and "gay c*nts."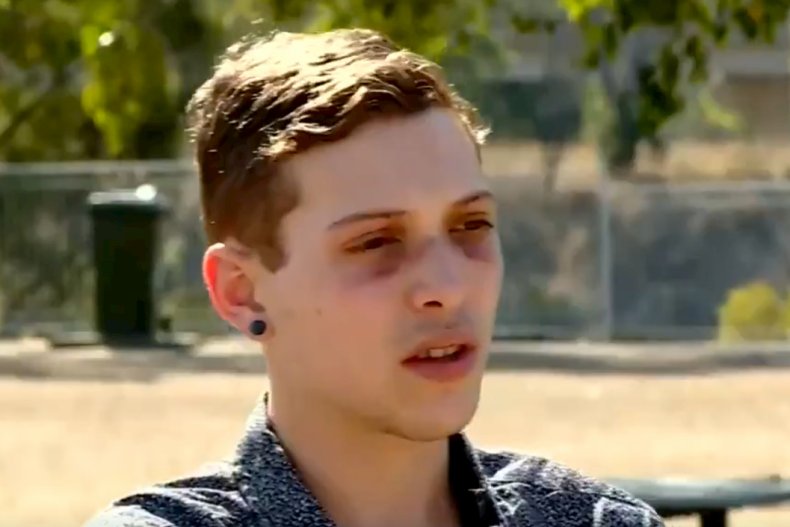 The brothers ignored the taunts but later that afternoon, Joshua says, the same teens accosted them in a mall food court. This time, though, they were part of a larger group—about ten in all.
They appeared to be "hunting" someone, Joshua told The Bulletin, before spotting the siblings. They approached the brothers and starting hitting them and forcing them to the ground, where they kicked and stomped them in what Joshua called a "bloodthirsty" attack.
"The first time was very traumatic but the second time they hunted us down," he told 9 News Gold Coast. "They were stomping on my head. They were stomping on my brother's head. They were punching us. They were kicking us," he said. "We were both down on the ground. We weren't able to defend ourselves."
The assault reportedly only stopped when a security guard intervened.
As a result of the assault, Joshua received broken ribs, with brushing and a swollen face, while his brother has suffered fractured ribs, a swollen eye and a split lip.
Police are looking for those responsible and have already arrested two suspects, News 9 reports: An 18-year-old and a 15-year-old, who have been charged with assault occasioning bodily harm. The 18-year-old will be tried as an adult.
Joshua says he's grappling with guilt over his brother being beaten because of his sexuality. "I feel like me being gay, that I have put [him] in danger," he told News 9. "It wasn't once but twice. I have a lot of guilt."
"I feel like I can't go back to Queensland," he added. "It's shaken me."
Australia is often considered one of the most LGBT-friendly countries in the world: According to a 2013 Pew Research poll, nearly 80 percent of Australians said homosexuality should be accepted by society. The country repealed the last of its sodomy bans in 1997 and enacted same-sex marriage in 2017.
With a population of about 570,000 people, the Gold Coast is the second largest city in Queensland after Brisbane. While its known as a popular tourist destination, the area, Queensland has a "poor reputation when it comes to acceptance of gays and lesbians," reads Lonely Planet's entry on the region.
Outside Brisbane's "small but lively gay and lesbian scene," it warns, "there can be a strong streak of homophobia, and violence against homosexuals is a risk, particularly in rural communities."