Gay Couple Kisses in Front of Religious Conservative Protesters at a U.K. Staging of The 'Rocky Horror Show'
Anti-gay protesters who were outraged at the arrival of the classic musical, The Rocky Horror Show, were recently treated to the sight of two men kissing in front of them in Chester, England.
The group had been protesting the staging of the musical due to the show's themes, which include homosexuality and crossdressing. Stagings of the show have been relatively commonplace for over the past four decades, and are rarely accompanied by protests.
Gay couple Robert Brookes, 21, and Joe Fergus, 24, decided to make the public display of affection after encountering the protesters while attending a performance of the show at Chester's Storyhouse Theatre on Tuesday night. The protests had begun on Monday, the production's opening night.
"You're never going to get rid of hate with hate so we decided to spread some love. One of the protesters actually said, 'Oh that's lovely. That's lovely. You're an abomination!'" Fergus told Cheshire Live.
Newsweek subscription offers >
"I respect everyone is entitled to their opinion, however I am also entitled to kiss my boyfriend wherever I want without judgment, and that's what we are fighting for."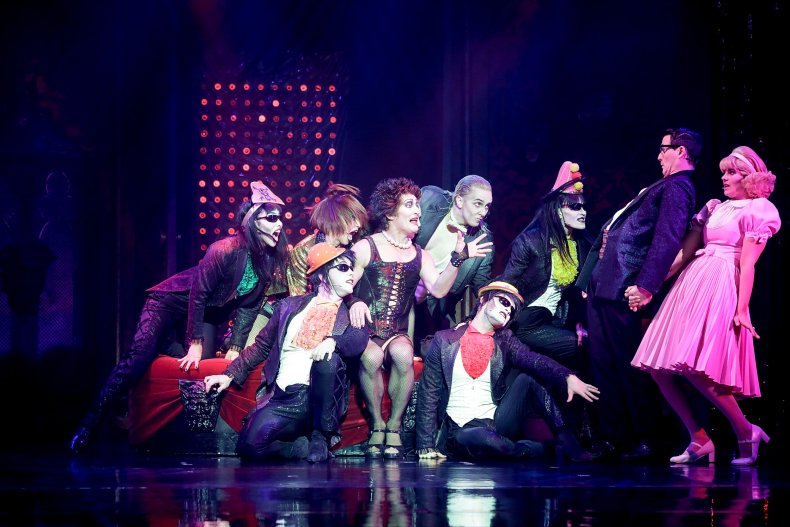 The protest group, which reportedly included members of the Penn Free Methodist Church and Zion Tabernacle Protestant Evangelical Church, had deemed the show "unholy, sexual and offensive to God." Some held signs which claimed, "because of these things cometh the wrath of God upon the children of disobedience," and urging theatregoers to "flee from the wrath to come."
While it could be argued that the wrath of God has yet to make an appearance, the display certainly did garner attention of another sort, as counter-protesters joined the group with displays of their own. One man held a large sign reading "bollocks to hate."
In a tweet Monday, the venue said, "To everyone coming to The Rocky Horror Show tonight and this week at Storyhouse: Storyhouse is and always will be a safe space. We celebrate and support LGBTQ+ communities - always. Let's have a FABULOUS night & week."
A picture of the couple kissing in front of the protesters appeared Tuesday on the Facebook page of local LGBTQ advocacy group Chester Pride.
The protests are around 46 years too late, as the popular musical comedy penned by Richard O'Brien first debuted on June 19, 1973 at London's Royal Court Theatre. In spite of the play's allegedly "sinful" content, it's gone on to massive worldwide success, spawning a global legion of fans, countless revivals, a sequel and adaptations including the cult classic 1975 film The Rocky Horror Picture Show.
The Chester production seems to be doing well. An online search for tickets to the show reveals that the final performances of the run are nearly at capacity.
Gay Couple Kisses in Front of Religious Conservative Protesters at a U.K. Staging of The 'Rocky Horror Show' | News