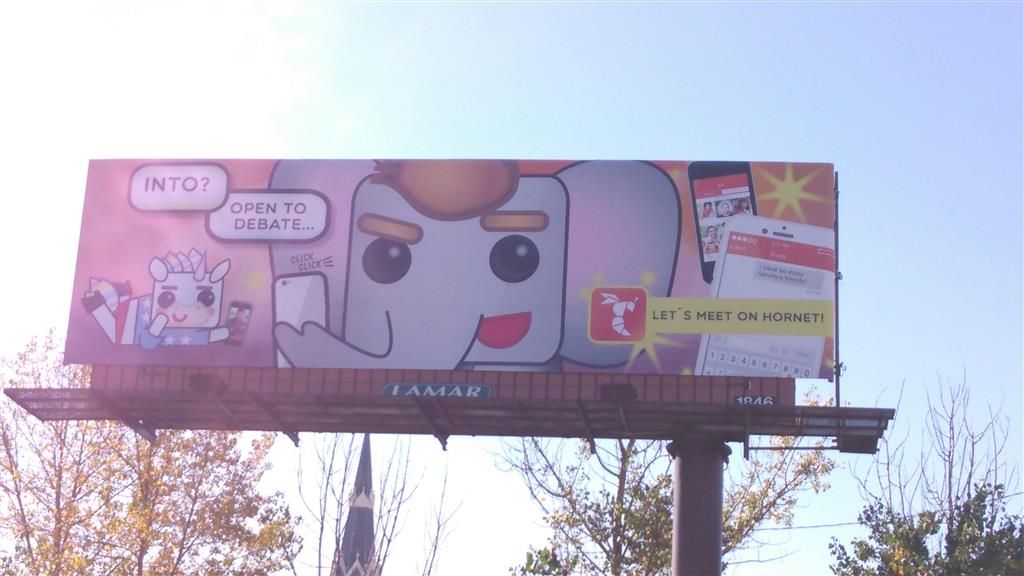 The founders of gay dating app Hornet made a pointed choice for the site of their latest billboard—the Milkwaukee Theater, host of the fourth Republican presidential debate.
Founded in 2010 by gay rights activists that include Chief executive Sean Howell, Hornet—a competitor to apps like Tinder and Grindr—says it has 7 million users worlwide. The company's billboard features a cartoon elephant chatting with a unicorn who is draped in an American flag. "Open to debate?," the elephant asks the unicorn.
"We wanted to inject some humor and poke fun at the race," says a Hornet spokesman. "For most gay men around the world, they don't enjoy full equality, so it is important that at a debate like this we interject ourselves into politics even if the candidates aren't talking about our issues."
Hornet's creators thought the billboard's placement would draw attention to the lack of discussion around gay rights issues at the debates, while also poking a bit of fun at the GOP. The company's spokesman said the billboard was inspired in part by the Religious Liberty Conference, attended by Republican presidential hopefuls Ted Cruz, Mike Huckabee and Bobby Jindal.