Gay Doctor Shares Monkeypox Experience: 'I Was in Disbelief'
TikTok's "thatgaydoctor" has posted a video sharing his experience of catching monkeypox.
Thatgaydoctor—who goes by this username for privacy purposes—posted the video to TikTok and Instagram two days ago, revealing that he had caught the virus.
The Chicago-based doctor became well known for advocating for LGBTQ+ visibility in the workplace, and now has 727,000 followers on TikTok and 61,800 followers on Instagram.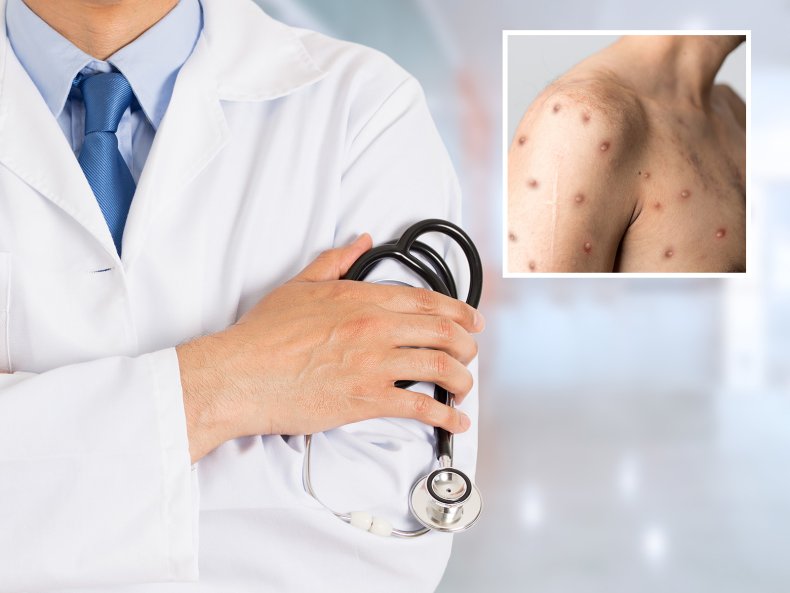 "I was in disbelief when I saw the lesions because I thought [monkeypox] was still quite rare—but apparently not, which is why I'm sharing," he wrote in an Instagram caption to the video.
He began the video by saying: "Do you want to learn about monkeypox? Because I got it."
Monkeypox has been spreading throughout the globe in recent weeks. Many of those infected develop a rash of lesions on their body, which, when touched, are thought to be the main source of transmission. However, until now the virus was usually only seen in parts of Western and Central Africa, meaning scientists are still learning about it and how it spreads.
While scientists are still researching the cause of the recent outbreak, some cases of monkeypox have been linked to sexual contact. The U.S. Centers for Disease Control and Prevention (CDC) reported last week the disease was primarily affecting "men who have sex with men."

Some experts believe this could be down to direct contact made during sex, but they are currently researching whether the virus can spread through fluids. This would be uncharacteristic of the virus and would imply that it has developed a new way of spreading.
Experts at the World Health Organization (WHO) have stressed that monkeypox "is not a gay disease."
The doctor says he woke up with swollen lymph nodes two days prior to making the video, and became "increasingly fatigued" throughout the day.
He also developed chills and "started to break out in some weird spots" on his "face, neck, arms, and back."
The doctor showed the camera his spots, which were breaking out across his body. He also showed the camera his throat, which appears swollen.
"And you can see my lymph nodes are very, very swollen as well," the doctor said. "I have been super fatigued or slept for about 15 hours today and I'm still kind of having trouble keeping my eyes open."
Monkeypox is transmitted from animals to humans. The illness lasts two to four weeks, according to the CDC, and causes symptoms such as a fever, headache and muscle aches prior to the appearance of a rash.
The doctor said he went to the Emergency Room where they swabbed his lesions to test for the virus. However he said they are "pretty sure" it is monkeypox.
"I was discharged home because treatment is mostly supportive care unless you're immunocompromised so I'm just gonna rest and I'm supposed to isolate until all of the lesions have crusted over and fallen off," he said. "Cases are most definitely on the rise, especially in bigger cities, and it is spread by close person to person contact. The smallpox vaccine is being offered as prevention for some people who have been close contacts of those who have it but there's very limited supply so it's not super readily available right now."
He said he wanted to post about his experience with the virus to "spread awareness" and remind people to "check their bodies," especially during Pride month, where big gatherings are taking place.
"I also want to do away with any stigma or embarrassment that anybody might have about getting any form of disease. These things happen," he said. "[...W]ith this being a relatively new thing, the recommendations on treatment isolation will likely be evolving. And so make sure keeping an eye on the news and watch out for case rates in your area. Gonna get back to getting some rest. I am hoping for a speedy recovery."