Memorial to Gay Victims of Holocaust Vandalized in Berlin
A Berlin memorial to gay victims of the Holocaust was vandalized over the weekend, police report.
The memorial, designed by artists Michael Elmgreen and Ingar Dragset and unveiled in 2008, is located in in Tiergarten Park, near the city's monument to Jewish victims of the Holocaust. A giant concrete cube, it features a cutout through which visitors can peer and see a video of a same-sex couple kissing inside.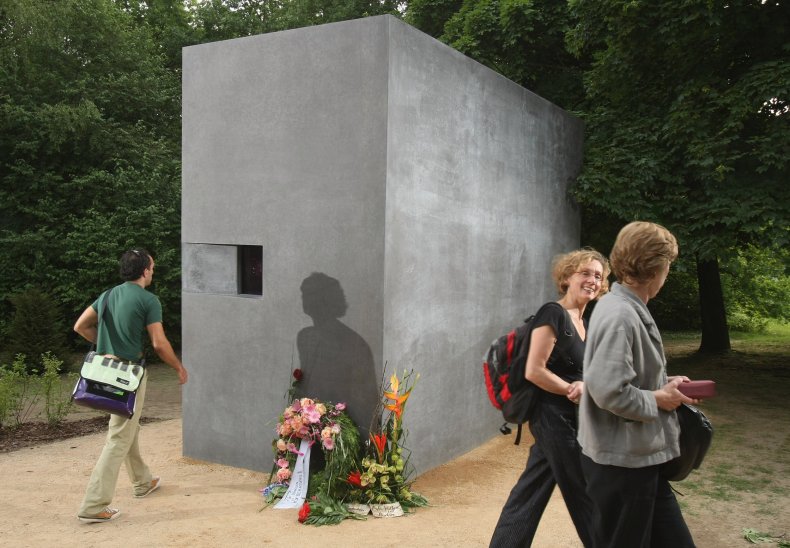 But guards say sometime Sunday night the window had been painted over. There are currently no suspects, though its not clear if the memorial was monitored by surveillance cameras.
It's estimated that, between 1933 and 1945, 100,000 men were arrested by the Nazis under Paragraph 175, which made made homosexual acts between men punishable by up to six years in prison. Of those men, some 50,000 were sentenced and between 5,000 to 15,000 were sent to concentration camps.
According to Holocaust scholar Rüdiger Lautmann, men who wore a pink star signifying their orientation suffered particular cruelties from guards and were ostracized by fellow prisoners, as well. As many as 60 percent of those men died in the camps.
Some homosexuals were also victims of castration and cruel medical experiments, according to the United States Holocaust Memorial Museum: At Buchenwald, capsules containing the male hormone testosterone were inserted into gay men, with the belief it would turn them heterosexual.
In general, lesbians did not face systematic persecution because the Nazis believed they could still serve the party by having children.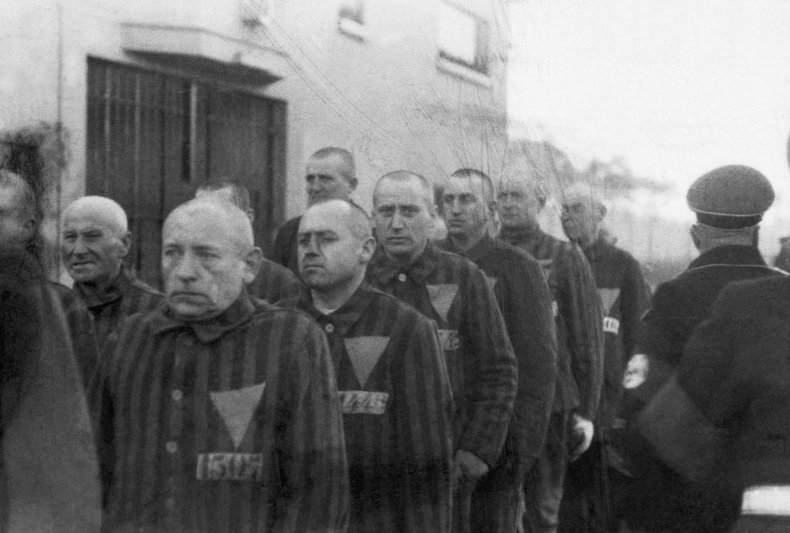 On May 6, 1933, Nazis in Berlin ransacked Magnus Hirschfeld's Institute for Sexual Science, the first major resource center for research into homosexuality. They arrested staff and burned thousands of books viewed as "un-German."
A special Gestapo division was established a year later to deal specifically with homosexuals. In 1936, Heinrich Himmler created the Reich Central Office for the Combating of Homosexuality and Abortion.
After the war ended, homosexual concentration camp prisoners were not acknowledged as victims of the Nazis and were denied reparations. Some were forced to serve out the remainder of their sentences.
Paragraph 175 remained in effect in West Germany until 1969.
Desecration of Holocaust markers has increased in recent years, as anti-Semitic sentiment rises in Europe and the U.S. In June, a man defaced a Holocaust memorial in Philadelphia, etching two SS "bolts" and the initials RBM on one pillar and attempting to add a swastika to another.
The suspect, who was captured on video, was described as a middle-aged white man wearing a gray t-shirt and shorts.
"While all instances of vandalism are shameful, we were particularly disturbed by the perpetrator's use of SS bolts, a known Nazi symbol, to damage the Holocaust Memorial Plaza," said Eszter Kutas, executive director of the Philadelphia Holocaust Remembrance Foundation.