Gay Lead Singer Banned from Performing in Jordan Says He is Victim of Government Homophobia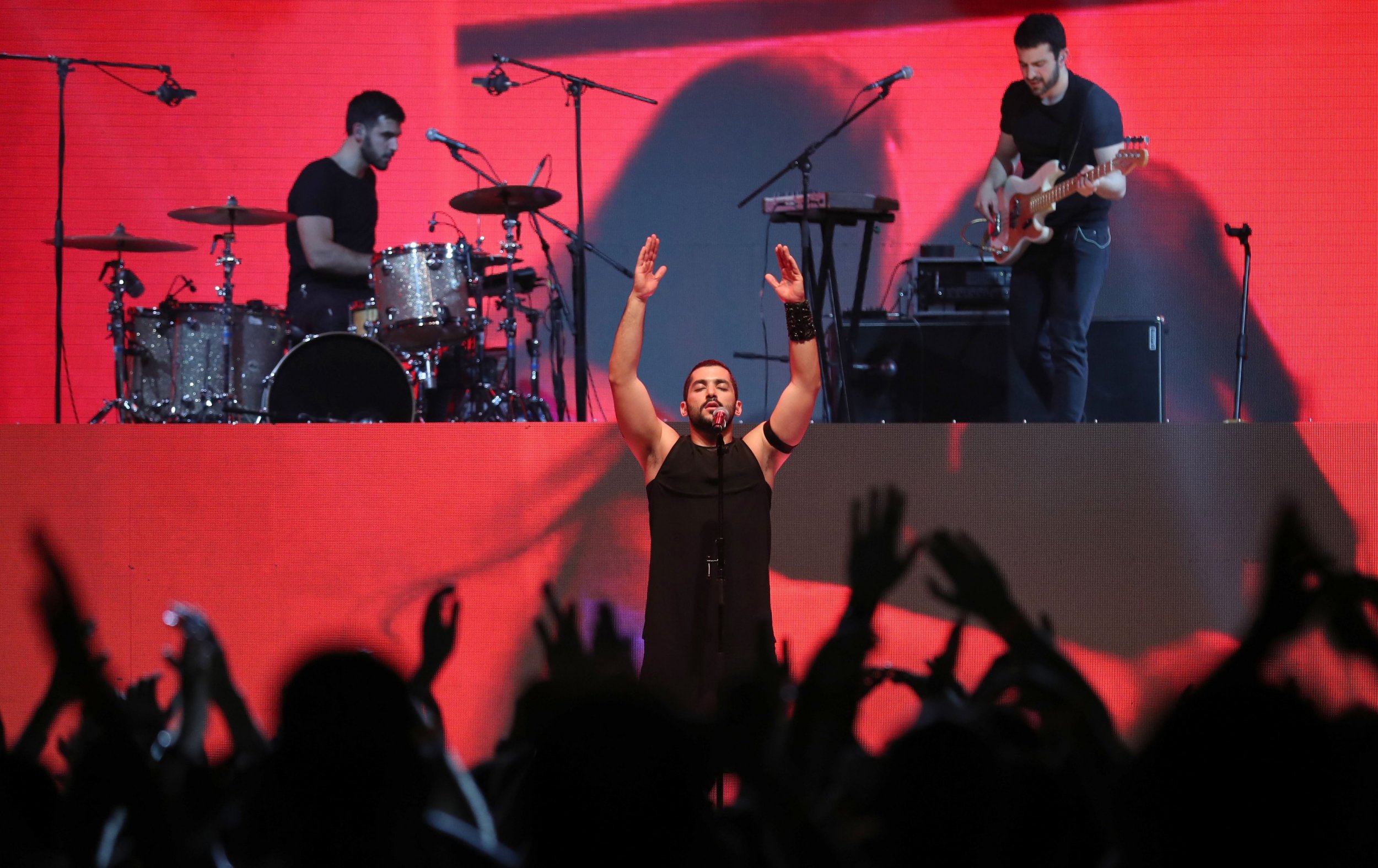 The gay lead singer of a Lebanese rock band banned from performing in Jordan has slammed the country's government for its "homophobic" treatment.
Mashrou' Leila, an alternative rock group, were due to perform in the Jordanian capital of Amman on June 27. However, Jordan's interior ministry pulled the gig on June 13, bowing to mounting pressure from members of Parliament.
The band's frontman Hamed Sinno is openly queer and Muslim. He has been praised for his global activism for the LGBT+ community.
One member of Parliament, Dima Tahboub, told CNN last week that Sinno's sexuality was "exactly" why she and other MPs petitioned to have the concert canceled. She said the MPs were acting on concerns expressed by citizens.
"The Parliament members who were pushing for the cancelation all continuously cited that people had a problem with it," Sinno told Newsweek by phone from Beirut Monday morning.
"If you go online and gauge what people had a problem with, people were making the most atrocious homophobic remarks. If the government is listening to the people, then the government is acting upon those homophobic remarks. I do think that [homophobia] is also the issue [the government has]."
The June 27 concert had been approved by Jordan's tourism ministry, which was working with the band to facilitate the event. "I'm Lebanese, so it takes a lot for me to be impressed by governmental inconsistency," says Sinno. "It's absurd that one ministry was completely on board and facilitating everything, and the rest of the government had no idea or just decided to change their mind at the last minute."
Related: 'Wonder Woman' Will Be Screened in Jordan, Despite Controversy Over Israeli Actress Gal Gadot
It's not the first time Mashrou Leila' have faced opposition from the Jordanian government. An earlier gig, due to take place in April 2016, was also canceled by the government. The decision was reversed the night before the concert, leaving little time for the band to go ahead with their live show.
"It sends a horrible message to the LGBT community. It tells the LGBT community that if people have a problem, we're going to shut you down; they're not respecting diversity or safeguarding people's [rights]," says Sinno.
Sinno says he has been inundated by death threats and violent rhetoric on the band's Facebook and Twitter pages.
"Our Facebook feed is horrible," he says. "There's a clear schism between people that are being extremely supportive and people that are flat-out sending death threats. There's very little in between."
Jordan is one of the most liberal and progressive countries in the Middle East when it comes to recognizing LGBT+ rights. Sinno says this makes the decision to ban Mashrou' Leila all the more perplexing.
Mashrou' Leila's lyrics about sexuality, gender equality and politics have earned them a strong following in the Middle East and around the world. The Guardian described them as "overturning the status quo of Arab pop." But the band has also faced criticism for being subversive to the cultural sensitivities of the region.
The five-piece will continue ahead with tour dates in Morocco, Serbia, Sweden and the U.K., where they will headline a concert at London's Somerset House. They have also sold out one of two nights in New York City.
Mashrou' Leila's London gig in July follows recent terror attacks in the city, the latest of which targeted members of the Muslim community leaving late-night Ramadan prayers at Finsbury Park Mosque on Sunday night.
For Sinno, that gives his band's concert added resonance: both as an act of defiance and a call for solidarity. "Look, I'm a queer, brown male headlining the city's biggest festival, I think that says enough."
Mashrou' Leila play Summer Series at Somerset House, July 15, London.