The four men beat Daniel Zamudio, a 24-year-old gay man, with bottles and rocks in a Santiago, Chile, park. They reportedly tortured him by burning him with cigarettes, cut off part of his ear and used broken glass to carve swastikas into his body. Zamudio died from his injuries 25 days after the March 2012 attack, and investigators said they believed he was targeted because he was gay.
After the worst mass shooting in U.S. history, which targeted a gay nightclub in Orlando, Florida, on Sunday, a United Nations official says that huge numbers of lesbian, gay, bisexual and transgender people—like Zamudio—are targeted for murder and assault across the world each year.
"Unfortunately, this is a little glimpse into a deep well of hatred that exists in societies across the world," Charles Radcliffe of the U.N. Human Rights Office says, adding that FBI statistics show that the total number of homophobic attacks is second only to the number of racial attacks, even though gay and transgender people make up a tiny share of the U.S. population. "We also know that those statistics are probably just the tip of the iceberg because much of this crime goes unreported."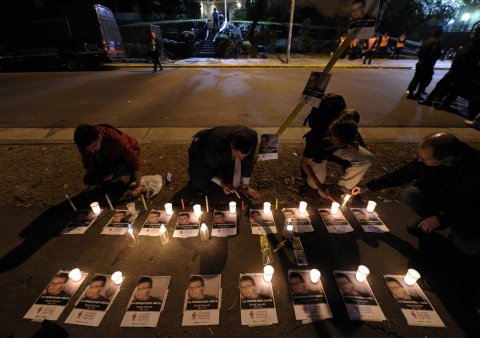 Homophobic and transphobic violence happens in all regions of the world and ranges from aggressive bullying to physical assault and targeted murder—and even includes "corrective" rape, in which men rape women thought to be lesbians on the twisted pretext of trying to cure their homosexuality, according to Free & Equal, the U.N. campaign for LGBT equality.
"In several countries, the authorities have noted a dramatic spike in homophobic and transphobic violence in the immediate aftermath of high-profile legislative advances aimed at better protecting the rights of LGBT people," states a Free & Equal fact sheet. "It is a phenomenon with historic parallels: Past attempts to eradicate racial segregation and discrimination reportedly triggered a similar backlash directed at members of racial minorities."
Targeted violence against homosexual and transgender people in the U.S. also occurs regularly, from famous tragedies like that of Matthew Shepard, who died after he was tortured and tied to a fence in Wyoming in 1998, to lesser-known attacks like the 2013 fatal shooting of a gay man in New York's Greenwich Village by a man who taunted him with anti-gay slurs.
Zamudio's murder was sadistic, but his death and the conviction of his killers forced reform in the South American country, with the BBC calling the killing "a watershed" that galvanized politicians to act. Chile adopted new laws on homophobia and discrimination after his death, according to Free & Equal, and last year, three years after Zamudio died, the conservative country legalized same-sex civil unions for the first time.