Gay Men Kissing At Russia's World Cup Will be Reported to Police, Say Cossacks
Men kissing each other in public will be reported to police at one of Russia's cities that will host the World Cup, an ultra-conservative group has warned.
The world's premier international soccer competition kicks off across 11 Russian cities next week, and the Kremlin has dismissed suggestions that the country's restrictive laws would disrupt the flow of the tournament. But in the city of Rostov, members of the religious and traditionalist Cossack communities enlisted to help authorities secure the stadiums say they will will also be on the lookout for acts of same-sex affection.
"If two men are kissing each other at the World Cup, we will tip off the police, drawing their attention to it and the rest is a police matter," Oleg Barannikov, a head coordinator of the Cossack volunteers with the police told Radio Free Europe-affiliate Current Time. "To us, values mean the (Christian) Orthodox faith and the family come first."
Related: Russia must defend internet from terrorists, pedophiles and "same-sex values," says Lavrov
Barnnikov did not elaborate on what Cossacks hope police will do upon learning about the kissing men. Homosexuality in Russia is not illegal, but recent legislation has banned many materials for public awareness of non-heterosexual relationships and LGBT pride symbols from public display, equating them to adult content inappropriate for children.
In 2015, lawmakers from Russia's Communist Party tabled a bill to fine public "displays" of a individual homosexuality and detain LGBT youths for up to 15 days after "coming out." The bill never became law, however, failing to gather enough support in a vote over the following year.
The legislation that remains in place, often called the "gay propaganda" law, places restraints on portrayals of LGBT relationships as equal to heterosexual unions, but has so far not provided grounds for prosecuting anyone for kissing a member of the same sex.
Russia's Football Union has said it would not ban World Cup visitors from exhibiting Rainbow pride flags and Alexei Smertin, an ex-football player who is now the union's anti-racism inspector, said people would not be fined for "expressing their feelings."
Although Russian authorities have called on Cossack volunteers to support services such as the military in rounding up conscripts, the extreme views held by some members are a concern. Men in cossack uniforms who helped police an opposition march against Russian President Vladimir Putin notoriously attacked demonstrators with leather whips.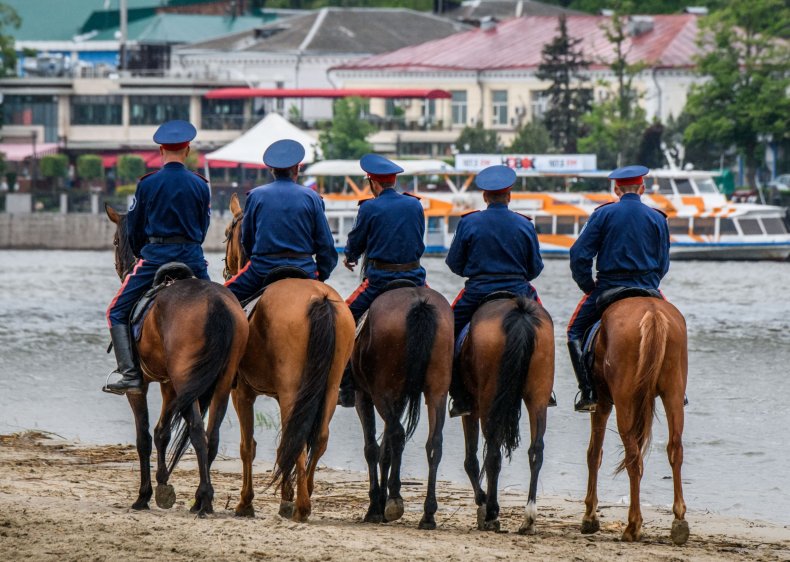 The incident horrified liberal news outlets, but authorities and Cossack leaders played down the incident, denying all knowledge of the whip-swinging men.
Asked about the privileges granted to Cossacks in Rostov during the World Cup, Dmitry Voskresov, a Cossack volunteer, said members of the group assisting police have limited duties and will not be allowed to carry whips.
"It will all depend on the police," Voskresov said. "If police starts breaking anybody up, then we can provide assistance. If police intercepts any law violations, we are going to watch and help them however we can. We may observe. We can ask that people behave politely. But issuing fines or doing anything else is something only the police can do. We have no right to do this."