Gay People 'Will Go to Hell': Top Rugby Star Israel Folau Sparks Outrage with Latest Outburst
One of Australia's biggest sports stars has sparked outrage, stating gay people will go to hell unless they repent their sins.
Israel Folau, who plays for the New South Wales Warathas and is one of the linchpins of the national team, made the controversial comment while responding to a question on his Instagram and Twitter profiles.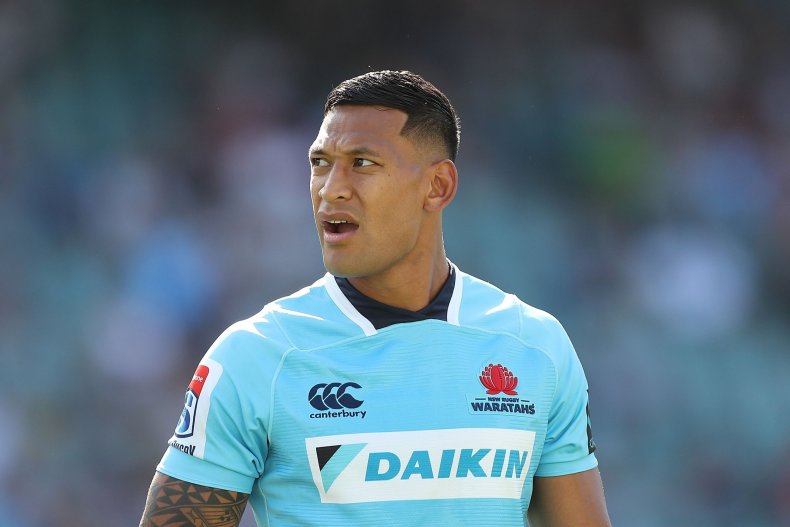 The 29-year-old posted a picture captioned with a bible verse relating to "God's plan", which prompted Mike Sephton-Poultney to ask the rugby star: "@izzyfolau what was gods [sic] plan for gay people??"
The Warathas' full-back replied: "@mike_sephton HELL... Unless they repent of their sins and turn to God."
Unsurprisingly, the Queensland native's views went down like a lead balloon and sparked uproar on social media.
Former Wales captain Gareth Thomas, who has been an outspoken and influential campaigner for gay rights since declaring he was homosexual in 2009, wondered what God's plan for Folau migth be, while Rugby World journalist Paul Williams suggested the Australian's views did not belong in the 21st century.
Folau, who represented Australia in rugby league alongside former San Francisco 49ers running back Jarryd Hayne, is renowned for his religious views. Raised as a Mormon, the former Brisbane Broncos star is a devout Christian and joined the Assemblies of God fellowship in 2011.
It is not the first time Folau's stance on gay people has made the headlines. In September last year, ahead of Australia's referendum on same-sex marriage, he took to Twitter to voice his opposition to the issue.
"I love and respect all people for who they are and their opinions," he tweeted.
"But personally, I will not support gay marriage."
Folau's views were at odds with those of a number of Australian sporting organizations—including the Australian Rugby Union, the National Rugby League, Cricket Australia and Football Federation Australia—which had supported the vote in favor of same-sex marriage.