Gay Police Group Blasts NYC Pride Parade Organizers Banning Them: 'Shameful'
A group representing LGBTQ+ officers within the New York Police Department (NYPD) said a decision by New York City Pride organizers to block members of law enforcement from participating in its annual events was "shameful."
The Gay Officers Action League (GOAL) issued a statement condemning a decision by Heritage of Pride, the organizers of the city's annual Pride events, for prohibiting police from joining its festivities until at least 2025.
"[GOAL] is disheartened by the decision to ban our group from participating in New York City Pride. Heritage of Pride (NYC Pride) has long been a valued partner of our organization and its abrupt about-face in order to placate some of the activists in our community is shameful," the group said.
The statement came after organizers for Heritage of Pride announced that LGBTQ+ members of law enforcement would be barred from attending the annual parade in an effort to curb the event's overall police presence. The organization said the decision was informed in the wake of Black Lives Matter protests, and "at a time when violence against marginalized groups, specifically BIPOC and trans communities, has continued to escalate."
"The sense of safety that law enforcement is meant to provide can instead be threatening, and at times dangerous, to those in our community who are most often targeted with excessive force and/or without reason," Heritage of Pride said in a statement.
"NYC Pride is unwilling to contribute in any way to creating an atmosphere of fear or harm for members of the community," the statement added.
NYC Pride organizers told ABC News that typically, about 200 NYPD members would participate in the city's Pride march in June, including members of GOAL. But André Thomas, co-chair of Heritage of Pride, said that this year, the organization felt allowing a police presence would be more detrimental to the overall community.
"We know many LGBT cops," Thomas told ABC. "But what the institution represents sometimes to a person of color or trans person is violence, and that doesn't make you feel safe. So that's the perspective we're coming from. And it's a difficult place to be. But we know that's what our community expects of us at this time."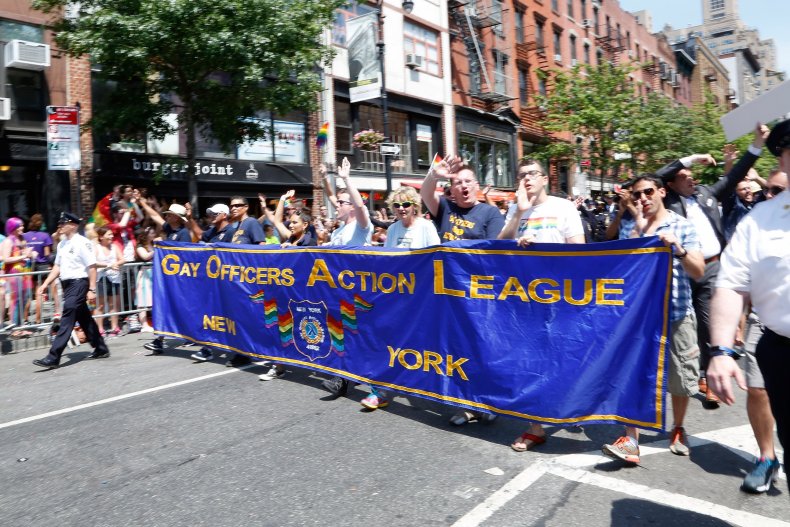 In response, GOAL President Brian Downey said the Heritage of Pride statement—which did not mention GOAL by name—was both "demoralizing" and "dehumanizing."
"Heritage of Pride is well aware that the city would not allow a large scale event to occur without police presence. So their response to activist pressure is to take the low road by preventing their fellow community members from celebrating their identities and honoring the shared legacy of the Stonewall Riots," Downey said.
"It is demoralizing that Heritage of Pride didn't have the courage to refer to GOAL by name in its announcement, referring to us only as 'Law Enforcement Exhibitors.' The label is not only offensive but dehumanizing for our members," he continued.
In a similar statement, the NYPD also said it found the officers' exclusion "disheartening."
"The idea of officers being excluded is disheartening and runs counter to our shared values of inclusion and tolerance. That said, we'll still be there to ensure traffic safety and good order during this huge, complex event," an NYPD spokesperson told ABC News.
Heritage of Pride said the decision came after "many months" of conversations and discussions with members of the community. The organization said that after 2025, it will re-evaluate whether or not it will be appropriate to once again invite LGBTQ+ law enforcement members to join the events.
"The steps being taken by the organization challenge law enforcement to acknowledge their harm and to correct course moving forward, in hopes of making an impactful change," the organization said.
Newsweek contacted GOAL for an additional statement, but did not hear back in time for publication.