Gay Pride in UK Celebrated With Heartfelt TV Ads While LGBTQ Communities in US Face Protests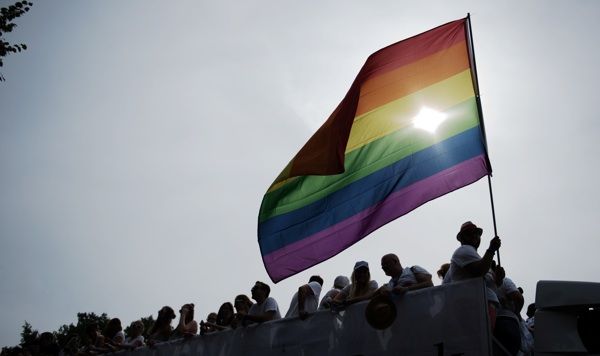 Although Gay Pride festivals won't start in the UK until July, in London, advertising agencies have launched the first-ever television ads in support of Gay Pride and the LGBTQ community. The four 30-second films–sponsored by London's WCRS Channel 4–released on Saturday and feature slots of people apologizing for wronging relatives that identify as LGBTQ.
Coined with the campaign slogan, "Love Happens Here," the heartfelt ads tell the stories of gay, bisexual, transgender and lesbian characters, during which their family members apologize for their outcasting and mistreatment of LGBTQ relatives.
In the commercials, which will run on the Channel 4 network up through London's Pride Parade on July 8, fathers, mothers and siblings appear to say sorry for "belittling" family members' sexuality and for their roles in promoting anti-gay rhetoric.
"British society has made a lot of progress since gay male sex was legalized 50 years ago. However, if you look at the Met Police data then since 2014, when equal marriage laws were passed [in the UK], hate crimes towards the LGBT community in London have increased by 35 percent. This shows there's clearly still a need for brands to humanize the gay community [on above the line channels] further and a lot more that we all can do," Iain Walters, deputy director of marketing for Pride In London, told Marketing Week of the inspiration behind the commercials.
Despite achieving a television spot in honor of Gay Pride celebrations, Walters said the commercials are just a small win for the battles LGBTQ members were experiencing around the world.
"It's wonderful more gay families are being shown on TV ads, but there's still a long way to go when you consider the proliferation of BAME characters and also the lack of gender equality in board rooms," he said. "The political climate–of the Conservatives working with DUP and the Orlando tragedy–means we have to react more regularly with messages of hope."
Meanwhile in the United States, several protests have ensued during Pride parades in various cities across the country in response to the social injustices and lack of inclusion suffered by LGBTQ people of color.
In early June, protests disrupted Pride events in Washington D.C. and Columbus, Ohio, where four individuals were arrested while protesting violence against minority LGBTQ people, according to an Associated Press report.
Organizers in New York and San Francisco have also reportedly devised protests against Pride events, which are scheduled to kick off on Saturday in both cities, in revolt of the "whitewashed" corporate infrastructure that has seemingly placed priority on white gay males while leaving the struggles experienced by black and brown LGBTQ people in the shadows.