Teens Waving MAGA Flags Disrupt High School's First Gay Straight Alliance Meeting
Students holding the first meeting of a Gay Straight Alliance at a school in California were interrupted by classmates who reportedly shouted slurs, carried a banner reading "Make America Great Again" and followed them into the parking lot.
The inaugural meeting took place at Frontier High School in Bakersfield on August 28. Afterward, according to a parent who posted on Facebook, a group of "straight kids" came in holding hands and shouting "This is what's right!"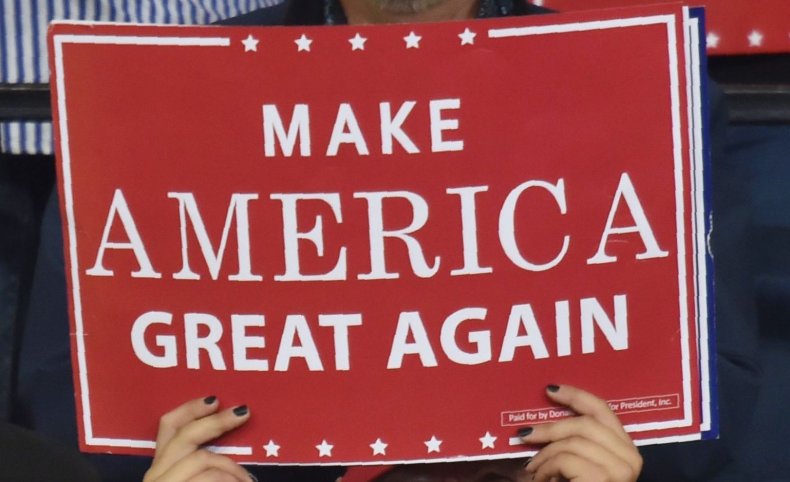 The newcomers were members of Future Farmers of America (FFA), a 91-year-old youth organization that's typically nonpartisan. But, according to the parent, "lately [there's been] tension at the school between FFA and any kids they've determined as 'liberal,'" adding that "the gay community is apparently the one they've decided to mess with."
One FFA member, a senior named Matthew, told KERO Channel 23 that he and other members were suspended for "harassment, intimidation and sexual assault."
But Matthew insists they only attended out of "curiosity" and says a GSA member instigated the altercation. "If you have an opinion that people don't agree with, you get hated on," he claimed.
Officials in the Kern High School District confirmed the incident is being investigated.
"[We] recognize that students have varying viewpoints and opinions," administrators said in a statement. "One of the goals of the educational process is to teach students how to communicate respectfully with each other."
On Monday, the Frontier High School chapter of the FFA posted a statement on Facebook insisting the actions by those members "were in no way organized, supported, nor defended by The Frontier FFA Chapter, its advisors or its membership."
"The choices made by these individuals were that of their own thought, mind, and action," it continued. "These actions in no way reflect the mission of The Frontier FFA which is dedicated to making a positive difference in the lives of students by developing their potential for premier leadership, personal growth and career success through agricultural education. We work to build character, promote citizenship, healthy lifestyles, volunteerism and cooperative attitudes among all people on our campus, in our community, our state and the nation. Under no circumstance do we condone any of the events which took place and we will continue to strengthen intelligent choice and decision making amongst all members."
More than 4,000 schools in the U.S. have GSAs, which provide a safe space for LGBT students and allies to gather.