Russia May Criminalize 'Gay Propaganda,' Says Interior Ministry Official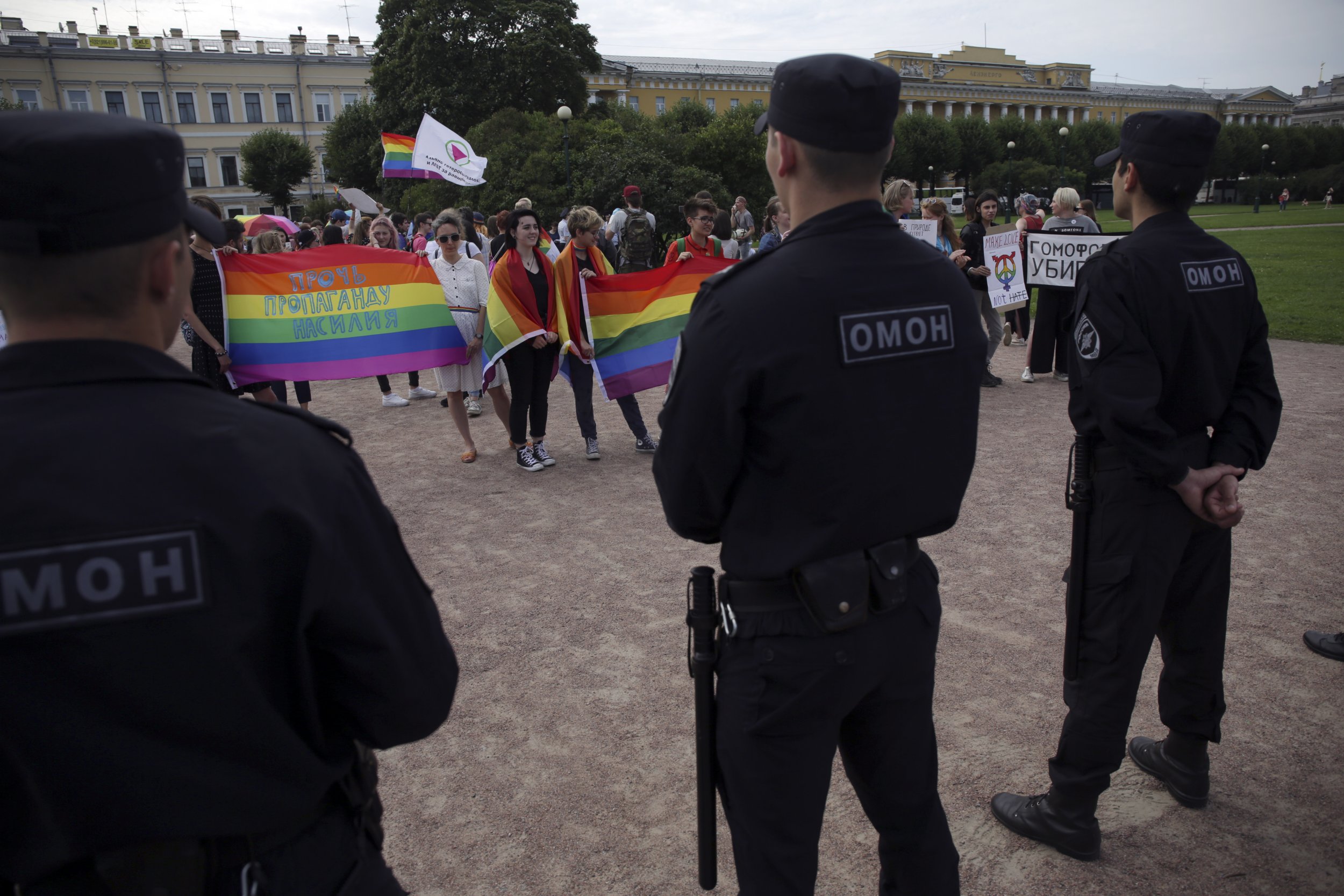 Russia's much criticized law that fines anyone expressing support for LGBT rights in public could get even harsher after a senior official in the Ministry of the Interior suggested making it a criminal offense.
The controversial 2013 law equates LGBT pride symbols and public portrayals of non-heterosexual relationships as inappropriate for children. The law stopped short of criminalizing homosexuality but has made its public displays tantamount to potentially harmful "propaganda". The law is open to interpretation on what constitutes material that is harmful but offences carry a fine of up to 500,000 rubles ($8,000) for deeds such as portraying "non-traditional sexual relationships" in a positive light.
Earlier this year, the European Court for Human Rights ruled that the law is equal to official discrimination. Activists submitted the case, accusing the law of encouraging prejudices against LGBT people, and skewing Russian attitudes towards gay relationships as a foreign cultural import or something that is linked to child abuse.
"A question on the matter of proaganda for pedophilia and homosexuality has been raised," the deputy head of the ministry's anti-sex crime department, Sergei Alabin, said at a parliamentary meeting to discuss stricter measures to protect children from sexual abuse, the Interfax news agency reported on Thursday.
"Today administrative consequences exist for this but they are not very effective, as the fines are anticipated," Alabin complained. "If we were to raise this, for example, to the rank of criminal offense, then I hope we will protect our offspring, which should not grow up leaning towards pedophilia, non-traditional relations and so forth," he said, according to state news agency RIA Novosti.
While the Kremlin claims it does not infringe on the rights of homosexual Russians, negative attitudes are prevalent and worsening. In Moscow, Russia's ruling United Russia party rallied anti-gay activists and used a banner promoting the "real family" unit, pictured as a heterosexual couple with three children.
In predominantly Muslim Chechnya, one of Russia's most conservative regions, gay activists have reported an alleged purge with one report claiming that the region runs six prisons for gay men.
The Kremlin has largely left the local Chechen government to respond to the allegations. A spokesman for regional head Ramzan Kadyrov said no purge was taking place because Chechnya had no gay citizens to purge.
Earlier this week, the first man to fully identify himself as a victim of the purge shared a long and graphic account of the nearly two-week beating he received in captivity, where his Chechen interrogators forced him to identify local men he knew to be gay.