Gay Talese, William Kristol Make Penn Station Great Again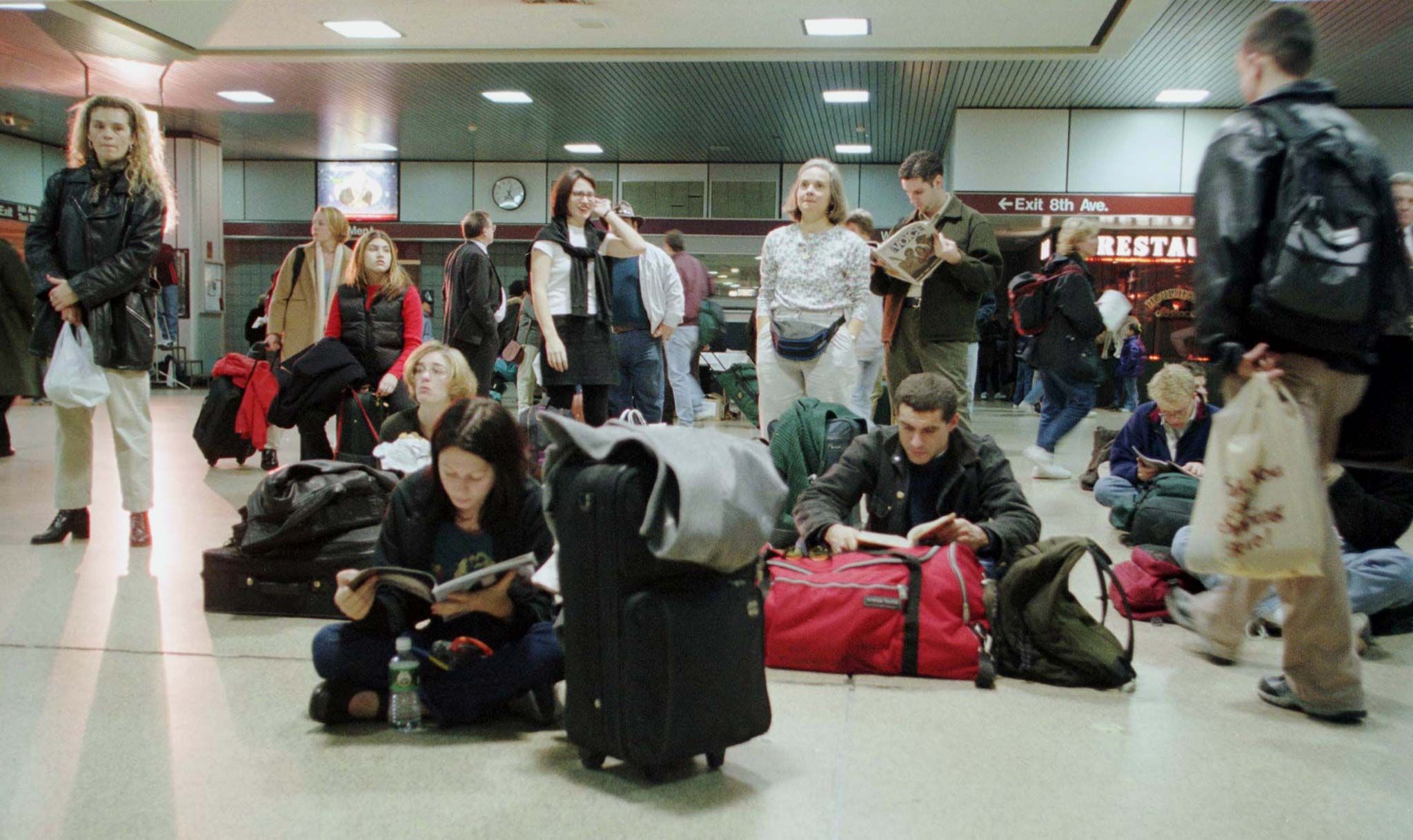 Most New Yorkers loathe Penn Station more than death itself. Oblivion, at least, is unlikely to smell like a three-day-old cinnamon bun. A dead rat lies beside the bun, felled by the treat's sugary enormity. Now the rat is decomposing too, right there on the station's floor, beneath a nine-year-old timetable for the Port Jefferson line. This is the scene you encounter as you rush for the Greenlawn train. Hope you didn't wear your good shoes!
Whereas its sister train station, Grand Central, is embraced as one of the city's great public spaces, most everyone I know would rather the blocks on which Penn Station sits be given over to, I don't know, rows of portable toilets, a nuclear-waste repository or maybe just an open fire for medical waste. Each one of these would be a vast improvement over today's decrepit depot, which makes LaGuardia Airport look like a chalet in the Swiss Alps.
But a curious thing has happened lately: Loathed Penn Station has served as the site of newsmaking cultural/political exchanges of the very kind a good city is supposed to celebrate and a great city is supposed to daily engender. One more of these and we will have a veritable trend. Two more and we will have to declare Penn Station a cultural landmark on par with the winding lanes of Greenwich Village or the stately flagship branch of the New York Public Library.
The first of these two incidents involved famed New Yorker writer Gay Talese, on his way to a journalism lecture in Boston. That was the lecture, you will recall, where Talese admitted that when he was an up-and-coming writer many decades ago, when people settled Twitter feuds with swords, he was not inspired by any female writers of his time. This was not a smart thing to say, and he paid dearly for saying it. Social media demonized Talese as the sort of figure who bathes in kitten blood and tortures homeless people by making them read The New York Review of Books. I don't know if the digital flailing was just, but it sure as hell was funny.
Penn Station figures prominently in the Talese affair, at least as that affair was later recounted by Sridhar Pappu in The New York Times.
Before boarding the Amtrak train at Penn Station, he made the acquaintance of a Red Cap agent, who recognized the author and told him how much he admired his famous 1966 Esquire profile, "Frank Sinatra Has a Cold."

On Sunday, April 3, the same Red Cap agent greeted Mr. Talese as he got off the return train. He told the author he heard he had gotten himself in trouble in Boston. Mr. Talese, who does not have a cellphone, much less a smartphone, and has remained aloof from social media, had no idea what the man was talking about.
Over at Slate, Katy Waldman questioned the veracity of this exchange. I, however, am inclined to believe it. The lightless, subterranean chambers of Penn Station strip away all pretenses of everyday life, and as we curse the delayed Montauk train, we become who we have always been. Investment bankers with Harvard MBAs morph into monsters who'd trip hunched pensioners in the race for an evening rush seat. Amtrak agents, meanwhile, reveal themselves to be closet intellectuals far more familiar with The New Yorker's legacy than Brooklyn's hirsute finest.
This week, Penn Station was in the news again. It was not because a prehistoric beast emerged from its depths and ate seven Deer Park–bound commuters. The intellectual at the heart of the matter was Bill Kristol, the founding editor of the conservative Weekly Standard, who had inexplicably come to Penn Station for a slice of pizza. Most people I know would rather starve than eat within the bounds of that vermin-infested grotto, but Kristol is a native Manhattanite, so maybe he knows a secret the rest of us don't.
As he was ordering his pizza, Kristol was apparently recognized by his server, who urged the man, who once celebrated Sarah Palin, to save us from the orange pestilence that is Donald Trump. Kristol, who promised to do his best, later recounted the episode on Twitter.
Gawker speculated that the pizzeria in question was Don Pepi. As of this writing, that has not been confirmed. It is also not known whether Kristol ordered any sides, such as garlic knots, or a soda.
There is something immensely charming about both of these incidents: ordinary New Yorkers engaging first-rate intellectuals on literature and politics, crossing with ease the intimidating barrier between fame and anonymity. And there is something immensely surprising about it taking place in Penn Station, that crucible of workaday misery, the torturer of thousands who must make their way home to New Jersey and Long Island through this underground cesspool.
Is this bleak warren going to become a bohemian salon beneath the city, a mini–Left Bank on 33rd Street? Unlikely. But then again, there was a time not long ago when Brooklyn was as cool as Jansport fanny packs.
If it can happen there, it can happen in Penn Station, where public intellectuals and working stiffs alike curse the Islip train.