Gay Teacher Resigns From Missouri School After Being Forced to Take Down Pride Flag
An openly gay teacher resigned from his position at a Missouri high school after he was told to take down an LGBTQ+ pride flag or face termination.
John M. Wallis, 22, posted on social media that he was no longer employed with Neosho High School in southwest Missouri after a parent complained that he was going to "teach their child to be gay." Wallis said that nothing was ever taught about the flag but school administrators instructed him to remove it.
Now, he's filed a complaint with the U.S. Department of Education's Office of Civil Rights.
At the start of the school year, Wallis hung the pride flag and another sign that read "in this classroom everyone is welcome" in his classroom in an attempt to make it more open and welcoming for students.
When he was prompted to take the hangings down, Wallis said that students questioned why. To him, the flag stood as a reflection of the classroom as a safe space for LGBTQ+ youth and that if students had a problem with who Wallis is, he said they could find another open class. At least three more parents allegedly called and accused Wallis of pushing his "agenda" in the classroom, he wrote.
District administrators responded by asking Wallis to sign a letter that stated he agreed not to discuss human sexuality or his personal sexuality in the classroom.
A letter provided to the Springfield News-Leader by Neosho School District Superintendent Jim Cummins stated that the writing was to document a discussion between the two on August 31. Newsweek reached out to Cummins for comment but did not hear back in time for publication.
The letter stated: "Our classrooms cannot become a personal platform for pushing one's personal agenda. Your position in the Neosho School District is to teach speech and drama classes. You were hired because we believe you were the best candidate to do such."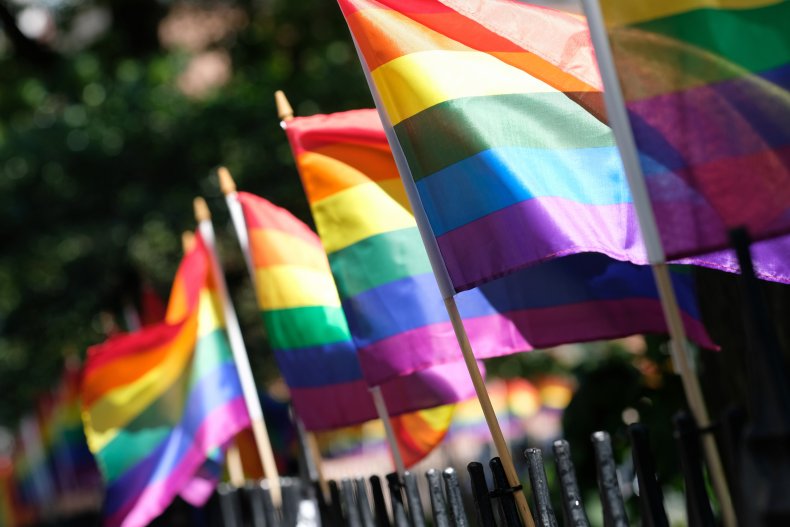 Wallis was then warned if he was unable to present the curriculum in a way that included discussions about sexuality, gender or sexual preference. Assignments related to such topics were also prohibited.
Wallis was hired on August 13, 2021, and resigned on September 1, 2021, by letter to "pursue a different career path," according to Cummins. In posts on social media, Wallis said that the restrictions established by the administration were the reason for his resignation.
"I had every intention of staying with this district for years to come, but this was too much to handle. Indeed, it appears that there is a different set of rules if you are an LGBTQ+ educator," he wrote.
Wallis wrote that when a heterosexual teacher displays pictures of themselves and their spouses it's a nonissue but in this case, his administrators "chose to believe the bigotry of parents over their building's teacher."
He added that until the district ensures every individual is covered by their nondiscrimination policy, they cannot serve students and educators.
Since 1998, Missouri legislators have attempted to file a bill that would explicitly protect the rights of LGBTQ individuals from discrimination in employment, housing and public accommodation but it hasn't yet passed.
In February 2020, Republican Representative Chuck Basye presented a bill that would require Missouri public schools to notify parents if class material, guest speakers or displays mentioned sexual orientation or gender identity. Under the legislation, schools could be sued for violating the terms.