Gays in Romania: Could a Case of Gym Bullying Help the Country's LGBTs?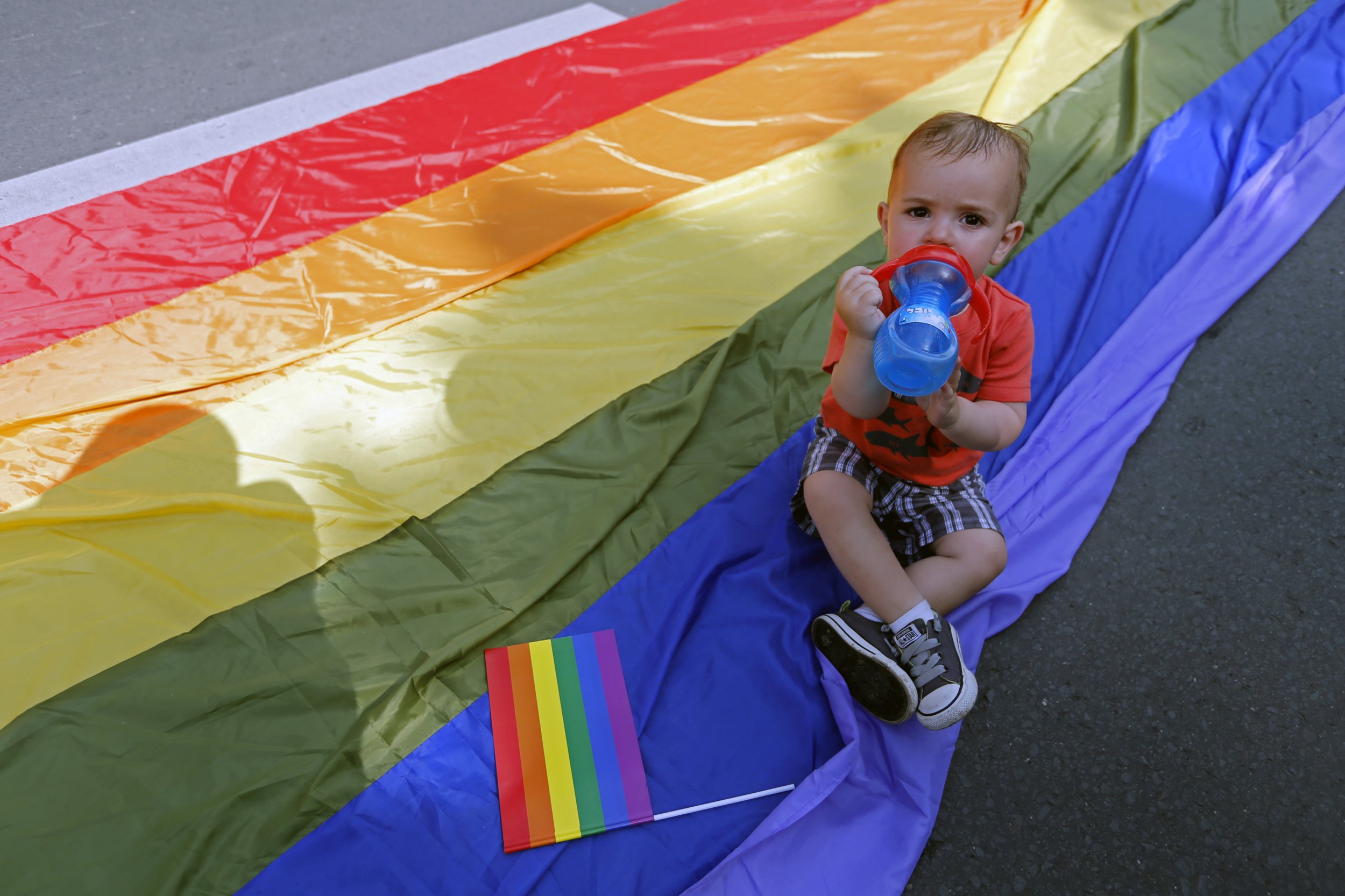 The twins loved to swim.
Since 4-year-old Nicolae and Sorina* first dipped their toes in the water several months after their birth, they enthusiastically embraced everything aquatic: splashing and paddling and jumping, as well as formal strokes. The twins' dads, Jerome Goupil and Perry V. Zizzi, would indulge the children at a gym in Bucharest, Romania, where they live. Though homophobia runs high in Romania, Goupil and Zizzi never had a problem at World Class Fitness until March 29.
On that day around noon, the dads took the twins into the men's locker room to change into their swimsuits, as they had always done without incident. As they were changing, a club member approached them, complaining that female children shouldn't be allowed in the men's locker room. Goupil replied that gyms in Europe typically allow this—as well as mothers changing boys in women's locker rooms—so long as the child is 7 or younger. Goupil also said Sorina couldn't use the women's room with her mom anyway, as she had two dads.
A second club-goer then approached. He and the man who complained about the girls in the men's locker room launched into a string of epithets, such as faggot and queer, in Romanian. They also called the dads women, Goupil and Zizzi claim in a recent complaint to Romania's National Council for Combating Discrimination.
The U.S. State Department has also gotten involved, as Zizzi is an American citizen.
"We are aware of reports that a U.S. citizen was the victim of anti-LGBT discriminatory verbal abuse in Bucharest," a State Department official said in an e-mail. "Such reports are troubling, and the Embassy has expressed our concern with the relevant Romanian agencies over these reports."
Due to privacy concerns, the official says, the State Department cannot comment further on the case.
While Mikael Fredholm, CEO of World Class Romania, confirmed that the locker-room bullying did take place, and roughly as described by Goupil and Zizzi, neither party agrees on what happened next.
Right after the altercation, Goupil complained to gym management. Several weeks after the incident, Goupil, an LGBT activist who uses the name Lestat Monroe in his public works, saw signs posted prohibiting all children from using locker rooms that don't correspond to their gender. Goupil says this was because of anti-gay attitudes, not cultural preferences. He says the rule isn't applied to heterosexual parents.
Goupil says he and Zizzi had to change their kids in a public toilet. World Class did install family locker rooms in some Bucharest locations this summer. Goupil and Rizzi tried one of these locations, but it didn't have all the amenities of a full locker room, such as a shower. And the environment felt antagonistic, even dangerous. In the past, bullies at World Class had locked several gay men in lockers. Club staffers refused to speak with the police about the incident, Goupil and Zizzi say, and World Class's management did not force them to do so. The parents maintain that World Class protected the bullies, meaning the gym discriminated against them and LGBT persons. So they filed a complaint with the National Council for Combating Discrimination seeking redress.
World Class describes the allegations as "absurd." Unlike other European countries, Romanians aren't OK with young children in opposite-sex locker rooms, Fredholm says, adding that World Class goes out of its way to accommodate everyone—the gym made room for the family locker room by getting rid of its staff locker room.
"World Class has a lot of staff that are homosexual and a lot of members that are homosexual, and we take pride in treating all members and all staff equal," Fredholm said in an e-mail, alleging that "the couple in this incident has trashed and bullied a number of my employees that happen to be gay on social media." (Goupil denies this).
Regardless of the council's ruling, Romania's LGBT community stands to benefit from the publicity surrounding the incident, which could embolden other LGBTs to come forward. Similar to other Eastern Orthodox countries, Romania remains so homophobic that victims of harassment and hate crimes typically don't report them. Two prominent Romanian right-wing groups have already submitted a letter supporting World Class to the National Council for Combating Discrimination.
On Tuesday, Goupil and Fredholm said they had just received word of the council's decision from their lawyers. According to both parties, the council hasn't issued its written edict yet, so this information was transmitted over the phone. Unsurprisingly, both Goupil and World Class disagree on the disposition. In fact, both think they were victorious.
Goupil maintains the council found evidence of passive discrimination. World Class says the council did not find enough evidence of passive discrimination and dismissed that allegation. Both sides agree that the council issued an official warning to World Class, which could result in fines should there be future incidents.
The council is expected to issue its written decision in the next several weeks. Once it does, either party can appeal the decision in court.
*Names have been changed to protect the identity of minors.