Gaza Border Clashes: More Protesters Reported Dead as Palestinians and Israeli Soldiers Face Off
Four more Palestinians were killed by Israeli soldiers on Friday and 196 were wounded as protests on the border between Gaza and Israel continue, according to reports.
Israeli media named the four dead protesters as Ahmad Nabil Abu Aqel, 25; Mohammed Ayoub, 15; Ahmad Rashad Al-Atamana, 24; and Said Abd Al-Aal Abu Taha, 19.
The protests began on March 30 as tens of thousands of Palestinians gathered in tents along the border to mark Land Day, an annual day of protest against Israel's seizure of Arab land. Israel's military deployed snipers ahead of the protests, and the military was given permission to open fire on protesters if there was extreme danger or if Palestinians attempted to cross the border into Israel.
Thirty-four people have been killed and over 4,500 wounded—many by live fire—since the protests began, according to Palestinian authorities. Following the first deaths, Israeli authorities said that rioting had occurred in multiple locations and that some of the protesters behaved violently. Israeli authorities said that protesters were burning tires and attempting to send kites with firebombs on them across the border to burn Israeli fields. Some protesters have attempted to cross the border fence.
Advocates, however, argued that the demonstrators are mostly unarmed individuals trying to raise awareness about the vulnerable situation in which so many Palestinians live.
"Protests are by nature a provocation. They are intended to get people to think about something differently by elevating the voices of dissenters. Despite the brutal repression of an Israeli military whose snipers have executed high orders to shoot protesters, leaving many unarmed Palestinians dead each week, the Palestinian protesters have succeeded in raising the profile of their plight," Yousef Munayyer, executive director of the U.S. Campaign for Palestinian Rights, a Washington, D.C.-based coalition of organizations that oppose Israel's policies toward Palestinians, told Newsweek.
"This has come at a painful cost, and for the families of those who have been killed it is [an] irreplaceable loss," Munayyer added.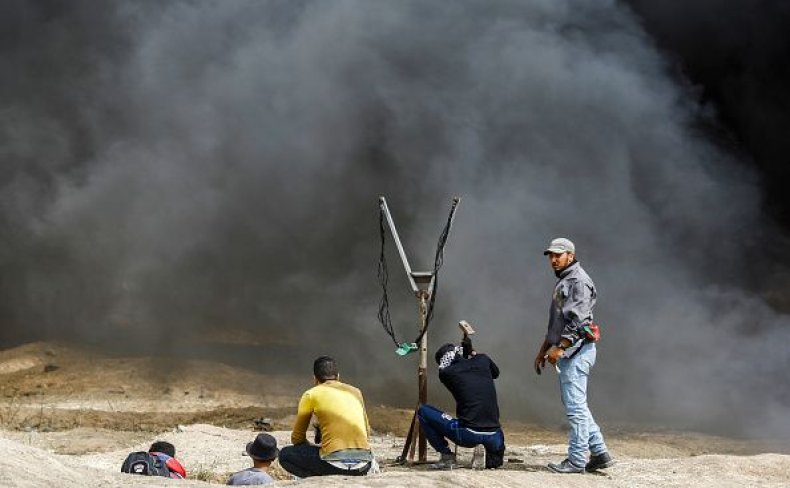 The government of Gaza, led by the group Hamas, which the U.S. and Israel consider a terrorist group, helped construct some barriers along the border this week to protect protesters. Meanwhile, some demonstrators have appeared defiant in the face of violence.
"People came here knowing what the Israelis are up to. We know they have permissions to use live bullets against unarmed protesters," Muhammad Smiry, a protester in Gaza, told Newsweek after the first protesters died in early April. "For me, I knew this is going to happen and I guess the others have the same feeling."