A second Gazan journalist has died after being shot by Israeli soldiers during ongoing protests along the Gaza Strip-Israel border fence.
Photojournalist Ahmed Abu Hussein, 24, was shot in the stomach while covering the demonstrations on April 13, Reuters reported.
Israel had granted permission for Hussein to travel from Gaza to the West Bank for treatment. Hussein was subsequently transferred to Israel, where he succumbed to his wounds on Wednesday afternoon at the Sheba Hospital near Tel Aviv, Agence France-Presse (AFP) said. His body will be transferred to Gaza for burial.
The Israeli Defense Forces (IDF) has warned Gazans that anyone approaching the fence would be putting themselves in danger. According to Israeli newspaper Haaretz, Hussein was shot even though he was a permissible distance from the border. Israel said Hussein was a Hamas member though offered no evidence, The Times of Israel reported.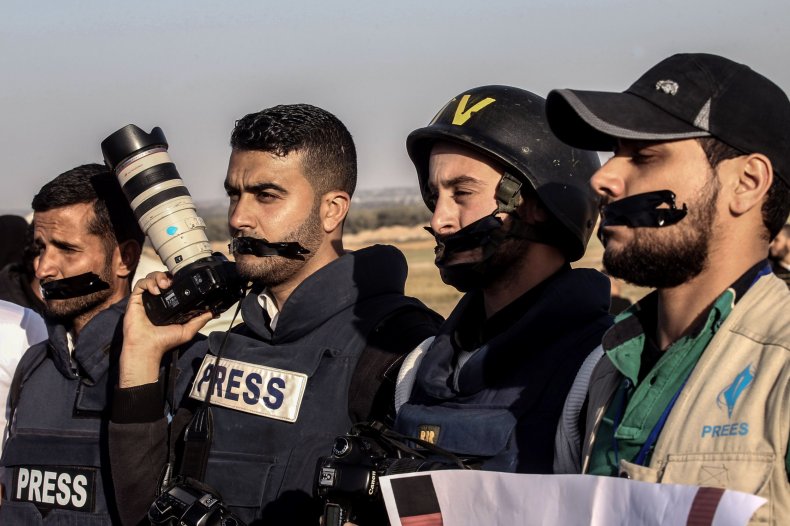 Palestinian demonstrators are calling for the right of return for refugees and their relatives who fled or were forced to leave their homes after the creation of Israel, in 1948. At least 39 people have been killed since the demonstrations began on March 30, with hundreds more injured. The protests will end on May 15, the anniversary of the establishment of Israel known as the Nakba—or "catastrophe"—by Palestinians.
Hussein is the second journalist to be killed by Israeli snipers while covering the demonstrations, dubbed The Great March of Return by its organizers. The first—photojournalist Yaser Murtaja, 30—died on April 7, one day after having been shot. Photos of Murtaja as he was being evacuated showed him wearing a blue flak vest that clearly marked him out as a member of the press. Four other journalists have been injured during the confrontations, one critically.
After Murtaja was shot, an IDF statement said its troops do not "intentionally fire on journalists. The circumstances in which journalists were hit, allegedly by IDF fire, are unknown to us and are being examined."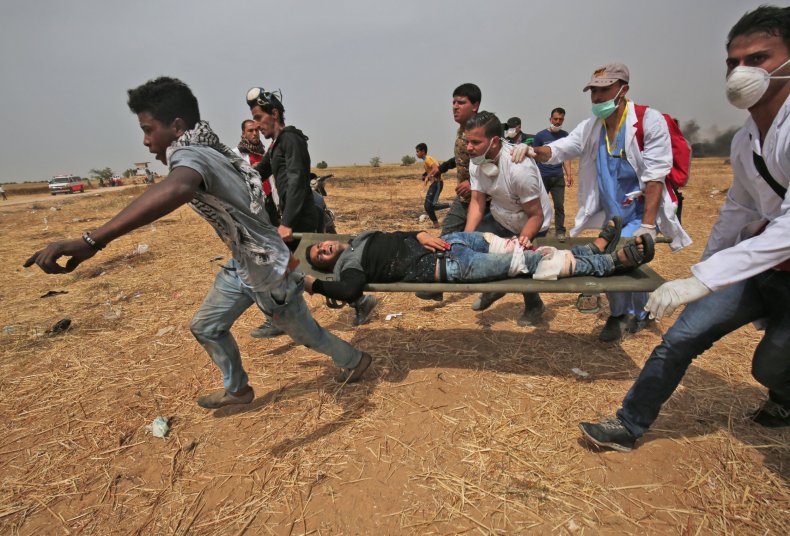 It was later suggested that Murtaja was a Hamas member who was flying a drone over Israeli positions. Israel's Defense Minister Avigdor Lieberman said, "Whoever flies a drone over [Israeli] forces, over our soldiers—we won't take any chances." Two journalists with Murtaja on the day he was shot denied he had been using a drone, and Israeli authorities have not provided any evidence of Murtaja's alleged Hamas membership.
The Palestinian journalists union said Hussein and Murtaja were both "deliberately" targeted, Reuters reported, and vowed that the "leaders of the occupation" would be brought to justice.
Israel has suggested that Hamas—the Islamist group that controls the Gaza Strip and its 2 million people—is using the protests as cover for attacks on the border fence and Israeli positions. The IDF says it has only targeted those deemed a threat to the fence or its troops.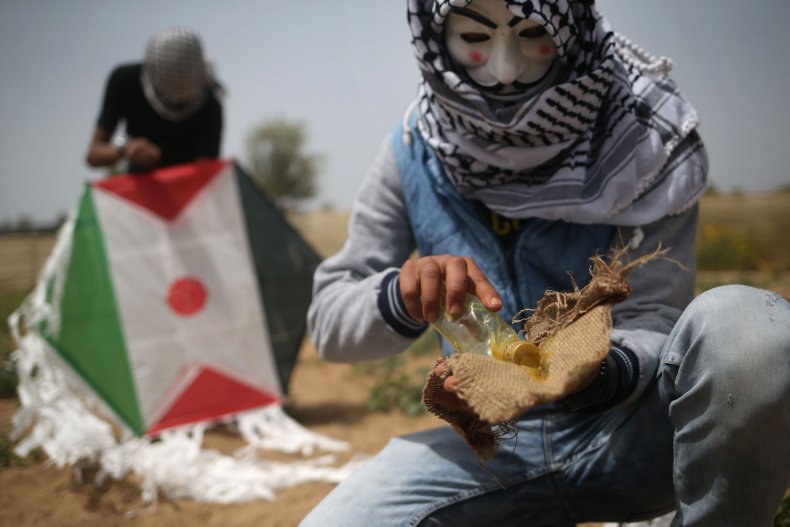 Israeli forces have accused protesters of attempting to tear down, blow up and set fire to the border fence. There have also been allegations that firebombs attached to kites and decorated with swastikas have been floated across the border into Israeli territory.
Various human rights groups have condemned Israel's use of live ammunition. Human Rights Watch accused the IDF of using "lethal force outside of life-threatening situations in violation of international norms," while Amnesty International demanded an "immediate end" to "excessive and lethal force" used against protestors. United Nations Secretary-General Antonio Guterres has called for an "independent and transparent" investigation into the shootings and urged restraint on both sides.