Gaza Crisis: Final Power Plant Closure Leaves Millions In the Dark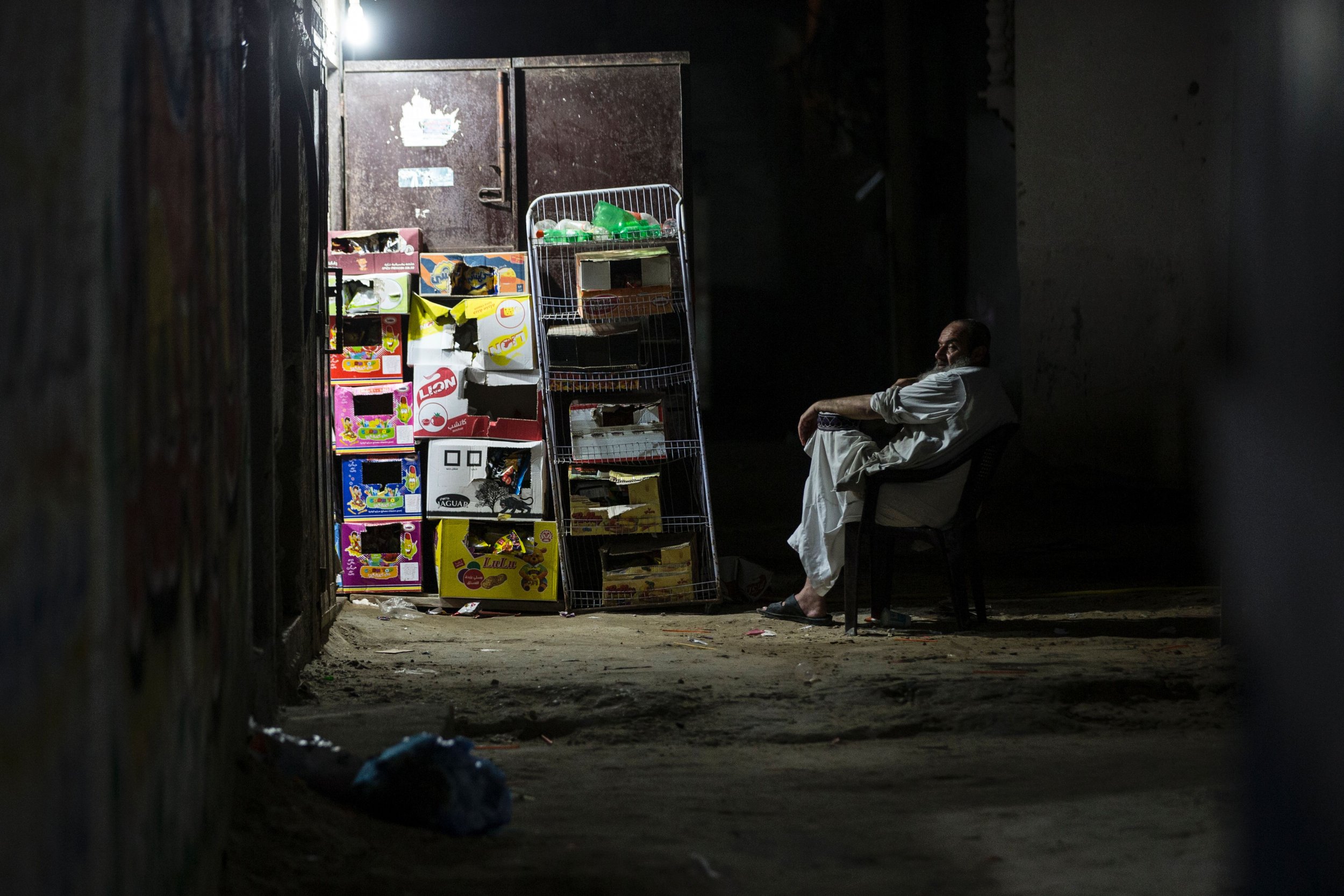 Much of Gaza was plunged into darkness Wednesday night after the coastal enclave's final working power station shuttered due to fuel shortages.
Authorities turned off the last turbine at the plant in southern Gaza City, local officials told Israeli daily newspaper Haaretz.
Israel, Egypt and the Palestinian Authority (PA) in the West Bank all provide or fund energy to the Gaza Strip but a tax dispute between the PA, led by Palestinian President Mahmoud Abbas, and Palestinian militant group Hamas, which rules the territory, has led to severe cuts in fuel provisions.
Gazans had been left with around four hours of electricity a day, but the blackouts—lasting more than 24 hours—will now leave schools, hospitals and businesses unable to function. Meanwhile, residents have been left without air conditioning, refrigerators and freezers in temperatures that reguarly exceed 95 degrees.
Egyptian fuel had kept the power station running at half its capacity, but an attack on Egyptian soldiers last week near the country's border with Gaza halted deliveries.
Hamas officials did not respond to Newsweek's request for comment. The Coordinator of Government Activities in the Territories, the Israeli government body that oversees its policies in the West Bank and the Gaza Strip, did not respond to a Newsweek request for comment.
In April, the PA informed Israel that it would no longer pay for electricity provided to the territory as relations between Fatah, which rules the West Bank, and Hamas deteriorated. The split between Hamas and Fatah party, the party of Palestinian President Mahmoud Abbas, has left hopes of both a united Palestinian front and a peace deal with Israelmore unlikely.
Hamas accused Abbas of attempting to aggravate the situation in Gaza, after thousands of Palestinians took to the streets in January to protest the lack of power during the harsh winter months.
Meanwhile. rights groups have criticized all of the actors involved in the dispute, holding them responsible for leaving Gaza's some two million people without little or any power for daily life.
"Israel, the PA and Hamas are using 2 million Gaza residents—a majority of whom are children—as pawns in their shameful game of political one-upmanship," Sari Bashi, advocacy director on Israel, the West Bank and the Gaza Strip, tells Newsweek.
"Each exercises control over the lives of civilians in Gaza and each bears responsibility for their human rights and welfare," she adds, saying that Israel bears overall responsibility for the Gazan population as the "occupying power."
Israel withdrew settlers and its forces from Gaza in 2005, but maintains an economic blockade of Gaza's land border, sea access and airspace. Conditions have continued to deteriorate after three wars between Hamas and Israel since 2008, infighting between Palestinian factions and the Israeli blockade.
A U.N. report published on Tuesday, entitled 'Gaza—10 years later,' said that conditions for Gazans have almost become "unlivable" since Israel closed its borders with Gaza, with worsening healthcare, education, power and employment.
"Gaza has continued on its trajectory of de-development, in many cases even faster than we had originally projected," Robert Piper, the U.N. Coordinator for Humanitarian Aid and Development Activities, said in a press release.
"When you're down to two hours of power a day and you have 60 percent youth unemployment rates... that unlivability threshold has been passed quite a long time ago."
Hamas, wary of internal unrest, has broken up protests over the power shortages and even arrested those condemning them publicly. Before the January protests, Hamas arrested comedian and singer Adel Al-Mashoukhi for posting a video on Facebook lambasting the power shortages.
In the video, shared thousands of times, Mashoukhi says: "Enough, Hamas! Enough, Hamas!" He decried conditions in the territory, saying there were "no jobs, no border crossings, no food, no water."