Gaza Crisis: Lives of Territory's Critically Ill Hanging In The Balance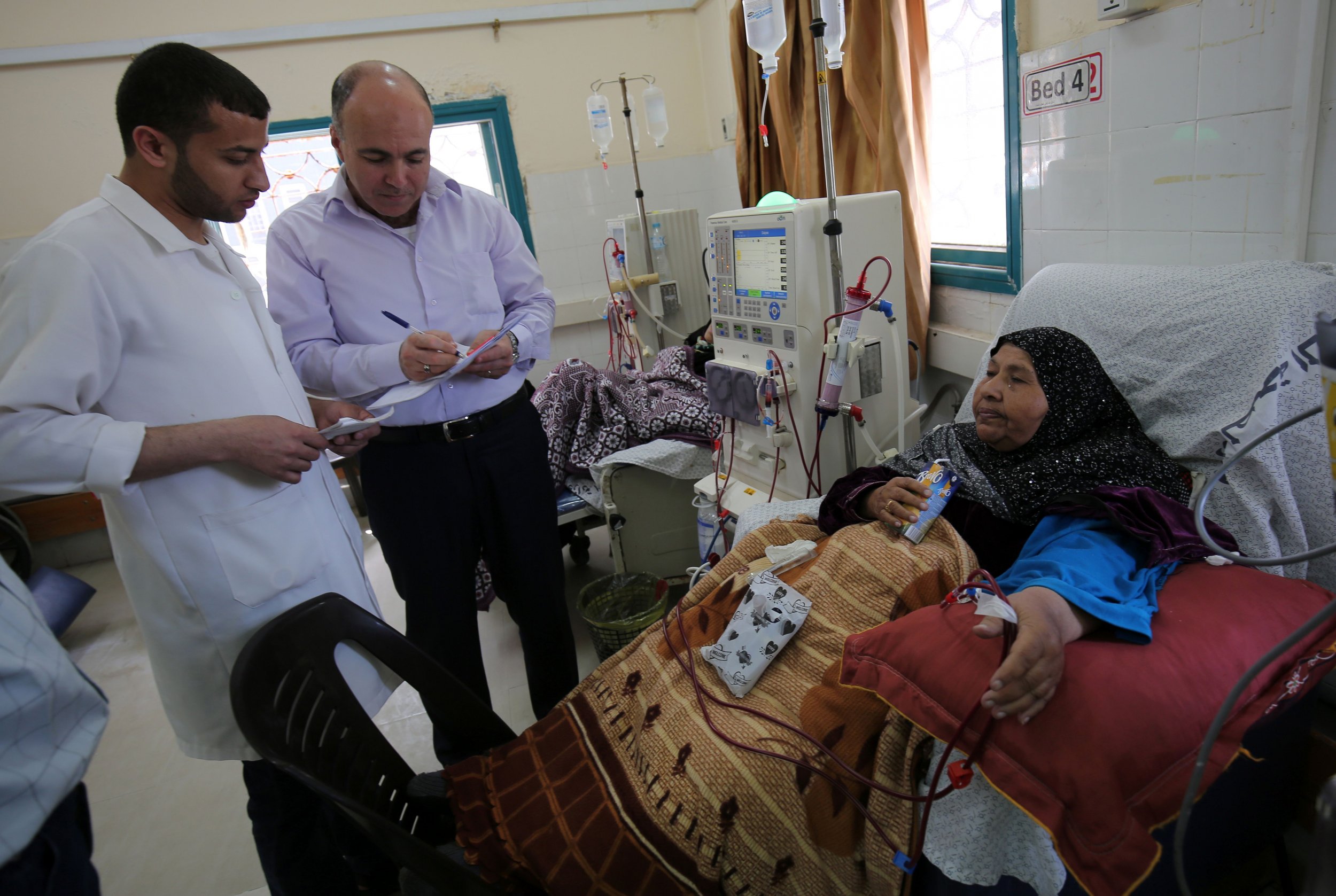 This week the U.N. warned that conditions in the Gaza Strip have passed the threshold of "unliveable," 10 years since Israel's brutal land, sea and air blockade was first imposed. With the electricity supply drastically slashed and unemployment skyrocketing to 60 percent, many aspects of life have deteriorated even faster than originally projected. Gaza's health system in particular has been on the brink of collapse for years. Now it has reached crisis point.
In the last few weeks three newborn babies died in the intensive care unit at Gaza's al-Shifa hospital. They are among at least nine patients who have died in Gaza this year while waiting in vain for the Palestinian authorities in the West Bank to process requests for funds to cover the cost of their medical treatment outside the Gaza Strip. Obtaining this financial cover is essential for Gazans seeking to apply for a permit to cross the Erez border crossing into Israel, or get to the West Bank, for medical treatment.
Some reports suggest that since April such requests have been deliberately ignored and delayed, as they have been periodically in the past, in attempts by the Palestinian authorities in the West Bank to undermine the rival Hamas de facto authorities, which control the Gaza Strip.
Abu Khalil and his family are just some of the thousands of Gazans whose lives have been put on hold as a result of such delays.
Two of his sons—Abdallah, 27 and Khalil, 29—suffer from the inherited blood disorder Thalassaemia. The two men have had repeated blood transfusions leading to excess iron in their bloodstreams, putting them at risk of heart failure as well as other health complications. Two of their friends, suffering from the same treatable condition, died in June, and Abu Khalil has been desperately trying to ensure that his sons receive adequate care before it is too late.
An Israeli doctor has offered to run tests on the brothers at Sheba Medical Center in Israel in order to assess them for potential bone marrow transplants which, if successful, could cure their Thalassaemia. This treatment is not available in Gaza, where hospitals are operating on diminished stocks of medication and minimal electricity.
However, navigating the complex web of bureaucratic hurdles in order to get his sons transferred to Israel is a formidable challenge. First, Abu Khalil must obtain the commitment from the Palestinian authorities in the West Bank to underwrite the cost of his sons' treatment in Israel.
There are at least 1,600 Gazans, including cancer patients, currently awaiting a response to their requests for financial coverage from the Palestinian authorities according to Physicians for Human Rights Israel. Up to 90 percent of cancer medicines are also no longer available in Gaza.
After an outcry in the media, the Palestinian authorities appeared to resume the practice of underwriting medical costs on 2 July, allowing Gazan patients to apply for permits.
For Abu Khalil this has offered only the smallest glimmer of hope. The Palestinian referrals application office in Gaza could not cover funds for both sons to travel to Israel for treatment, so he has had to prioritise Khalil, whose situation is more critical. The older brother must now begin the laborious process of undergoing a new set of blood tests. He will be forced to wait yet another week before those results are sent with his application to the West Bank, where a committee will decide whether he can even begin the process of applying for a permit to cross into Israel for treatment.
Since the start of the year, Israel has also placed even more stringent limits on the number of permits provided to Palestinians from Gaza wishing to cross into Israel and is particularly reluctant to grant permits to young men.
While Abu Khalil navigates the myriad of complex obstacles standing between him and his sons' much-needed medical treatment, their health will continue to deteriorate.
"You can live without electricity, or survive in the most difficult situation but not being able to… get them treatment is unbearable. I live in fear of losing my sons at any minute," Abu Khalil said.
The three deadly armed conflicts with Israel since 2008 have also taken a heavy toll on infrastructure and further debilitated Gaza's health system leaving Palestinians in Gaza facing the prospect of a full-fledged humanitarian catastrophe.
As the occupying power, Israel has ultimate responsibility to ensure the well-being of the occupied population residing in the Gaza Strip. It is Israel's unlawful blockade of the coastal enclave that has placed ordinary Gazans like Abu Khalil and his sons at the mercy of a politicised bureaucracy in order to access medical treatment that many would take for granted as a basic right.
But the Palestinian authorities' reduction of essential services to the Gaza Strip in recent months—including electricity and medical supplies—combined with its delay in transferring patients in need of treatment, demonstrates a callous disregard for the lives and health of Palestinians and is a particularly damning illustration of their willingness to hold some of the most vulnerable people hostage in order to score political points.
Sadly, as ever, it is Gaza's civilians, like Abu Khalil and his sons, who are forced to pay the price of these disputes.
Rachel Borrell is Amnesty International's research and campaigns assistant for Israel, the West Bank and the Gaza Strip.