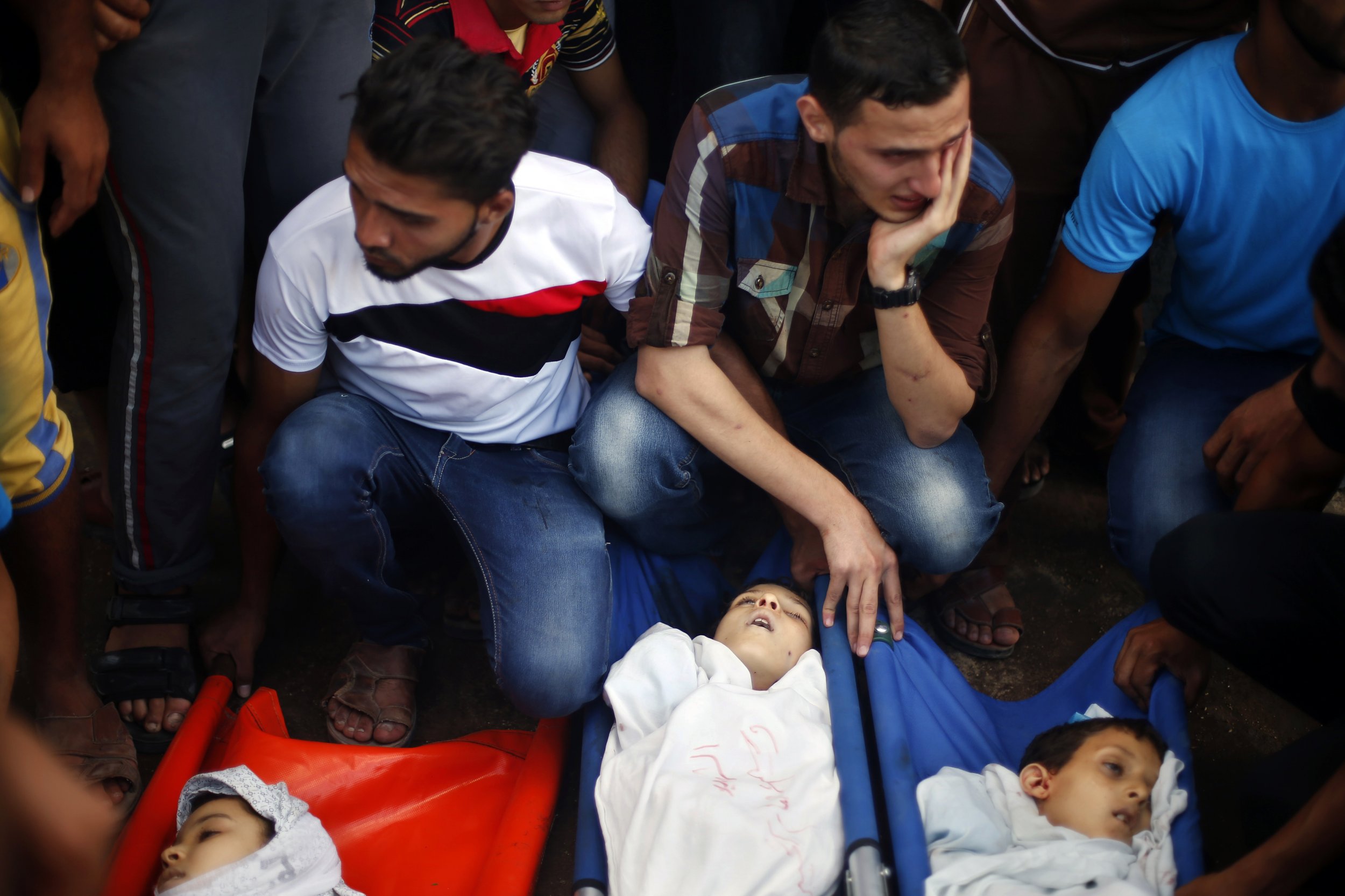 GAZA/JERUSALEM (Reuters) - Israeli leaders on Thursday played down prospects of a permanent Gaza ceasefire and fighting returned to a familiar pattern of Palestinian rocket salvoes and Israeli bombing after a five-hour humanitarian truce.
An Israeli official said earlier that senior Israeli negotiators in Cairo had approved a full truce, but a final decision lay with the security cabinet.
But Foreign Minister Avigdor Lieberman, who has been advocating a move into Gaza to stop rockets being fired on Israel, said: "We are not familiar with the matter."
A Hamas spokesman also denied initial comments by the Israeli official that a full truce was slated to start at 6 a.m. (0300 GMT) on Friday.
Naftali Bennett, Israel's hawkish economy minister, said time was running out for Hamas, the Islamist group dominant in Gaza.
"We are moving from Iron Dome to an iron fist," Bennett said, referring to an anti-missile system that has intercepted many of the rockets in 10 days of warfare.
With large contingents of Israeli infantry and tanks deployed near the Gaza border, Bennett, a member of the decision-making security cabinet, appeared to amplify Israeli threats of a ground invasion of the densely-populated enclave.
"I want to wish good luck to the IDF (Israel Defence Forces) soldiers. With the IDF's help, and God's help, we will win," he told reporters in the southern city of Ashkelon, a frequent target of rocket strikes.
Sirens sounded in southern Israel at the end of the five-hour ceasefire requested by the United Nations.
The military said rockets headed toward Tel Aviv, the southern city of Beersheba and Ashkelon. There were no reports of casualties or damage.
Israeli aircraft bombed a house in Gaza City, killing three children, and another two youngsters died in separate attacks, said Ashraf Al-Qidra, spokesman of the Gaza health ministry. The Palestinian death toll rose to 229, mostly civilians, according to the ministry.
In Israel, one civilian has been killed by fire from Gaza, where the Israeli military says more than 1,300 rockets have been launched into the Jewish state. The salvoes have made a race to shelters a daily routine for hundreds of thousands of people.
Hours before the humanitarian ceasefire began, about a dozen Palestinian fighters tunnelled under the border, emerging near an Israeli community. At least one was killed when Israeli aircraft bombed the group, the military said.
CEASEFIRE EFFORTS
President Barack Obama said on Wednesday he supported Egyptian efforts to agree a ceasefire that would end the worst flare-up of Israeli-Palestinian hostilities in two years. U.S. officials would use their diplomatic resources over the next 24 hours to pursue closing a deal, he said.
Egypt had proposed a permanent ceasefire plan on Tuesday, which Israel accepted. But Hamas, saying its terms had been ignored, rejected it.
Hamas wants Israel and Egypt, whose military-backed government is at odds with the Islamist group, to lift border restrictions that have deepened economic hardship among Gaza's 1.8 million populace and caused a cash crunch in the movement, which has been unable to pay its employees for months.
The United Nations Relief and Works Agency for Palestinian refugees (UNRWA) said it had discovered on Wednesday some 20 rockets hidden in an empty Gaza school.
"UNRWA strongly condemns the group or groups responsible for placing the weapons in one of its installations. This is a flagrant violation of the inviolability of its premises under international law," an UNRWA statement said.
Israel has long accused Palestinian militants of storing weapons in civilian facilities and using Gaza residents as human shields by launching rockets from residential areas.
On Wednesday, an Israeli gunboat off Gaza's Mediterranean coast shelled a beach, killing four boys - two aged 10 and the others 9 and 11 - from one family and critically wounding another youngster, witnesses and Ashraf al-Qidra of the Gaza Health Ministry said.
The Israeli military said the reported civilian casualties were unintended and tragic and it was investigating what happened. "Based on preliminary results, the target of this strike was Hamas terrorist operatives," it said in a statement.
The current conflict was largely triggered by the killing of three Israeli teens in the occupied West Bank last month and the death on July 2 of a Palestinian youth in a suspected revenge murder.
Israel indicted on Thursday three Israelis suspected of having killed the 16-year-old Palestinian in Jerusalem. A lawyer for a legal aide group representing the adult and two minors said they would enter a plea at a later date.