How Are Palestinians Celebrating Ramadan? In Gaza, It Is as if It 'Has Not Yet Come'
Palestinians in Gaza are celebrating one of the holiest occasions in Islam just days after they suffered through their bloodiest day in years amid more than six weeks of ongoing protests against Israel and the U.S.
The coastal Palestinian enclave of Gaza is almost entirely Muslim and believers officially began observing the holiday on Thursday, when the young crescent moon finally appeared after initially being forecast for Tuesday or Wednesday. The roughly month-long holiday requires Muslims to fast during the day and arrives just as protests surrounding two controversial events amassed a total of some 62 dead and thousands more injured, according to the Gaza Ministry of Health. Nearly twice that many have died since the protests began in late March.
The bloodshed is only the latest blow to Gaza, which is flanked by two heavily-guarded and seldom-opened borders between Israel and Egypt. United Nations Secretary-General António Guterres has described the secluded territory as a "constant humanitarian emergency." Ayman Jamal Mghamis, an activist who founded local hip-hop group the "Palestinian Rapperz," said the situation has become "tragic."
"The markets are empty, as if Ramadan has not yet come. As every year, there is no joy and there is no hope," Mghamis told Newsweek. "Many families today are below the poverty line and cannot find a loaf of bread to break their fast for Ramadan. The situation today is more difficult than can be described simply by words."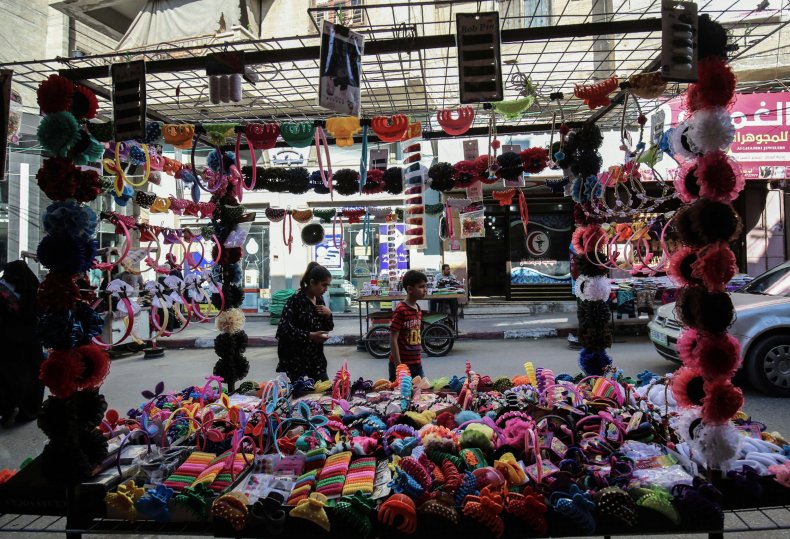 Israel has blamed Islamist Palestinian movement Hamas for the recent outbreak of violence, a charge fueled by one Hamas official's claim that 50 of the dead were members of his organization. The U.S. has closely aligned itself with the Israeli position, absolving the country of culpability in civilian deaths in the name of border security. Most fatalities occurred May 14 when Israel responded with tear gas and bullets to Palestinians gathered at the Israel-Gaza border to throw rocks and burn tires in opposition to the opening of the U.S. Embassy in Jerusalem, claimed by both Israelis and Palestinians as their capital.
Two more Palestinians were shot dead on Tuesday as they demonstrated in observance of the 1948 Nakba or "catastrophe" that marks both the mass displacement of Palestinians and the creation of the state of Israel. Since that formative day, Gaza has borne the brunt of the Palestinian-Israeli conflict, including occasional deadly clashes between armed Palestinian factions and Israeli security forces, which often respond with overwhelming firepower.
Related: Ramadan in Gaza: Holy month comes as Israel kills more Palestinian protestors
Hamas has controlled the Gaza since 2007 after falling out with traditional Palestinian political vanguard Fatah, which runs the West Bank. The U.S. and Israel consider Hamas to be a terrorist organization because it has targeted civilians in past attacks and uprisings, but the group has styled itself as a resistance movement and has used the recent unrest as an opportunity to channel the rage and frustration of Palestinians living in Gaza.
"The Islamic Resistance Movement 'Hamas' sincerely congratulates the Palestinian people on the occasion of the blessed month of Ramadan, which God has restored to us, and our hopes for victory, return and the liberation of land and holy sites to be realized," the group wrote Thursday on its official Twitter account.
Gaza's physical isolation due to a debilitating Israeli blockade and political ostracization stemming from its deep ideological split with Fatah have separated it almost entirely from the outside world. Mghamis described a dire situation where locals lived without food, water, electricity or hope, saying "all the doors are closed from every direction and the victim is always the people. After the wars, the people have become exhausted and today the Palestinian schism has only made matters worse."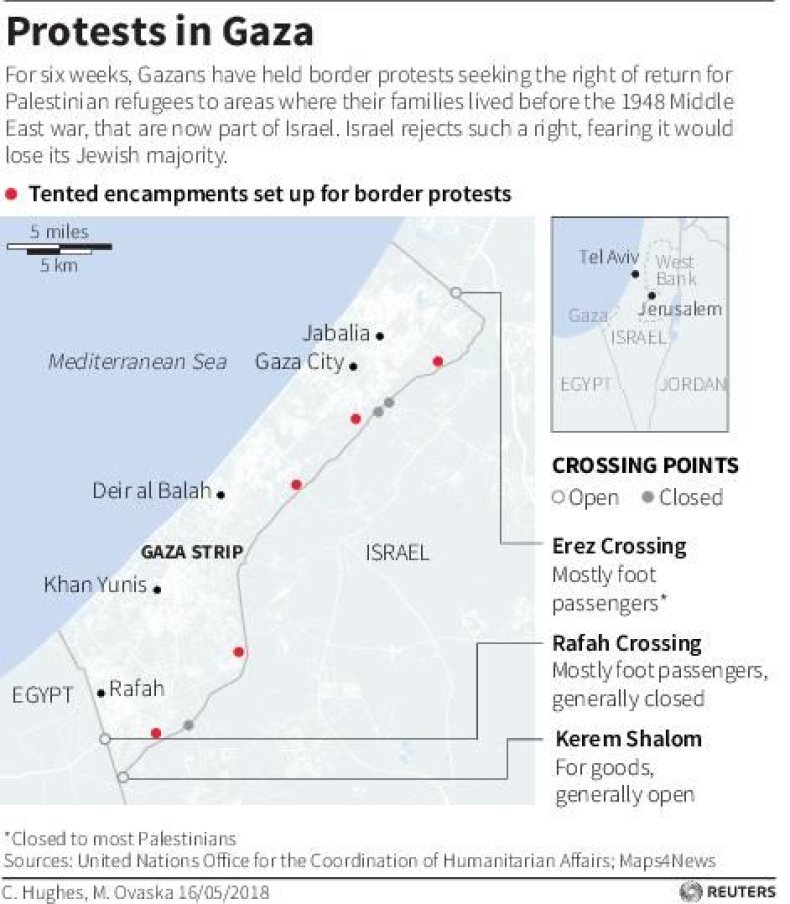 May 14 was the deadliest day in Gaza since summer 2014, when ongoing clashes between Hamas and Israel boiled over into a full-scale Israeli assault with dozens of Israeli deaths and Palestinian fatalities in the thousands. That war also coincided with Ramadan, marring another holy season intended to be a celebration of faith and family.
Amid mounting international criticism, the Israeli military has suggested that Hamas was winning a public relations war over how Israel's use of deadly force has been portrayed. U.N. Human Rights Commissioner Zeid Ra'ad al-Hussein dismissed this, however, and said during a special session Friday that "the stark contrast in casualties on both sides is also suggestive of a wholly disproportionate response."
Related: White House says 'Hamas is responsible' for Israel killing Palestinians in Gaza
"The occupation must end, so the people of Palestine can be liberated, and the people of Israel liberated from it. End the occupation, and the violence and insecurity will largely disappear," he added.
U.S. Ambassador to the U.N. Nikki Haley responded in a statement Friday, saying, "At a time when Venezuela lurches toward dictatorship, Iran imprisons thousands of political opponents, and ethnic cleansing has taken place in Burma, the U.N.'s so-called Human Rights Council has decided to launch an investigation into a democratic country's legitimate defense of its own border against terrorist attacks. It is another shameful day for human rights."
Fasting and facing Israel's willingness to use lethal force, Palestinians continued to protest through the weekend. The "Great March of Return" demands that Palestinians be allowed to reclaim the lands they once inhabited before 1948, much of which is now firmly in the hands of Israel. Since the campaign began on March 30, about 111 Palestinians have been killed. One Palestinian man remains in critical condition after setting himself on fire Monday in protest of the living conditions in Gaza.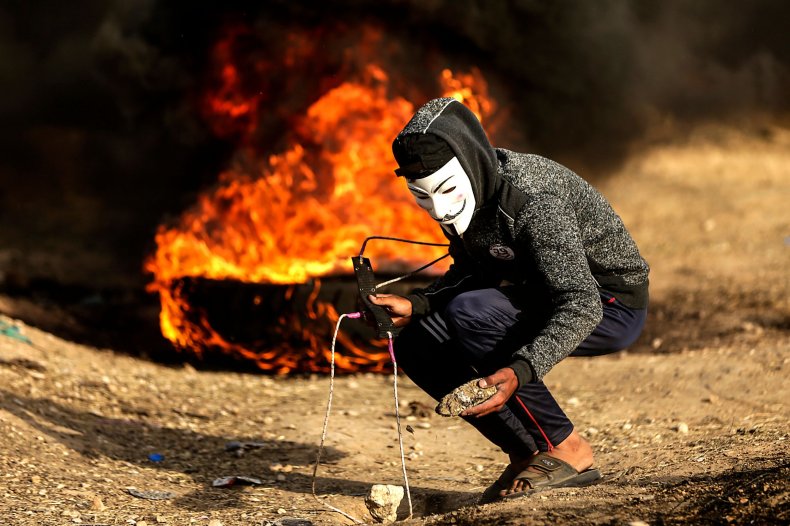 "The people of Gaza love to live and we live through hard circumstances every day, so we can't just experience and live through all these circumstances, we have to do something." Farah Baker, a youth activist in Gaza, told Newsweek. "The atmosphere here in Gaza of Ramadan is not like every year," she added, noting how, in addition to the Israeli attacks on protesters, the Palestinian Authority cut the salaries of its Gaza staff earlier this month.
"The poverty rate increased so people don't have money to buy food for themselves and, with what happened on the 14 of May, people here are so miserable," she added. "We're not in a good mood to celebrate and enjoy, but we're trying to do our best, as best as we can, because we live only once."
Egyptian President Abdel Fattah el-Sisi announced Friday that he would temporarily open the Rafah border crossing to "alleviate the burden of brothers in Gaza" during Ramadan. At least 13 U.S. senators have also signed a letter calling on President Donald Trump and Secretary of State Mike Pompeo to "act urgently to help relieve the humanitarian crisis in the Gaza Strip." Many Gazans remained skeptical, however, as to whether Egypt, the U.S. or any other would come to their aid as a bad situation continued to get worse.
"The biggest problem is nobody is interested and no one cares," Mghamis told Newsweek. "Today, we as a people stand alone in the face of occupation, crisis and division."