Gaza's Last Tiger is Settling Into His New South African Home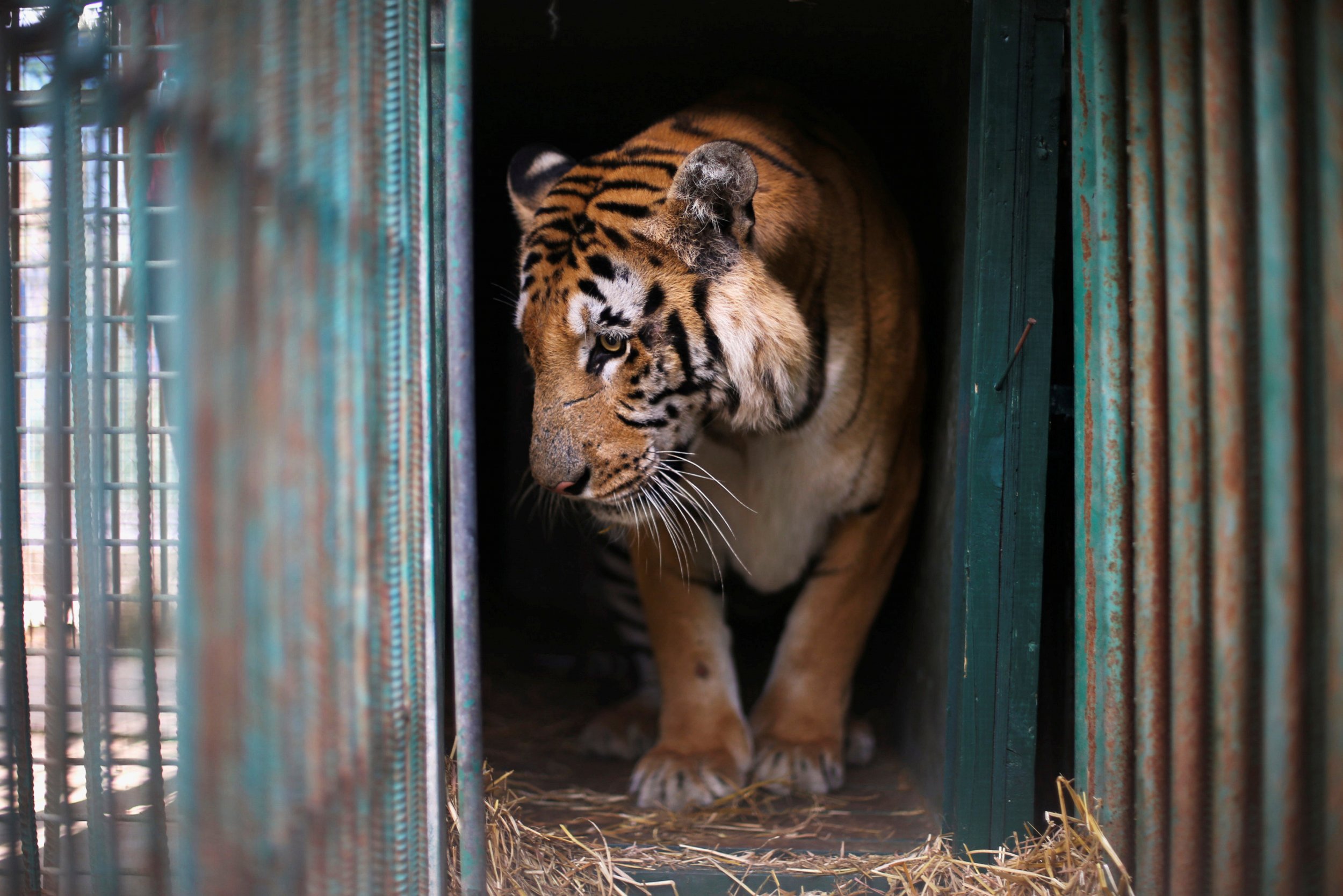 The last tiger in the war-torn Gaza Strip is settling in well to his new home in South Africa after being evacuated, a charity official involved in his rescue told Newsweek.
Laziz, an eight-year-old male Bengal tiger, was removed from the Khan Younis zoo in the southern Gaza Strip, which has been dubbed the worst zoo in the world. A further 14 animals—including monkeys, tortoises and an emu—were also removed from the zoo and will be resettled in Jordan and Israel, according to Four Paws, an international animal welfare charity that has its headquarters in Austria.
The tiger arrived at Lionsrock, a sanctuary for big cats in South Africa's Free State, on Thursday and has enjoyed his first-ever cow's leg, according to Ioana Dungler, the Director of the Wild Animals department at Four Paws in South Africa. Dungler tells Newsweek that Laziz was relaxed during his journey and even put on a show for the public and media when he was displayed in his cage at Johannesburg airport.
"Laziz was really very cute. He came out [into the public] and very elegantly drank some water," says Dungler.
The conditions for Laziz will be somewhat different in South Africa, where—after a stint in a temporary enclosure for him to adapt to his new surroundings—he will be released into a 1.2 acre sanctuary with a 50 square-meter pool. In Khan Younis, Laziz was confined to a dark, concrete enclosure of between 8-12 square meters, with a small second area of sand in the sunshine but no pool, says Dungler.
"Whenever the keepers wanted to move him or show him to the public, they were forcing him with metal sticks, either really touching him or banging the metal enclosure. That must be a horrible, horrible feeling for any creature," says Dungler.
The Gaza Strip is a tiny coastal enclave that is home to some 1.8 million people and sandwiched between Israel and Egypt. The strip has been under blockade from Israel since the Islamist group Hamas—which also has an armed wing—came to power in 2007.
Israel fought a war with Hamas during the summer of 2014, in which more than 2,100 Palestinians were killed, most of whom were civilians. Six Israeli civilians and 67 soldiers were also killed due to rocket fire by Hamas and other militant groups. The management of Khan Younis—which housed more than 100 animals when it opened in 2007—said that many of the animals died of neglect and starvation during the conflict, as zookeepers were unable to reach the zoo in order to feed the animals. Mummified corpses of the animals—including Laziz's female partner—were left on display in the zoo.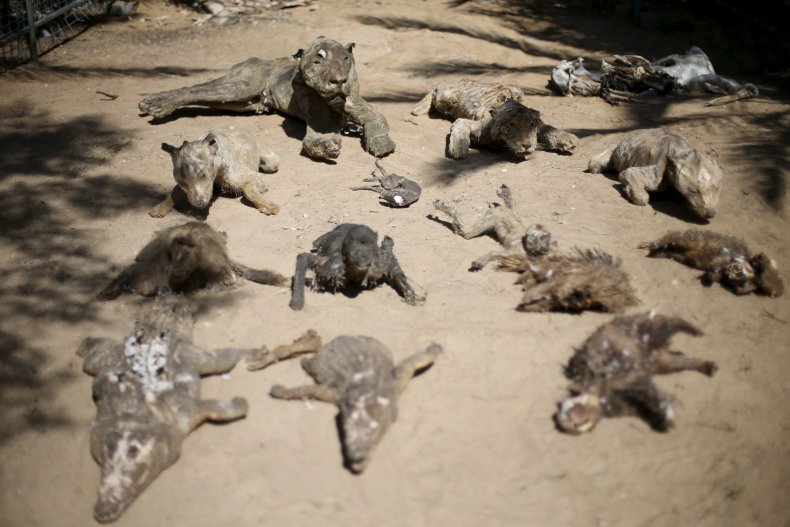 Dungler says that the tense political situation meant that transporting Laziz and the other animals was difficult. The team did not want to anesthetize the tiger twice—the procedure can be dangerous—and so Laziz had to be shepherded into a crate in the Gaza Strip, driven to the border with Israel, transferred to an Israeli truck and taken to the airport in Tel Aviv, where he was tranquilized and flown to Johannesburg.
The Khan Younis zoo has now been closed, according to Dungler, though the owner declined to state that it would never reopen. "It's very difficult to count on what will be the future of this place because enclosures are still there. I would really love to have [had] a bulldozer and run over them, but it wasn't possible," says Dungler.