Who Was Razan Ashraf al-Najjar? Nurse Shot Dead in Gaza During Protests
One hundred people have been injured and a 21-year-old medical volunteer was killed during violent protests in Gaza on Friday.
The Palestinian Ministry of Health said Israeli Defense Forces (IDF) killed medical nurse 21-year-old Razan Ashraf al-Najjar, The Times of Israel reported. The young nurse was shot near Khan Yunis along the fence that separates Gaza from Israel.
Health ministry spokesman Ashraf al-Qudra told The Times of Israel that this brings the death toll of people killed by the IDF to 123, according to a count by the ministry.
Najjar, 21, was treating a man who had been hit with a tear gas canister when she was shot, a relative by the name of Ibrahim al-Najjar told the New York Times. He said she was just 100 yards from the border fence when she was killed and he had to carry her to an ambulance. Qudra said Najjar used to volunteer at the ministry often and was wearing the white medic uniform when she was killed.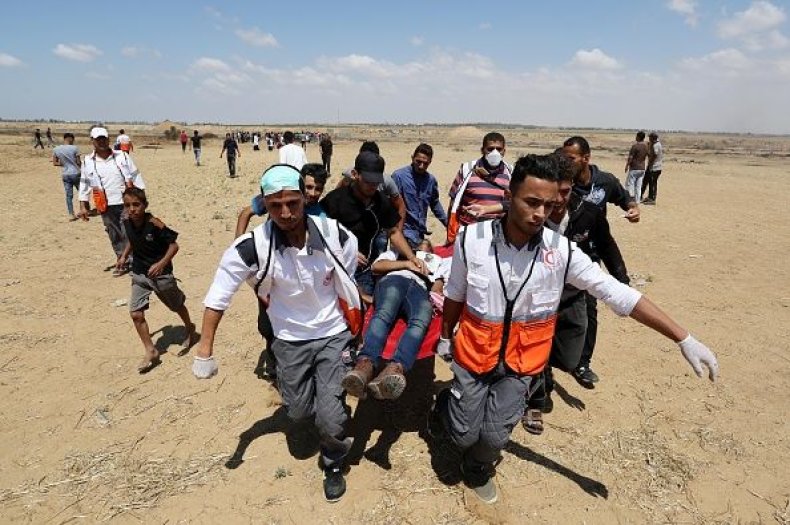 "Being a medic is not only a job for a man, It's for women, too," Razan al-Najjar said during an interview at a Gaza protest camp last month, according to The New York Times.
Since March, protesters have been demanding the right for Palestinian refugees to return to Israel after they left or were forced to leave after Israel was created in 1948. The worst of the protests came after the opening of the U.S. Embassy in Jerusalem on May 14 as 1,600 people were injured and 37 Palestinians were killed, marking it the bloodiest day since the war in 2014 with Israel.
On Tuesday morning, at least 25 mortar shells were fired into the south of Israel from the Gaza strip, landing in Israeli communities, including one that exploded in the yard of a kindergarten.