Irate News Anchor Repeatedly Pranked Live on Air Tells Viewers to 'Grow Up'
GB News, Britain's version of Fox News, has been plagued by pranks since its launch this week, prompting an irate news anchor to scold viewers.
Simon McCoy presents the talk show McCoy and Phillips alongside Alex Phillips. They were the victims of some explicit fake-name pranks, with viewers using X-rated pseudonyms in an apparent effort to poke fun at the channel.
Vulgar fake names like "Mike Hunt," "Mike Oxlong" and "Cleo Torres" were read out live on the air by McCoy, Phillips and another presenter Michelle Dewberry.
"Mike Oxlong has got in touch and says he agrees with me, it's absolutely the responsibility of parents to make sure their children have a healthy diet," Phillips read out on air.
But McCoy was far from impressed and made his annoyance known to audiences.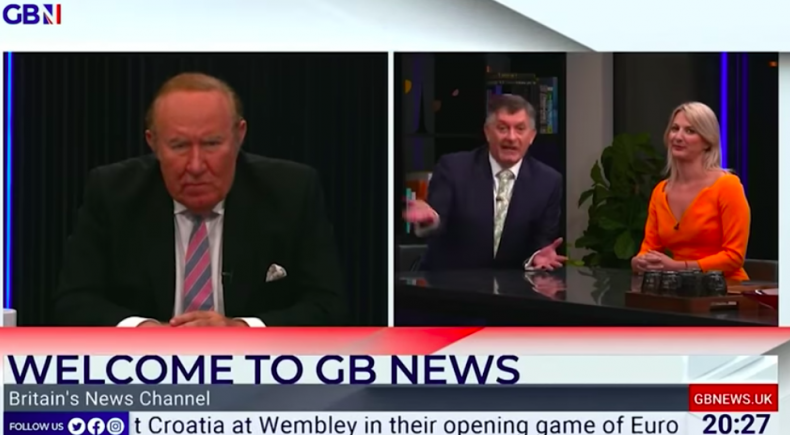 "I'm just going to say something because if you've seen the papers, if you've seen Twitter, some people think it's really funny to send in texts and messages on the basis that if we read them out we've been had," he said.
"Grow up. We're a new company, we're a new broadcaster, there are systems that we are putting in place that would stop idiots like you from getting through," he said. "They're getting through at the moment but, please, we've got other things to worry about."
He added: "You're still doing it and I'm watching them and it doesn't help anybody."
McCoy then went on to say: "All of you with serious views, we still welcome them."
The host previously worked at the BBC where he presented BBC News at One and an afternoon program.
In his bio on the GB News website, the 59-year-old acknowledged his reputation as an often "grumpy" anchor.
He referenced a time when he showed "mild irritation at an item on surfboarding dogs," adding: "I managed to create something of a name as a world-weary—perhaps even 'grumpy'—anchor."
However, he adds: "Nothing is further from the truth of course, and my ability to present a news item whilst holding a pack of A4 paper for no apparent reason proves this."
The anchor once went viral for bizarrely holding a pack of A4 printer paper while presenting the news.
GB News also fell foul to a subtle mooning prank by comedian Adam Pacitti on Wednesday night with hosts Dan Wootton and Laurence Fox seemingly oblivious.