'Gears 5' Composer Talks Bringing 'Westworld' Flair to Sera
Gears of War is a franchise full of bloody decapitations, grandiose cutscenes and epic music. Trying to capture the majesty of a human civilization constantly on the brink of annihilation requires a timely score and the best composers in the business. Reprising his role from the fourth installment of Microsoft's Lancer-sawing series, Composer Ramin Djawadi returns to create the moodscape for Gears 5. Known for his Emmy-award winning work on Game of Thrones and Westworld, Djawadi has made a name for himself as one of the top composers for projects that need to be larger than life.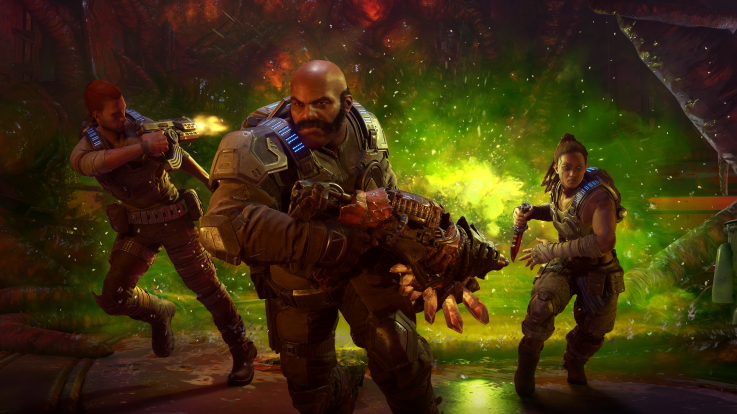 "We had first wanted to contact Djawadi while working on a project code named Ranger," John Morgan, audio director at The Coalition, told Newsweek. "But that didn't work out. We knew he was quite busy with television and film." Morgan and the Coalition studio head Rod Fergusson were sitting in an airport lounge, discussing what composers they would like to work with on Gears of War 4. Fergusson was watching Game of Thrones and Morgan suggested that maybe they should contact Djawadi to work on the project.
Whether it's a huge fight scene with angry aliens or a Westworld rendition of "Paint it Black," Djawadi tries to find the emotions the creatives are trying to convey in his music. "What I love about my job is every time you approach a new project, you examine it to figure out what does it need and what can we do different," Djawadi said. "The creativity is what matters to me. It doesn't always have to be loud and big to be epic, the nuances also matter."
After working out the details, Djawadi met with the team at the studio in Vancouver and agreed to score the game. With the success of Gears of War 4, the team over at the Coalition wanted Djawadi to return for the next entry. In short time, the composer recalled just how unique the creative process for games truly is.
"A movie has scenes that are locked to picture, but in a video game you can't anticipate what the player will do." Djawadi said. "The approach is often to create two or four minutes of an action or tension piece that captures a mood that underlines what the theme is."
In the early stages of development for Gears 5, Morgan sent over a 20-page pre-production deck outlining the characters, theme and the story. From there, Djawadi started writing music he felt captured the spirit of what the game will be and then programmed the melodies into his computer as a demo.
"The main idea is to find the style and melodies and then dissect and rearrange," Djawadi said. "[These songs] can become the end credit music or the opening titles, we try and find a home for them." Morgan remembers being "nervous" when receiving the initial delivery of the demo tracks "because sometimes it can be hit or miss from our past experiences on other projects."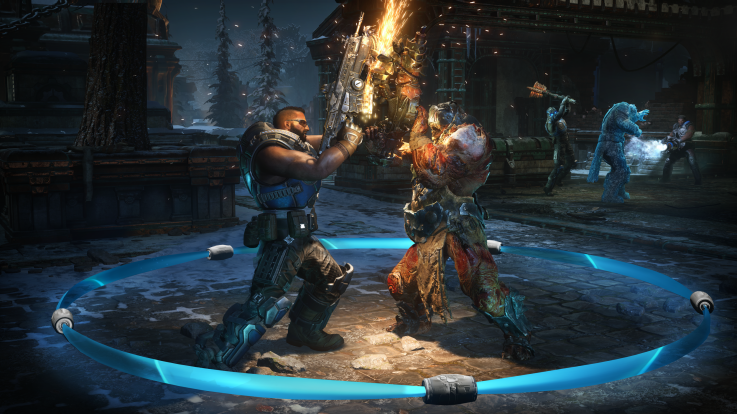 "When we got the sound files and put them in the studio, we were blown away," Morgan said. "Every song we listened to, we felt like it had a home and we felt the emotion in the music."
After the pieces were fine tuned and approved, the orchestral recordings were done at Sony Studios in Culver City with around 70 musicians. Recording with an orchestra is still Djawadi's favorite part of the process because that's when he sees his work truly spring to life.
"When a musician plays the music, they automatically bring emotion into it that's never there with the demos, as good as they may sound," Djawadi said. "When they play the music they automatically bring an interpretation to the note that's on the page. Nothing can beat live music because it brings it to a whole other level. That's why it's so powerful."
Listen to Djawadi's full score when releases September 6 on Xbox and PC.
'Gears 5' Composer Talks Bringing 'Westworld' Flair to Sera | Gaming