More Than 50 Geese Killed in Idaho Lightning Strike
A lightning strike in southwest Idaho reportedly killed a flock of snow geese during their migration to Canada. During a heavy hail and thunderstorm, more than 50 geese fell onto a parking lot in what witnesses have described as a "freak accident."
"Several of the geese had their stomachs blown open and all of them were dead. None were injured," Jacob Berl, a conservation officer from Idaho's Department of Fish and Game (IDFG), told EastIdahoNews.com.
Berl told the outlet that he picked up 48 Snow Geese and three Ross Geese, while others remained on rooftops from Saturday's incident in Idaho Falls.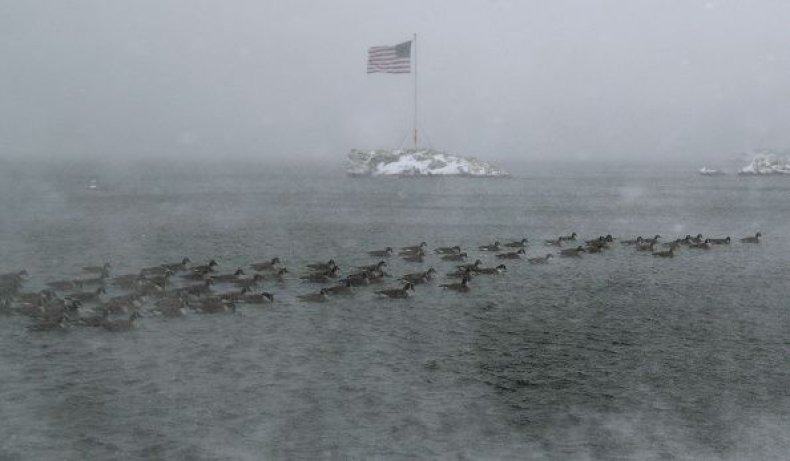 "It was just a freak accident," Berl said. "It's sad to see any animal die, but fortunately snow geese are pretty abundant and are not a rare or threatened species."
A tornado threat and later a thunderstorm warning were issued for the area of Bonneville County, according to KIDK-TV. Local reports said that "quarter-sized hail" fell down in some areas amid strong winds and rain.
Since the dead geese were found in the same area, the geese likely died from a lightning strike. "Hail likely would have knocked them out of the sky but they would have been able to glide down and land at different places," Berl told EastIdahoNews.com.
In late winter and early spring, flocks of Snow and White-Fronted geese often migrate north through Idaho. Camas National Wildlife Refuge, 36 miles north of Idaho Falls, is a "resting spot" for Snow Geese, according to the U.S. Fish and Wildlife Service. Between 15,000 and 20,000 geese reportedly use the refuge during the height of migration.
More Than 50 Geese Killed in Idaho Lightning Strike | U.S.