How to Remove Your Own Gel Manicure Since We Can Never Go Outside Again
So you didn't make it to the nail salon before state governments shut down all nonessential businesses, and now your usually manicured nails are suffering. All that constant handwashing has chipped off your polish and your cuticles are looking particularly dry. Only adding to the self-maintenance stress, your nails are out-growing the gel.
What's a nail aficionado to do?
Well, you could always just remove your gel manicure yourself.
Yes, that may sound like a frightening task considering the acetone-filled process that involves efficiently removing gel from nails. And yes, it's better to have an actual nail professional do it for you. But with all this time on your hands, why not put them to use and brush up your DIY skills? Manicurists are even recommending it.
Newsweek subscription offers >
Removing gel nails safe and effectively doesn't necessarily have to be a daunting process. According to Rita Pinto, founder and COO of the New York and Miami salon Vanity Projects, which specializes in nail care and art, anyone can safely remove gel nails if they have the proper tools. "There doesn't need to be damage to remove gently. It just takes time and patience," Pinto told Newsweek.
Pinto recommended investing in a nail gel polish remover kit and encouraged nail-lovers to practice removing gel themselves. Vanity Projects even shared a step-by-step guide for quarantined manicurists-in-the-making (below).
"Vanity Projects prides itself on the relationships we have with our clients, [and] their nail health is important to us. We know that while the salons are closed, our clients would suffer without knowing the safe and healthy way to remove their manicures and respective extensions," Pinto said.
"DIY [nails] is a great thing to do while you are sitting at home. I think it is a relaxing and creative outlet," she continued, adding the warning, "Don't expect perfection from yourself."
Newsweek subscription offers >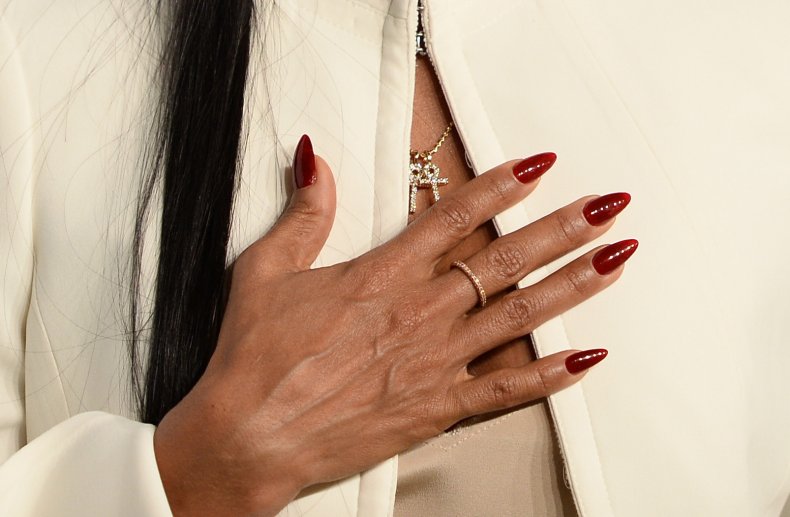 Pinto also advised people to avoid picking off their nail gel as it will likely damage the nail bed. With everyone washing their hands more frequently, Pinto also suggested extra moisturization methods by using cuticle oil and hand creams as well as Nail Tek Strengthener, a serum that helps treat weak nails.
If you're tired of looking at your haggard hands, go ahead and try removing gel nails yourself. Read our guide below for everything you'll need to know to get the job done.
What products will you need to remove gel nails?
100 percent acetone
Nail clipper
Tinfoil
Cotton balls or cotton pad
Nail file
Nail buffer
Wood stick or cuticle pusher
Lint-free pad
Cuticle oil
Liquid soap
Warm water
Towel
How do you remove gel nails?
Wash your hands with liquid soap and warm water. Towel dry.
Using a nail clipper cut the extensions down to your natural length (if needed).
Use a coarse file to buff out the topcoat and hard gel layer.
Saturate a cotton round or pad with 100% acetone and place over the nail.
Place foil square under the finger with the cotton round in the center. Fold the foil square over the top of the nail. Wrap around the finger, ensuring a snug fit.
Let soak for about ten minutes.
With a twisting motion, pull the foil square from the fingernail and gently use a wood stick or cuticle pusher to slide off the excess gel. (Rewrap the nail and allow for the acetone to penetrate for a few minutes should it not come off entirely).
With a nail buffer, smoothen out the nail.
Rub the nail with a lint-free pad and moisturize with cuticle oil.
How to Remove Your Own Gel Manicure Since We Can Never Go Outside Again | Culture