'gen:LOCK' Star Monica Rial Talks Colonel Marin and Getting Involved with Rooster Teeth's New Animated Series
One of the most anticipated new series of 2019 is Rooster Teeth's mech show, gen:LOCK.
Headlined by a star-studded cast featuring Michael B. Jordan, David Tennant, Dakota Fanning and many more, gen:LOCK brings a diverse cast of characters together into a war against an enemy that threatens this futurist world and it's open and accepting society..
Rounding up these wonderful characters is Colonel Raquel Marin, played by Monica Rial. Best known for her role as Bulma in Dragon Ball Super, the 20-year animation veteran brings her expertise and experience to the new Rooster Teeth series.
But gen:LOCK isn't just about the action, it's about the characters and their relationships.
"I think what people forget is it's not so much about the giant robots, they're cool, but [mech anime] are really great at developing characters and relationships and that's carried over into gen:LOCK, " Rial told Newsweek. "That's great storytelling and you feel for these characters from the very beginning."
Newsweek caught up with Rial to talk about gen:LOCK, her character and how she became a part of the series.
gen:LOCK debuts Saturday, January 26 on Rooster Teeth.
Note: This interview was lightly edited for clarity and length.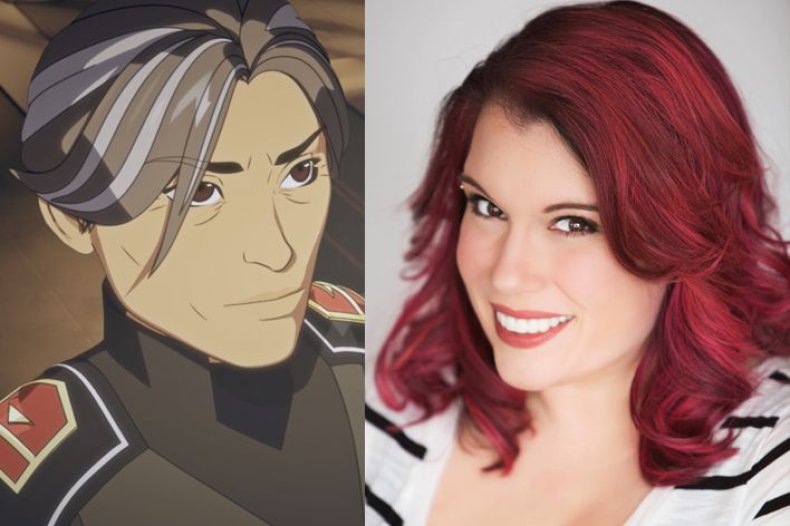 How did you get involved with gen:LOCK?
It was a while back when they were looking to do the trailer. It was over a year ago, now. I received the audition and I went ahead and read for the character of Colonel Marin. And as luck would have it, I was cast by Gray and voiced for the trailer. When the trailer came out, I thought "yea this is awesome but that doesn't guarantee anything." It's the business. Just because you voiced in the trailer or pilot that doesn't necessarily mean you'll be in the project.
So I waited and I saw that Michael B. Jordan was involved and all these other situations, and I thought, "oh man, I'm not sure I'll be able to do this character. I'm sure they'll go with an A-list cast."
The auditions came back around and I did it again and I remember waiting and thinking this wasn't going to happen. And then I got an email saying "hey we like you to come back and play Colonel Marin." And I may have screamed [laughs].
I've been voicing her for a little while now. Nobody knows it's me, which is a lot of fun. I have a lot of my fans listen to it and they would say "who is that talking to David Tennant?" and I would have to say "guys, it's me I swear." [laughs]
It took me a couple of watchthroughs of the pilot to really recognize your voice in there.
Yea! A lot of the kids are super confused because they are thinking Bulma or Hello Kitty or something cutesy and then they hear *in a low voice* Colonel Marin and she's got this low voice and accent and they were completely thrown off [laughs].
What was your reaction when you found out you'd be a part of a cast that has so many recognizable names?
It's crazy. It's one of those things that I still kind of pinch myself. I know after Michael B. Jordan was announced I went out to Anime Expo and Gray had asked me to come to the Rooster Teeth panel to announce my character. So I'm sitting in the audience expecting them to make some cast announcements and they announced Dakota Fanning and Kōichi Yamadera and I'm like…"what?" And then you hear Monica Rial and I'd never thought I'd hear those names put together. And David [Tennant] joined the cast and all these wonderful actors, it was very surreal.
I never pictured myself in that group of names, ever. And it's a lot of fun to see how other people react to it. For example, my fiance's company found out and they were excited, because who doesn't like Michael B. Jordan? So they gave me a giant body pillow of MBJ and they all signed it saying congratulations [laughs]. So it's one of those things where it's more funny to see people's reactions, my shock and awe has kind of warn off and I'm just like "this is pretty cool." But other people are so "are you doing what? With who?"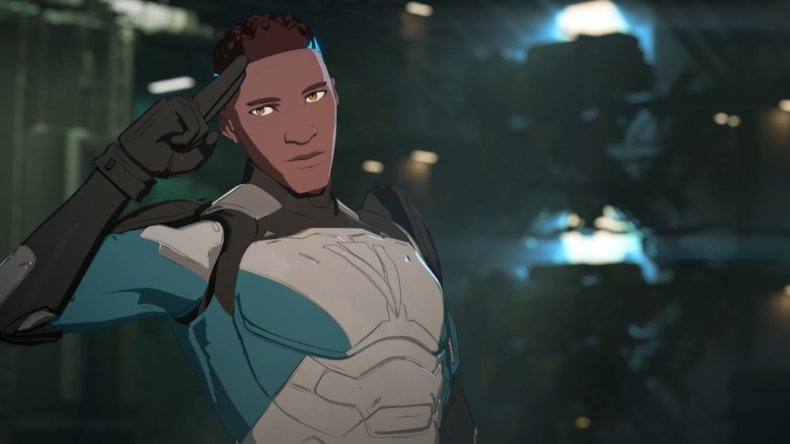 How did you find the voice for Colonel Marin?
In the auditions it was kind of a shot in the dark because it was just for the trailer. There was some information, but not a whole lot. So the only thing thing I knew was that she was a Colonel and of Puerto Rican descent. And so my mind went to my dad, who is Spanish, and so I thought I'd do a more militaristic, female, more composed version of my dad [laughs]. That's kind of where the voice came from and I assumed that when we started recording that [Gray] would want to adjust her or whatever, but Gray seemed very happy with where it was and we kept it there. And it was a lot of fun. It's not often that I get to play grown ups, especially a grown up that tells Michael B. Jordan what to do.
How's Gray as a director?
He's fantastic. We did a couple of sessions via satellite because I'm in Dallas, and then I decided to go down to Austin to work with him face-to-face. Working with him is such a wonderful experience.
He was very hands-on, but at the same time he would allow me to make choices. Some directors are "do it my way or you're out" where he would give me this choice like "ok, let me give you this visual image and let me help you visualize what is happening here." And with that I can alter my read however I saw fit. But he was very good at being a leader and not a dictator. He allows the actors to have creative input which is very awesome because there are a lot of times that actors are second-guessed by their directors constantly, where Gray gave us the ability to play.
He was so good with building those worlds. Standing there and you look at a monologue and you know how to deliver, but you have no idea how the visual goes. Where I'm standing or what i'm doing and he'll go through and set up this whole scene. So it made me feel more comfortable in my choices and my ability to make choices because I could visualize it and see what he was saying. But working with him face-to face, I told him I was going to drive down to Austin as much as I can because that was awesome. He got stuff out of me that gives me chills to this day.
What drew you to the project? Was it the subject matter? Gray? Rooster Teeth?
It's a little of column A and a little of column B. I absolutely adore the people over at Rooster Teeth, they are all down to Earth and work really hard in something they truly believe in and that's a huge deal for me and I love being a part of that. But also the subject matter, one of my favorite things are mech anime and I really enjoy working on those. And to be able to do it in a different capacity on a new show that breathes new life into that whole genre is really exciting. And the story itself, and this is Gray's baby, is phenomenal. My fiance and myself saw the pilot and we were just blown away with how good and beautiful it is. Mech anime is my absolute favorite it's great to go back to that over these years.
Was it challenging to do a character that's more adult than what you are normally used to?
It's challenging in a good way. Challenging in the way you want to be challenged. I love, in my career in anime, when things get realistic when we don't do these overly dramatic anime reads and we go more for a film or natural read. So that's the overall feel of gen:LOCK and I really love that style of voicing for animation. And I love the subject matter so that made it easier. But yes it's very challenging but I love a challenge, it's been 20 years of doing this so whenever I can be challenged I get giddy about it.
The cast of characters is ethnically diverse. How was it playing the role of a minority character?
It's huge. It's a big deal, even in my anime career its trying to educate people and tell them "hey, just because you may not look like a character doesn't mean you can't voice that character." Being in this community there isn't a lot of hispanics. I recognized that very quickly that whenever anyone needed someone to speak spanish, "Go find Monica. Where's Monica? She speaks Spanish let her do it."
So it was very strange and I want to get that message out to the kids and up-and-coming voice actors that any ethnicity and it's totally fine, but I appreciate that they found actors that represent their cultures. I think that's very important so people can see that there are people out there that can do these jobs and do them well, and bring them into that community that ostracized for such a long time. So for me it's a big deal, because I wanted to make sure that everything was as close to Puerto Rican as I can possibly get.
Which is difficult because I'm of Spanish descent, and our language is different so there was a lot of studying and things that went into it. But i was determined to make it as close as possible. I gotta do my Puerto Ricans good and give them that moment [laughs]. But I appreciate that they went out of their way to get a ethnically diverse cast, not only in the animation but in the cast.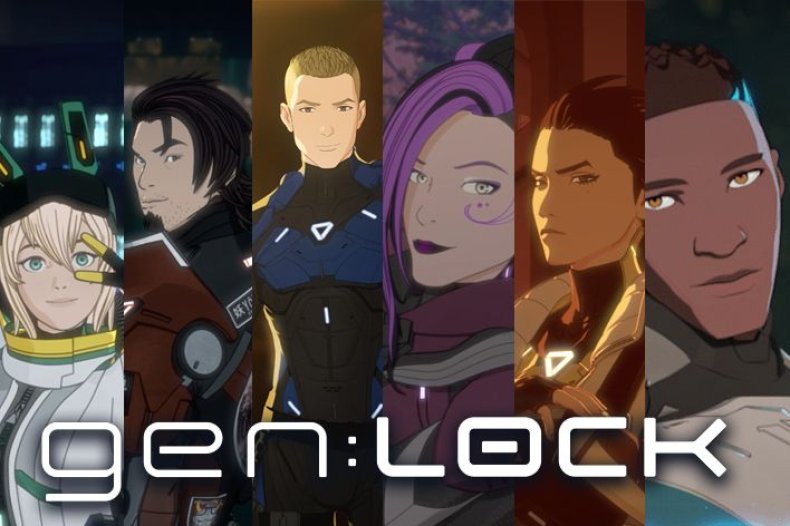 Can you talk more about your character? How would you describe her?
I'd describe Colonel Marin as very strict, strong and very much in control of everything that's going on. Obviously she has some ideas that she feels are best for the whole military that she's not sharing with her pilots, with this doctor appearing out of nowhere. But she takes a sort of paternal role as the series progresses. And you'll see her feelings towards these pilots and kids that she's basically sending out to war. She still continues to put on this military face. She's a two-sided character, in that I wanted to make sure to convey that authority figure that you didn't want to question and follow her orders, but also give her that maternal feel, heart and motherly vibe that added a little bit of softness to her. I hope that comes through, I tried really hard to get that duality with her. We learn a little more about her story as we go on, but I've kind of created this own story in my head, like motivations and whatnot that I don't want to divulge if we do learn more about her in the future I don't want to be completely off [laughs].
What can fans expect from gen:LOCK?
The fans are going to be overwhelmed. It doesn't matter if they're Rooster Teeth, anime or Michael B. Jordan fans. I think this show is going to speak to everyone in some way and I'm excited to hear what people's responses will be. Between the cultural diversity, the story itself, the animation is absolutely gorgeous all of those things are going to bring in people who may not be accustomed to watching animation as a genre. A lot of people tend to not take it seriously, but this just may be the show that changes people's minds. I'm just so excited for people to see it so I can say more about it [laughs]
'gen:LOCK' Star Monica Rial Talks Colonel Marin and Getting Involved with Rooster Teeth's New Animated Series | Culture