Rooster Teeth Reveals 'Gen: Lock' Details and Footage at New York Comic Con
Rooster Teeth animation's newest and most ambitious series, gen: LOCK, was a major part of the company's Sunday panel at New York Comic Con 2018, which revealed new information and footage from the upcoming series to the Madison Square Garden crowd.
The gen: LOCK portion of the panel kicked off with an extended preview of the series, which takes place 50 years in the future. The footage showed off the main gen:Lock team and extended cast, along with some action sequences featuring the mechs. Creator Gray Haddock thanked the fans for their enthusiastic support of RWBY; without them, making gen: LOCK would not have been possible.
Michael B. Jordan voices the main character, Julian Chase. The cast of gen: LOCK also includes Dakota Fanning (The Alienist, Twilight Saga) as an expert mech pilot and Chase's love interest Miranda Worth. Kōichi Yamadera (Cowboy Bebop, Ghost in the Shell) voices Kazu Iida, a new recruit from Japan's military forces fighting alongside Chase. David Tennant lends his talents to Dr. Rufus Weller, aka Doc, a scientist and the inventor of the gen:LOCK technology. Miles Luna, Rooster Teeth head writer, takes on the character of Miguel Garza.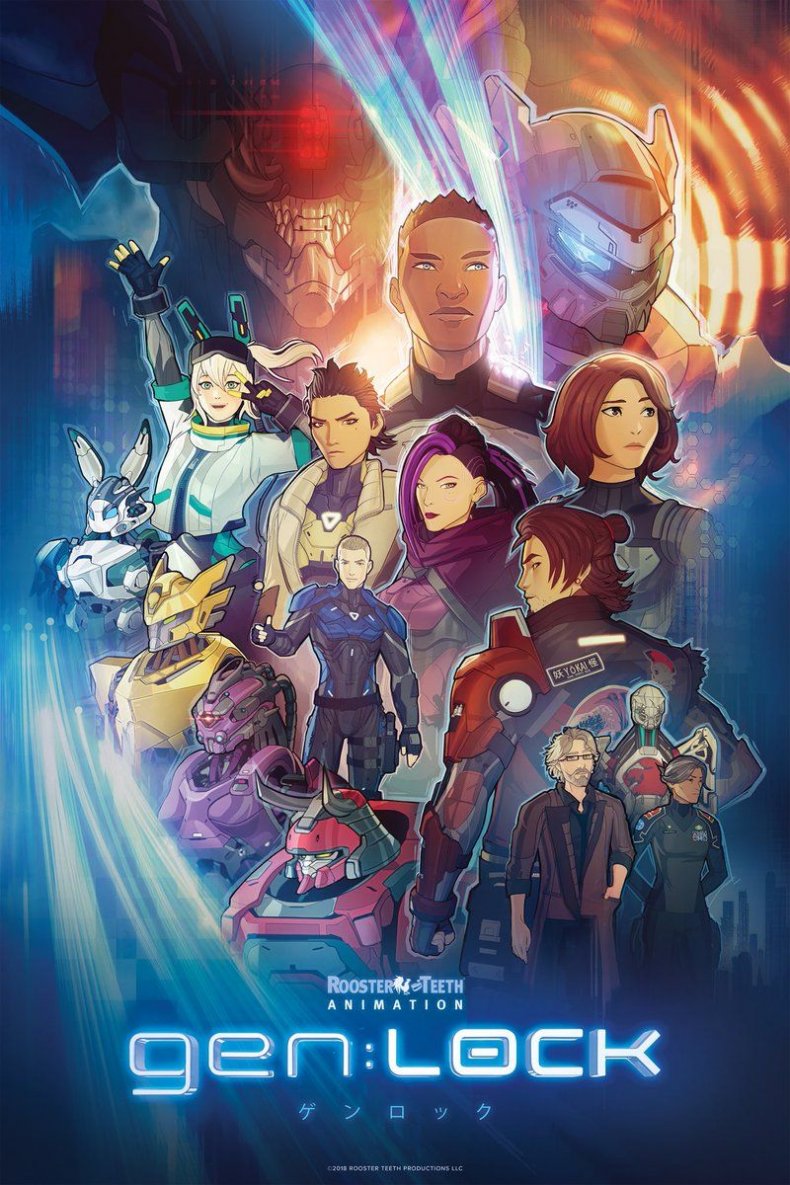 NYCC attendees were then treated to some scenes from the first and second episodes. Julian Chase, his sister and Miranda sit in a dining room, about to enjoy a meal prepared by Julian's mother. His sister is distracted, immersed in a simulation where she is performing as a J-pop idol in a Matrix-like virtual reality known as "the Ether." Annoyed, mom pulls her out of it, and the two women proceed to grill Miranda. She holds her own under their tough questions, but she needs to go, suddenly vanishing. Turns out the Miranda at dinner was merely a holographic projection from the gen:Lock base.
Julian follows Miranda shortly after saying his own goodbyes. After they're gone, his mom puts the volume up on the news: this world's UN has been attacked by some mysterious, cube-like clouds. Next we see of Julian and Miranda, they are inside the gen:Lock base along with several other members of the team. Suddenly, an alarm goes off, and the two kiss before heading their separate ways. (Miranda is part of the Vanguard, a separate team from Julian's which pilots larger mechs with cannons for arms.)
In a scene from the second episode, the rest of the gen:Lock team is flown to the base, and Julian meets everyone for the first time. The scene offers some clues about each team member's personality, and Dr. Weller urges them to hurry so that their field testing can begin.
gen: LOCK will release on Rooster Teeth First in Jan. 26.
What do you think of gen: LOCK from what we've seen so far? Let us know in the comments section below.