Gen X, Millennials and Boomers are Battling Over Who Owned the Super Bowl
The 2022 Super Bowl halftime show has ignited a bizarre generational battle between Boomers, Gen Xers and Millenials.
This year's event—which was won by the Los Angeles Rams—saw Dr. Dre, Snoop Dogg, Eminem, Mary J Blige and Kendrick Lamar perform at the highly anticipated half-time show which is being claimed by two generations and rejected by another.
The reaction on social media has seen Gen Xers and Millenials battle it out over who the show was aimed at, with many tweets mocking Boomers for being displeased with rap music.
The intergenerational debate seems to have been kicked off by NBC News who tweeted: "Super Bowl Halftime Show taps into millennial nostalgia."
This statement prompted outrage from Generation X—people born from the mid-1960s to the early 1980s.
The so-called forgotten generation, sandwiched between the Boomers and Millennials, took to Twitter en masse to claim hip hop as their own as the genre was founded and blew up during their formative years.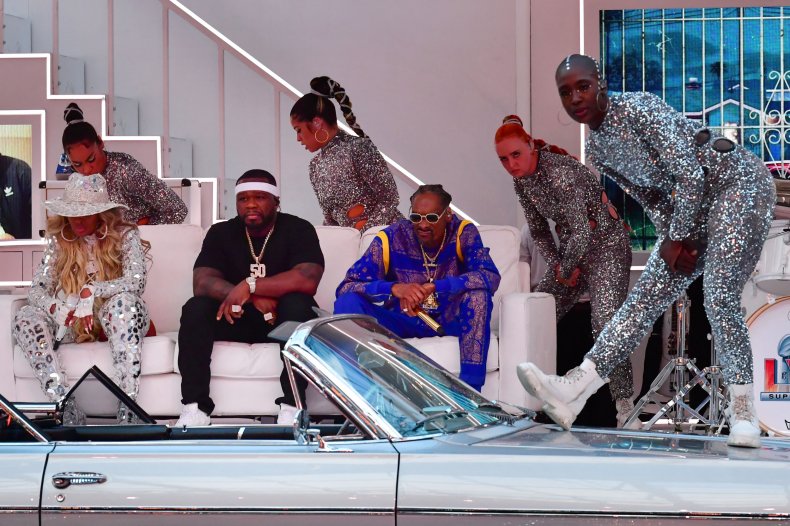 While Millennials who grew up with hip hop are adamant that the show was aimed at pleasing them as they enter their 30s.
"The erasure of Gen X is pretty wild because they're the generation that created hip-hop," tweeted filmmaker Bree Newsome.
While another added: "GEN X STAND UP! This Halftime show is for us!"
Author Seth Abrahamson defended his fellow Gen Xers and tweeted: "Super bizarre that even folks in major media don't know what Gen X is and keep referring to us as the generation that followed us."
Gary Striewski of ESPN tweeted: "Listen here Boomers, you priced us millennials out of homes. Gen Z, you think millennials are old. This halftime show is for us. Let us have this.
Meanwhile, defending Millenials, law professor Anthony Michael Kreis tweeted: "The halftime show is for Millennials. And after everything we've endured in this nation, we deserve this."
Another tweet reads: "Gen X having a wee meltdown over this headline. Most of the songs came out around 2000 and we were listenting to it all through middle/high school. I don't think Xers were hyped watching Mary J and her wigs over summer break the same way we were."
Another joked: "Boomers taking all the money. Millennials taking all the credit. #GenXLife."
While NBC's Sahil Kapur tweeted: "Super Bowl halftime show seems designed to remind every millennial of high school."
As for the Boomers, both Gen x and Millenials agree that they probably were not the biggest fans of the hip hop ensemble.
"Gen X watching the halftime show realizing it's going to piss off Boomers AND Millenials," reads one joke.
While another joked: "Boomers after that halftime show are so angry & it's comical."