'I'm a Beauty Expert, These Are 3 Lessons We Can Learn From Gen Z'
I've worked as a makeup artist for 18 years. It's the only job I've ever had. I started working at a makeup counter at the mall when I was 18, and then freelanced for brands. I've done makeup for Gwen Stefani's old clothing website and for actors on Comedy Central. I've worked at weddings, magazines, and, in my current role, on advertising campaigns.
As a millennial, I come from a time where most of what I learned about beauty came from my mother. She had a system, and I loved it, but I was 13 and she was 36. I wasn't able to see what people my age were doing. I wasn't able to see these beauty trends.
Then, as I became a teenager, the internet began to take over, with the invention of YouTube.
But Gen Z started out with all of this information at their fingertips, and they could see the breadth of beauty trends on the internet. I think there's a levity that comes with Gen Z's approach to beauty. They see what everyone is doing and they embrace it all. There is no right or wrong.
I'm so impressed by the level of experimentation in the Gen Z beauty community. They see that the way you present yourself is another accessory—it doesn't define you, because it can change all the time. There's a lightness to that.
When I grew up, the message was, "This is what you have to do to look good." Someone in Gen Z, on the other hand, might want to wear a pimple patch and blue eyeliner and that's the look. I love this embrace of imperfections and that your look one day doesn't define your approach to beauty.
Gen Z is also pushing forward this idea of vegan, cruelty-free, sustainable packaging, and having a social impact. They're really being selective with the products they choose, and demanding that brands show up in that way. They're not going to compromise, and that's very powerful.
Beauty is a really positive space for young people right now, and I'm excited to witness it and to still be inspired, 18 years into the game. I'm so excited for every trend that comes along, but the following are the three lessons I think we can all learn from Gen Z.
Top beauty lessons we can learn from Gen Z and TikTok
1. Less is more
Two years ago, we saw people aiming for really perfected, carved-out and heavily contoured skin. We still see this a bit but, these days, things are more fluid.
Now, the focus is more on embracing your skin and its so-called imperfections;being like, "You know what, I'm embracing my dark circles today, and I don't mind if my scars show through."
Showing real skin, and wearing less makeup, is huge right now. I used to do full-face coverage when I worked on photoshoots, but now we tend to go for more of a minimal, dewy look.
If someone wants a glossy look to their skin but they don't want to wear makeup, I'll maybe use concealer around the eyes and on blemishes and just apply primer as a topper to their skincare.
2. Experiment with color
On the flip side of the coin, another trend, which goes back to the levity and experimental nature of Gen Z beauty, is non-committal boldness and color.
A lot of Gen X and millennials, myself included, have a signature look that they recreate every day. But with Gen Z, they can look different every day. It's about experimentation. On Monday, they might wear lime green eyeshadow and lip balm; on Wednesday, they might wear face primer and nothing else; and then on Thursday they might rock a red lip, with rhinestones around their eyes.
If you want to dabble in Gen Z brightness without going full Euphoria, you might want to dust on a bright color chalk to accent the center of your eye. Or it could be as simple as using one of the bold colors that never gets used in your eyeshadow palette. We tend to use the champagne or nude colors, but what about the electric blue? Use what you already have, in a more experimental way.
I've mixed setting spray with color chalks, which turns the powder into paint, and used it on lashes or on brows for festivals, for a really fun look.
In terms of whether bright eyeshadow is a suitable look for work, it depends on your job. But I think we're living in a very modern world, where a lot of workplaces look very different now. There's a lot less judgment about the way we show up, what we think is beautiful, and gender expression. Plus, a lot of people are working from home, so they can experiment with their looks.
3. Repurpose your eyeliner
If you have liquid eyeliner, you don't just have to do a "cat eye." You can draw disconnected wings, make beauty spots, or create a darker brow.
I'm seeing a trend in "bubble liner," which is a little half-circle at the end of the eye, as well as "square liner" on the runway. I think floating liner is really cool, especially when it is layered in different colors. I love this experimentation with abstract shapes—and, when I say abstract shape, I mean anything that isn't a wing.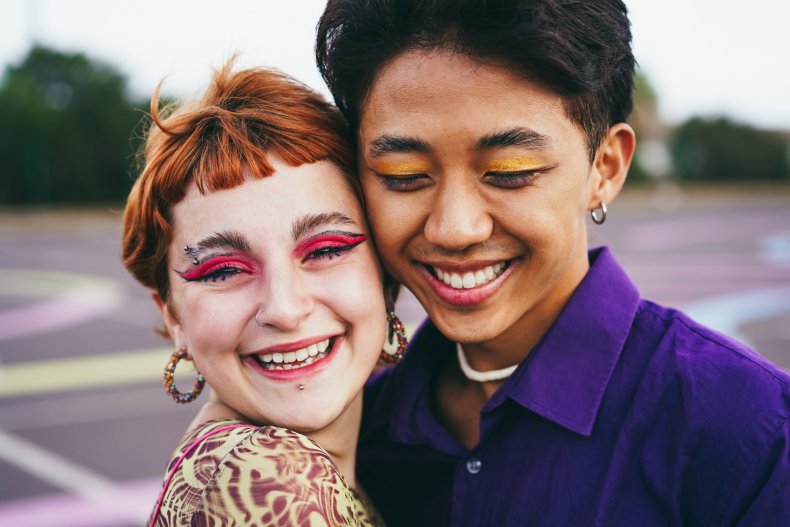 I've seen these trends a lot with Donni Davy and everything she has done as the makeup artist on Euphoria. And that transfers onto TikTok in a major way. I love TikTok so much: it's a fountain of inspiration.
I'm seeing over-the-bridge nose makeup right now on the platform. Naezrah (@naezrahlooks) is a creator we work with a lot, and she takes the eye shadow across the nose, and under the eyes. It's so killer. It looks like a mask.
I think a party or a special night out is when we feel the most emboldened to try something new, so that's when I would recommend experimenting with abstract shapes.
There's a levity to these abstract shapes, but it's also about embracing imperfection. I don't want to say "messiness" because it's almost intentional, but these abstract shapes don't have to be totally matching or perfect.
I think that makes these looks more accessible. Winged eyeliner is a challenge for a lot of people, but taking a pop of green eyeshadow and dotting it on the corner of your eye to create a fuzzy, circle-like shape is relatively straightforward. You don't have to be an expert to do it.
Sara Wren is Director of Artistry at Milk Makeup.
All views expressed in this article are the author's own.
As told to Newsweek's My Turn section deputy editor, Katie Russell.