Gen Z's Distaste for Sex Scenes Sparks Hollywood Censorship Debate
The merits of sex scenes are being debated online, raising questions over censorship, consent, and being overly sensitive.
After various people expressed their displeasure at being subjected to sex scenes and nudity in movies and TV shows, some blamed the Generation Z community for sparking a conversation that has enraged many. "Gratuitous," "awkward" and "creepy" are some of the words used by people speaking out online against such scenes.
Director and movie production company president Stefano Da Frè told Newsweek that the incoming generation are more "pro-censorship" than previous ones.
Social-media influencer Brittany Martinez wrote online that she hates nudity in TV shows. Acknowledging it's her "unpopular opinion," she added, "It never propels the story forward and it's uncomfortable whether you're with your parents, boyfriend, or friends."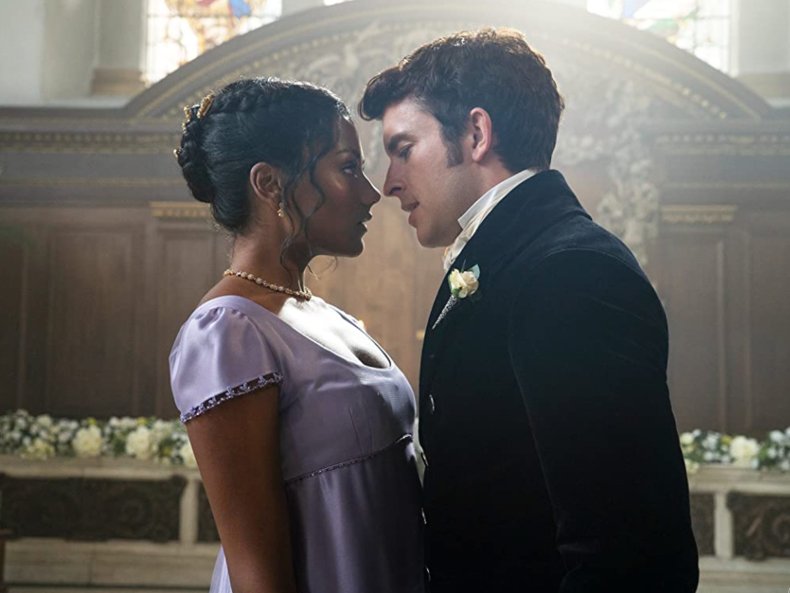 Conservative talk-radio host Apryl Marie agreed with Martinez. "I fast forward through those scenes. I just find them gratuitous. Don't get me started on how much of Bridgerton I skipped only to learn I missed an important plot line by doing so," she wrote.
Movie critic Guy Lodge shared this interaction and sarcastically asked, "Are you saying a sex scene did in fact propel the story forward?"
A recent New York Times opinion piece suggested there is now a "cultural apathy" towards sex that is fueling negativity towards online sex-scene discourse.
Tedx speaker and OnlyFans model Zahira Kelly-Cabrera offered her take on this. She posted that the problem isn't with the people watching, but with the circumstances in which they're filmed.
"Sex scenes should be done by ppl [people] who want to do it genuinely. It shouldn't be expected. or forced. or a creepy directors secret fetish. and I personally don't mind them." She did however, stop short of asking for them to be banned altogether. "tho for me, fast forwarding is a thing. coz idc [I don't care]. but why ban?"
"In regards to the anti-sex scene movement with Gen Zers, it's critical opening the discussion with separating an artist's work, like a film or television show, from reality," Da Frè told Newsweek. "Gen Zers have had a very pro-censorship view regarding artists' works, particularly when it comes to sex scenes and erotic filmmaking over the past five years. By contrast, this marks a very different perspective from every generation older than them for the past 70 years."
Da Frè also argued that Gen Zers would have fought to prohibit the release of a movie like Last Tango in Paris, which was heralded as a "masterpiece" in 1973. Controversially, this film contained a scene in which the lead actress was unaware that her co-star Marlon Brando and the director Bernardo Bertolucci had planned to film a sex scene.
"I felt humiliated, and to be honest, I felt a little raped, both by Marlon Brando and by [director] Bernardo Bertolucci," actress Maria Schneider told U.K. newspaper the Daily Mail in 2007.
Da Frè added: "[Gen Zers] tend to have a very challenging time differentiating between concepts of what is a permissible artist expression versus reality. As an example of this, Gen Zers often justify and moralize their censorship views with statements like, 'We shouldn't be doing this in real life,' or, 'This is not how we ought to behave in real life.'
"The obstacle facing this generation is that films, and art, are not reality. This type of censorship leads to virtue-signaling that hinders great art, which is the expression of our desires, sometimes even dark ones that may involve sex scenes, whether you wanted them or not."
While there are sex-scene naysayers online, they appear to be heavily outweighed by people speaking out for them, and their artistic merits, too. Podcast producer and film critic Cate Young posted that she has no problem with the concept, even when considering things she was subjected to on screen.
"I grew watching women be raped every week on SVU [Law & Order: Special Victims Unit] and I'm not trying to ban sex scenes. I'm perfectly capable of being repulsed by one and enticed by the other," Young wrote.
Author and psychiatrist Carole Lieberman M.D. told Newsweek that the discussion around removing sex scenes is indicative of the younger generation.
"They also have a fear of sex, and are called the 'sexless generation.' Sexual activity rates have been declining for years, and it is worse for Gen Z," Lieberman said. She added that the fall of rate in sexual activity is a knock-on effect from the generation that came before.
"This is parallel to the rise in divorce rates for their parents. Seeing the heartbreak of divorce has made them fear intimacy, both emotional and sexual," Lieberman said.
Studies have proven that Gen Zers are having less sex than those that came before them. The Lovehoney Summer of Love survey from 2022 found that people aged 25 and under were less sexually active than adults in their late 20s, 30s and 40s.
Various academic studies have found that those born from 1996 onwards are having less sex in what Vogue's dating columnist Annie Lord called a "sex recession."