Gena Tew Edges Closer to HIV Status After AIDS Diagnosis: 'I'm Excited'
Gena Tew has revealed that she's edging closer to being classed as living with HIV, several months after sharing that she had been diagnosed with AIDS.
The social media influencer, 27, has been documenting her health journey in a series of social media posts since going public with her diagnosis in March.
In one TikTok clip, shared on June 11 and viewed over 14 million times, the social media star showed herself struggling to get up from her bed as her weight plummeted to 65 pounds and muscle atrophy had weakened her legs.
On Tuesday, Tew told her more than 830,000 TikTok followers that the CD4 count in her blood had been boosted as her health continues to improve. A CD4 count is a measure of the number of CD4 cells, a type of immune cell attacked by HIV.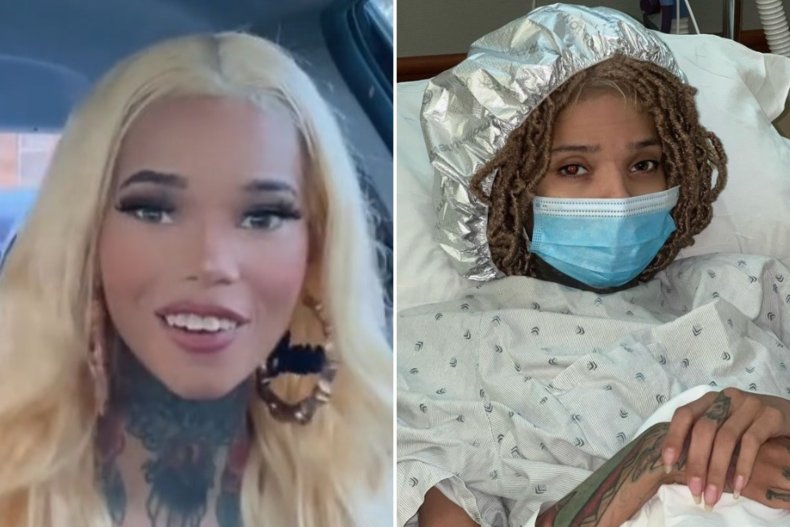 In a video clip, the model said: "I just had my recent bloodwork done, and as you know... my CD4 count was 112. So now it is 159. So I think in the next three-and-a-half to four months, I'll be over 200. I'm excited.
"As my doctor sees it, they say on paper they will see it as HIV instead of AIDS," she added, explaining that once her CD4 count surpasses 200 she will be classified as living with HIV, rather than AIDS.
"Now I've just got to work on my cholesterol," quipped Tew, who last week shared that her weight has increased to 106 pounds.
According to Mayo Clinic, HIV typically turns into AIDS in approximately eight to 10 years if it is left untreated.
While Tew remains unable to walk unaided, she shared an update with her TikTok followers in September, showing herself briefly standing up with the aid of a walker.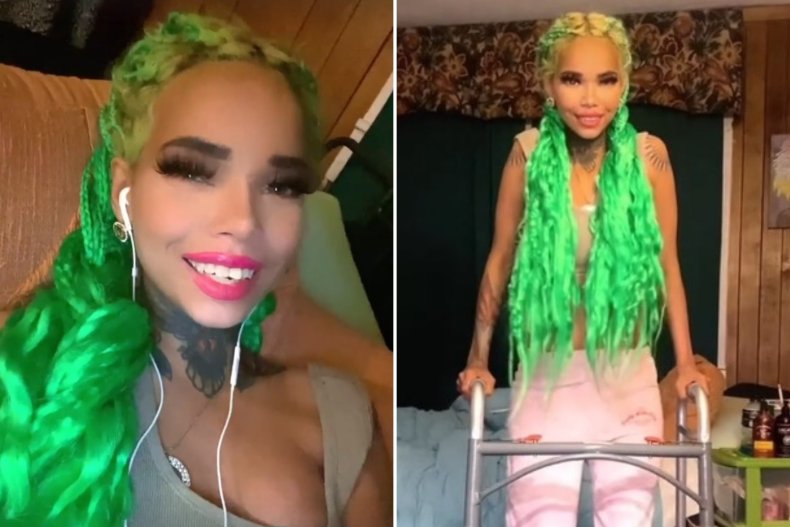 As her health improves, Tew shared in October that the viral load in her blood means that she cannot transmit HIV to another person.
"I am undetectable, you guys. That means untransmittable," she said in a TikTok video. "With that being said, people are asking me, 'Are you going to marry or have a baby with someone with AIDS?' I don't need to marry somebody with AIDS. They don't have to have AIDS. That means I cannot transmit it to the other person."
Tew went on to say that her potential partner could take precautions, such as going on the medicine pre-exposure prophylaxis (PrEP), which reduces the chances of contracting HIV through sexual intercourse or while injecting drugs.
Noting that there can sometimes be side effects associated with taking PrEP, Tew advised that her partner could also "just be smart and use a condom."
"I can have a normal life. Let's get rid of that stigma," she said as the video drew to a close. "AIDS isn't a death sentence. I survived—I'm a survivor."
Thanks to antiretroviral therapy, HIV/AIDS patients can suppress the viral replication within the body and block transmission to others. The patient will subsequently have such a low level of HIV in the blood that it becomes undetectable in conventional analysis.
Dr. Laura Guay, vice president of research at the Elizabeth Glaser Pediatric AIDS Foundation, told Newsweek: "There are currently more than 24 effective anti-HIV drugs that are commonly used in two to four drug combinations to reduce the amount of virus in the body (viral load) to extremely low levels that cannot be measured with our VL tests- called 'undetectable VL.'
"Having undetectable VL is critical to preventing the progression of HIV infection to symptomatic infection or AIDS and preventing transmission of the virus to partners. It is important to seek medical care from an experienced HIV provider if you are HIV-positive."
Guay added: "Your health care provider will determine which combination of drugs will work best for you to bring your virus levels to undetectable. Sexual partners should also be tested and get on treatment if positive.
"If your partner is HIV-negative, there are steps that you both can take to decrease the chance of passing on the virus, especially while you have detectable VL. The most important thing that you can do is to take your anti-HIV drugs as directed consistently and track your VL results to get to 'undetectable.'
"Until you have reached undetectable VL, you should use condoms consistently and your partner can also take anti-HIV drugs to prevent infection (PrEP)."