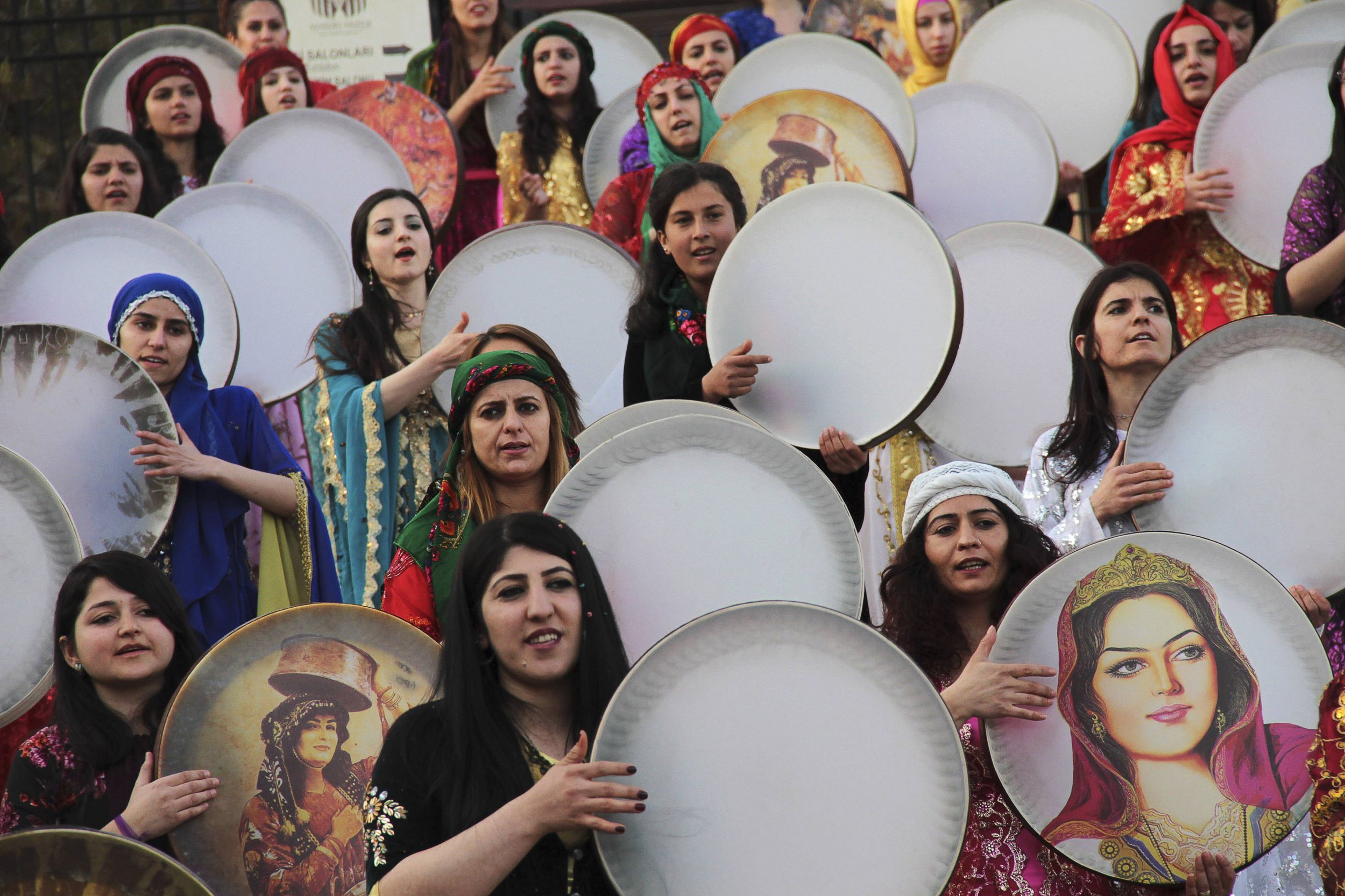 Inequalities in the legal rights of women and girls persist in nearly every country, according to a landmark new report detailing the progress, and lack thereof, made in gender equality over the past two decades.
It's been 20 years since 189 countries committed to embracing gender equality by signing the Beijing Declaration and Platform for Action. Rather optimistically, they believed gender parity could be reached within 10 years. Fast-forward two decades and there have been signs of progress, but the study shows issues like child marriage and barriers to education for girls mean many countries have a long way to go.
"It's frankly staggering that in 2015 there still is inequality embedded in the law," said the study's author, Jody Heymann, dean of the UCLA Fielding School of Public Health and founding director of the WORLD Policy Analysis Center.
The study, which looked at 197 countries, was released to coincide with International Women's Day, which was observed on Sunday. A separate report released by U.N. Women on Friday, which will be presented to United Nations member states by Secretary-General Ban Ki-moon on Monday, also found widespread gender gaps across the world, including slow and uneven progress on eliminating violence against women.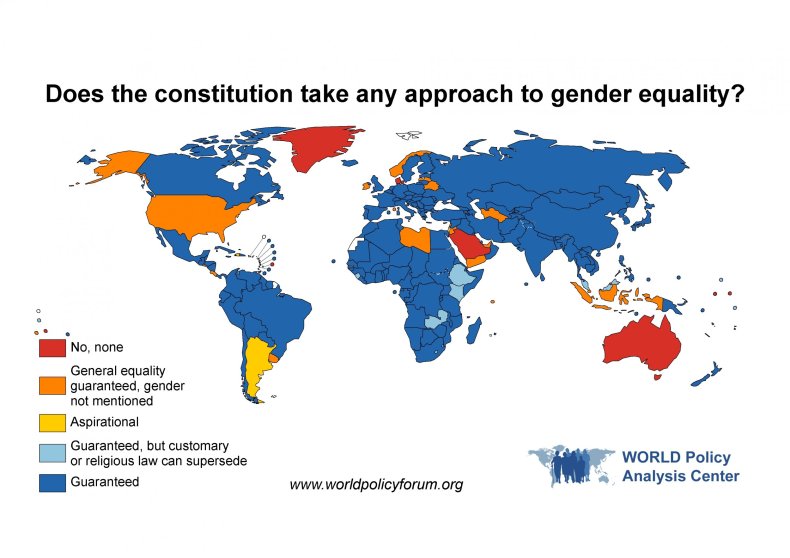 Heymann highlights some gains in legal protections for women: 95 percent of the 56 new national constitutions adopted in the 20 years since Beijing include language that supports women's rights or prohibits gender discrimination. The two exceptions are the constitutions of Saudi Arabia and the Holy See.
She said there are three areas where inequality persists or has gotten worse for women and girls since 1995.
Child marriage binds 15 million girls under the age of 18 every year, and has disastrous consequences on their health and education prospects. In 61 countries, or a third of the world's nations, girls are legally allowed to be married younger than boys with parental consent. One out of three girls living in South Asia is already married or in union, according to the United Nation's Children's Fund (Unicef).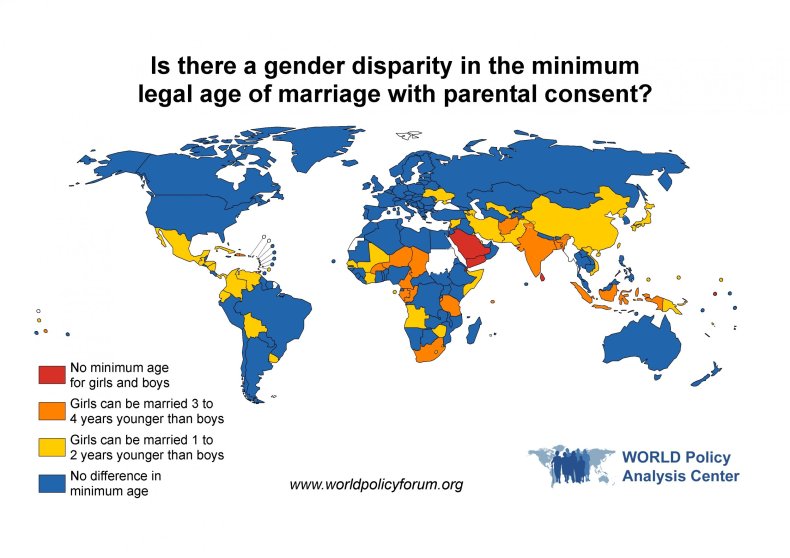 "We talk about child marriage, but overwhelmingly around the world, this is girl marriage," said Heymann. In Saudi Arabia and Yemen there is no minimum age for marriage.
Over the past 20 years, 32 low- and middle-income countries have increased the age of marriage with parental consent and 25 of those have increased it substantially, according to the report. Last month, Malawi increased the minimum age to 18. But for girls still forced to marry early, maternal and infant mortality rates remain dangerously high.
Access to paid parental leave is another area where progress has been stunted since Beijing. The United States in the sole high-income country—and one of only nine countries worldwide—that doesn't guarantee paid leave to new mothers at the federal level, joining the ranks of Papua New Guinea, Suriname and six small Pacific island states. The majority of U.S. states also do not guarantee paid maternity leave.
Nearly half of the world's countries don't guarantee any paid paternal leave, which affects men and women, said Heymann.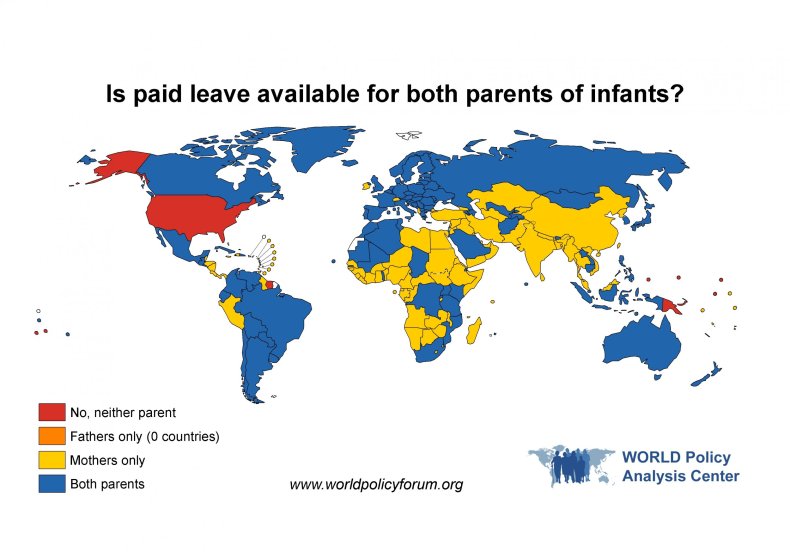 "We've ignored this fact as if it's natural, but this is the law stereotyping gender roles, legally facilitating women's caregiving, while making it hard for men to care give and embedding in country's laws and policies the assumption that women are going to be the primary caregiver," said Heymann.
Related to the lack of paid leave for women is the third major area of inequality: women's economic participation, including access to capital, access to property ownership and ability to hold certain jobs.
Uneven access to economic participation is also reflected in the gender wage gap. In 2013, women working full-time in the U.S. earned on average 78 cents for every dollar made by men, equaling a 22 percent gender wage gap, according to the Institute for Women's Policy Research.
For mothers, the situation is worse.
"Much of the wage gap in the United States that is reported as a gender gap is a gender gap, but it's truly a maternity gap," said Heymann.
While unmarried women earn 96 cents to the dollar of unmarried men and childless wome—both married and unmarried—earn 93 cents to childless men's dollar, married mothers with at least one child under age 18 earn 76 cents to married fathers' dollar, according to a 2014 study by Michelle Budig, a sociology professor at the University of Massachusetts, Amherst.
The wage for single mothers increases slightly, to 83.1 cents on single fathers' dollar. If you're a man, having a child actually helps, rather than hinders, your career, Budig's study finds.
Another important barrier remains to even getting a job: tuition fees for secondary-level education. Whether it's because of displacement due to conflict or families not being able to afford it, 65 million girls are not in school today, according to the report.
While 2015 is two decades since the Beijing platform was adopted, it is also a crucial year because it marks the end of one of the eight U.N. Millennium Development Goals agreed upon in 2000. The third goal aimed ending all levels of gender disparity by 2015.
Yasmeen Hassan, global executive director of international rights group Equality Now, doesn't think that goal will be reached by its end-of-year deadline.
"While some thing have changed, which I am very grateful for, not enough. Most of the stuff remains undone," said Hassan.
"What can be done in one year is end discrimination in law and have governments repeal all sex discriminatory laws they have on the books, which is what they committed to doing in Beijing," she said.
Heymann said there are "great success stories around the world and the good news is, we can show countries in every region, in every income level, that have made changes and they've led to dramatic improvements."
Examples include the 2001 Family Act in the Maldives, which made the minimum age for marriage 18 and saw the number of child brides decline. In 1995, Sweden also changed its laws to encourage men to take paid paternity leave, as did Iceland in 2000.
"Success stories in every region tells us things can happen, that the progress can be made that's affordable, that's feasible. But we certainly still need to close the gap," said Heymann.