Car Explodes in Gender-Reveal Party Stunt Gone Horribly Wrong
A car on Australia's Gold Coast exploded into flames during a gender reveal party.
"Burnouts," where cars give off pink or blue smoke, have become an increasingly popular part of gender reveal parties in Australia. However, they are also dangerous, as indicated in a video released by the Queensland Police Service.
Shot by drone, the clip shows the reveal work as expected—at first—with blue smoke indicating the parents are expecting a baby boy. But soon flames start shooting out from underneath the car.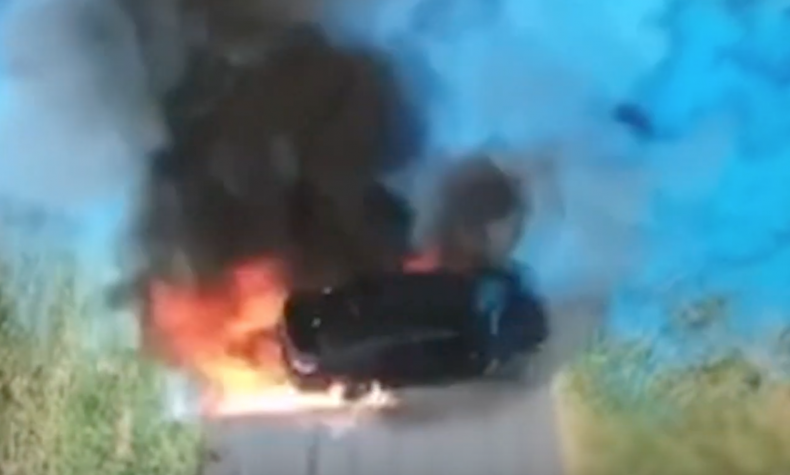 Though the incident happened on April 18, 2018, Queensland Police released the video today to show the danger inherent in gender reveal "burnouts."
Gender-reveal stunts have grown exponentially, both in popularity and scale: Where once the sex of a baby would be revealed by slicing into a cake with pink or blue filling, social media has led some expectant parents to ramp up to more outlandish—and dangerous—stunts.
Last week, Shay Mitchell, the star of Netflix's You, hired two actors to put on pink and blue Mighty Morphin Power Rangers costumes and fight. But when the performers fell into Mitchell's pool, they almost drowned.
The video was released as the first episode of Mitchell's new YouTube series, Almost Ready.
Some gender-reveal stunts have had more lasting consequences: An April 2017 wildfire in Arizona was sparked by a reveal gone wrong. Expectant dad Dennis Dickey, an off-duty U.S. Border Patrol agent, fired his gun at a target packed with Tannerite, which is used as an exploding target marker.
When Dickey hit the target the Tannerite exploded, giving off a blue plume of smoke—and accidentally setting fire to the surrounding brush. The flames spread, burning nearly 47,000 acres and causing more than $8 million in damage. Dickey had to pay $220,000 in restitution and was sentenced to five years probation. (He did get to keep his job with the border patrol, though.)
Thankfully, not all gender-reveal parties go to such lengths: In April 2018, the same month the car exploded in Australia, actress Kate Hudson revealed the gender of her unborn child by popping a balloon filled with pink confetti. No fires, no explosions, no near-drowning.