Finding out the sex of your unborn child is an exciting moment for any prospective parent.
In recent times, many that choose to learn whether their baby will be a boy or girl prior to the birth, elect to do so with a gender reveal party.
This modern phenomenon, and social media trend, involves parents finding out their baby's sex when either the color blue (for male) or pink (female) appears.
The color reveal has been done in many creative ways. It could be by cutting into a cake, firing a confetti canon or, in the case of a recent viral video, popping a balloon.
Typically, parents are generally ecstatic whatever the outcome. But for one Australian father the disappointment when he realized he was having a daughter was clear to see.
In the footage, posted to video sharing site TikTok on Sunday, the family is gathered in their back yard, surrounded by friends and family, when they pop a large black balloon covered in white question marks.
Instantly pink confetti and smaller balloons fill the air. The father, who is wearing a black hooded sweatshirt and tight jeans, appear visibly annoyed at the outcome.
He then throws the remainder of the balloon on the ground, and utters a curse word as the party guests laugh on.
The video was posted by TikTok user matthb92, alongside the caption: "#genderrevealworld #babygirl."
The clip has since gone viral, no doubt owing to its comedic value, and has already been viewed over 461,900 times.
Many took to the comments section to share how hilarious they found the video.
One TikTok user, korx43, wrote: "His reaction is priceless," alongside a laughing face emoji.
Another person, mick9000, added: "unlucky bro....better luck next time."
While a third, samiiboo89, commented: "hahahaha I feel ya man I had 1 boy and 4 girls."
Others were quick to point out that it might be slightly awkward when his daughter grows up and views the video.
Fishead wrote: "Imagine your kids seeing this when she's older."
Additionally, social media user fk.e1ley.03 sarcastically remarked: "Hope his new daughter can see the loving wanted reaction when they are older."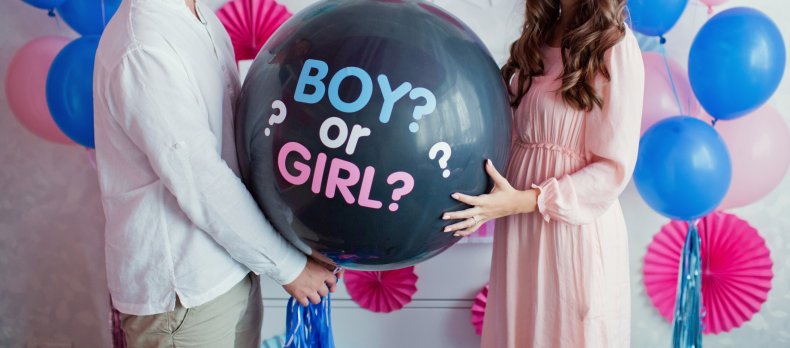 The fact that the Australian family's gender reveal did not go entirely smoothly is inconsequential compared to the tragic accident that occurred a few weeks ago in Mexico.
A gender reveal party stunt went devastatingly wrong and two pilots died.
The aircraft had been rented in order to perform tricks in front of a family and their friends.
Yet after the plane trailed a sign revealing the baby was going to be a little girl, it nosedived into the Caribbean Sea, killing both pilots.