This Isn't the First Time a Gender Reveal Party Has Ended in Total Disaster
An effort to determine the gender of a baby turned into an utter disaster for a California couple after the pyrotechnic device used to reveal the child's sex sparked a massive wildfire on Saturday.
Dubbed the El Dorado Fire in San Bernardino County, fire officials during a press conference on Monday said that nearly 10,000 acres of land were on fire because of the gender reveal incident, and only seven percent of the flames had been contained. A "smoke-generating pyrotechnic device" used at a party in El Dorado Ranch Park in Yucaipa—which was likely used to blast out pink or blue smoke to confirm the baby's gender—was blamed for the fire.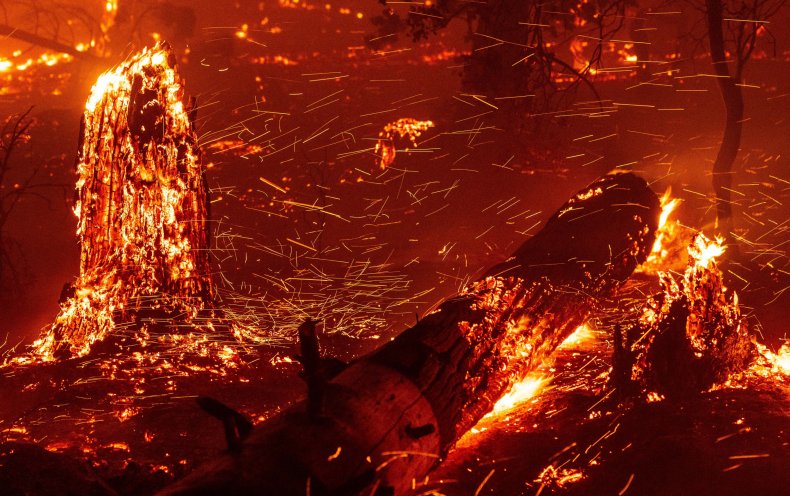 The El Dorado Fire is far from the worst wildfire caused by gender reveal party mishaps. A big reveal in Arizona in 2017 caused extreme damage, scorching nearly 47,000 acres of land after partygoers shot a makeshift explosive that was supposed to write, "It's a boy," or "It's a girl" once sparked.
The couple did learn that they were expecting a baby boy thanks to the big blue puff of smoke that released from the Tannerite-packed target. However, their joy was short-lived after the explosion ignited nearby brush.
It took roughly 20 different fire crews about a week to fight the flames. And the ordeal coast an off-duty US Border Patrol agent who shot the target five years of probation and a restitution bill reaching almost $8.2 million.
Although a smaller disaster, a gender reveal party in Florida caused a 10-acre fire in April after the family used Tannerite and a weapon to confirm their baby's sex. The incident occurred in the midst of a county-wide burn ban, which prohibited outdoor activities like campfires and bonfires due to the dry air conditions and intense heat at the time.
Firefighters were able to contain the fire within hours.
Last year a gender reveal party cost one woman her life after a family in Iowa unintentionally built a pipe bomb. The device was supposed to spew blue or pink powder into the air once lit, but what happened was much worse: the entire pipe exploded sending shrapnel into the air, and a piece of it hit a grandmother, ultimately killing her.
Gender reveal parties were first popularized in 2008 after Jenna Karvunidis shared the details of her event on her blog, High Gloss and Sauce. At the time, Karvunidis and her husband cut a cake that featured pink frosting on the inside to reveal they were expecting a girl. "I thought it would be really fun for everybody in the whole family to find out," she said in an interview with NPR in 2019.
Karvunidis went on to say that the events have "become a bit of a nightmare" now that people have turned to riskier methods beyond the traditional cake cutting reveal and balloon-popping, in which expecting parents pop a balloon filled with blue or pink glitter and confetti to learn the sex of their soon-coming baby.
She continued to ridicule expecting families for their dangerous behavior at gender reveal parties in a Facebook post on Monday.
"Stop having these stupid parties. For the love of God, stop burning things down to tell everyone about your kid's penis. No one cares but you," she wrote after learning of the El Dorado Fire.