Gene Evin Atkins: Silver Lake Trader Joe's Shooting Suspect Had Fight With Grandma
The suspect behind Saturday's standoff at a Trader Joe's supermarket in Los Angeles had been feuding with his grandmother in recent weeks. A relative said the conflict was over the suspect's girlfriend living with him at the elderly woman's house.
Gene Evin Atkins, 28, was accused of shooting his grandmother—who had raised him since he was 7—and wounding his girlfriend, before fleeing police and crashing his car into a pole outside the Trader Joe's in Silver Lake. He then went inside the store and took dozens of people hostage.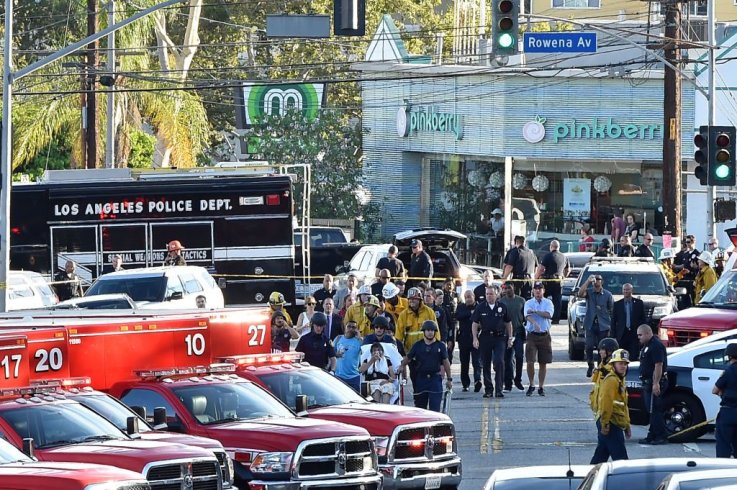 He is being held on murder charges after a store manager exiting the store was killed by gunfire, police said Sunday.
Charlene Egland, Atkins's cousin, told the Associated Press that he had been arguing with his grandmother "on and off for about two or three weeks" over his girlfriend staying at the pensioner's home.
"She didn't want the girl over there anymore," Egland said.
The suspect's grandmother was identified as Mary Elizabeth Madison, 76. She is currently in critical condition.
Egland told the Los Angeles Times on Sunday that Atkins's argument with his grandmother might have informed Saturday's deadly incident.
"Something triggered his mind, and he just shot her. It's just devastating. I can't believe it," she told the publication. "She raised him."
Egland said the grandmother was walking back inside her home and told Atkins "he needs to turn some of them TVs off" before he shot her.
She heard six gunshots when another cousin came running from the porch and shouted, "I think Gene shot my mama!"
Egland told the agency that as she called police, Atkins bundled his girlfriend into his grandmother's car. Police said the girlfriend had been wounded in the shooting.
As police pursued the vehicle, officers exchanged gunfire with Atkins. When the vehicle crashed and Atkins ran into the store, Trader Joe's employee Melyda Corado was shot and killed.
It is not known whether Atkins or police fired the shots that killed her.
Officers escorted Atkins's girlfriend from the crashed vehicle to safety.
After a three-hour standoff, Atkins agreed to turn himself in, handcuffing himself and exiting the store surrounded by four of the hostages. He is being held on $2 million bail.
Corado's colleague Raymond Shafazarian paid tribute to her. "It's like I lost one of my family," Shafazarian told NBC Los Angeles.
Gene Evin Atkins: Silver Lake Trader Joe's Shooting Suspect Had Fight With Grandma | U.S.